A Traditional Christmas Feast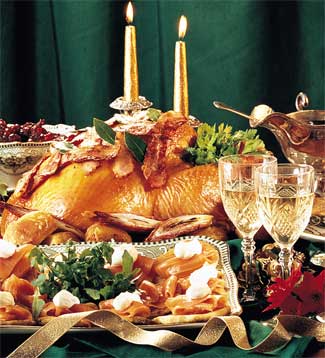 Christmas Menu

Spiced Beef (Bites or Starter - see below)
-
Traditional Roast Turkey & Accompaniments
Glazed Ham
Perfect Roast Potatoes
Greens with Shallots & Bacon
Jerusalem Artichokes
-
Plum Pudding
Iced Christmas Pudding
-
Home-made Truffles

A starter is hardly necessary before such a big meal but if you feel the occasion demands it, keep it very light and simple or - a better alternative perhaps - hand around nibbles with the drinks instead.

TURKEY

Traditionally, the turkey was always stuffed the night before, and it certainly makes Christmas morning easier, but health scares have led to official recommendations that the stuffing be prepared but not actually go into the bird until the morning.

This is probably unnecessary providing you make sure the bird is well cooked, but extra care is definitely advisable if you are using a frozen turkey: place it in a large dish at the bottom of your fridge (where juices cannot drip onto other foods) and make sure it is completely thawed before cooking; allow 48 hours for a small turkey, up to 3 days for a large one. If it is still very cold and you are in any doubt, cook the stuffing separately so that the heat can get right into the bird.

A meat thermometer will tell you when the centre is properly cooked, although testing with a skewer in the thickest part of the thigh is quite reliable: if the juices run clear, with no tinges of pink, the bird is cooked.

Hints to get the best from your turkey:

* Free-range organic is best, although it must be ordered well ahead. When choosing any fresh turkey, look for a broad-breasted bird which will give a high proportion of tender white meat. A flare of white up either side of the breast is a good sign, as this thin layer of fat will keep it moist during cooking.

* As a rough rule of thumb allow about 1 lb/450g per person when calculating the size of oven-ready turkey to buy; eg a medium bird about 12-14lb/5-6kg will be enough for 12-14 people. It is nice to have some leftovers for the next day, but remember that that ham and/or other trimmings will also be filling so don't get an unnecessarily large turkey. Ask your butcher to give you the neck and giblets from if possible; remove from the body cavity before stuffing and use to make stock for a good gravy.

* Traditional forcemeat, flavoured with herbs and lemon, is hard to beat as a stuffing for both ends of the bird, although a simple lump of butter and a peeled onion is enough to give flavour in the body cavity. Any leftover stuffing can be made into balls, which are crisp and easy to serve separately. Do not pack stuffing too tightly, and weigh the turkey after stuffing in order to calculate the cooking time correctly. Allow 15-20 minutes per pound/450g (allow 10-15 minutes per pound for turkeys weighing over 16 lb).

* For a traditional roast, spread the turkey with soft butter, cover with bacon rashers and buttered paper, or a square of double thickness butter muslin (you can baste through the muslin). If using foil, remember that – like overloading the oven and frequently opening the door - close wrapping may slow down the cooking.

* On a meat thermometer, the bird is cooked when a temperature of 190ºF, 90ºC is reached.

* Allow the roast turkey to stand for at least 15 minutes before carving, so that the juices can settle and it will slice better. As long as the skin is not pierced, it will hold in the heat.

* Bacon rolls provide a good alternative to ham with hot turkey. The ham can then be cooked ahead and provide more variety at a meal of cold turkey and fresh vegetables and/or salads on St Stephen's Day. Cranberry sauce, bread sauce and a good gravy is all you need with hot turkey, but sweet pickled fruits such as peaches in brandy are delicious when it is served cold.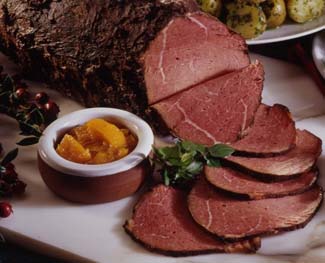 Quick Spiced Beef

This is a very useful standby to have prepared for use on Christmas Day for nibbles or as a starter - or keep it for after Christmas to serve with the side dishes given below as a meal, or as part of a party buffet selection. This quick and easy method leaves the joint nice and pink all the way through.

Serves at least 8:

2 kg/4 lb corned beef, silverside or tailend
1 tbsp. coarsely ground black pepper
2 tsp. ground ginger
1 tbsp. juniper berries, crushed
1 tbsp. coriander seeds, crushed
1 tsp. ground cloves
3 tsp. allspice
3 tbsp. dark brown sugar
2 bay leaves, crushed
1 small onion, finely chopped
250ml /1/2 pt Guinness

To Spice the beef: Mix all the spices and sugar well together plus the bay leaves and onion. Rub the mixture into the meat. Refrigerate for 3-4 days, turning and rubbing daily.

To Cook: Put the meat in a saucepan and just barely cover with cold water. Place a tight lid on the saucepan and bring to the boil. Reduce the heat and cook very gently for approximately 31/2 hours. For the last hour add the Guinness to the cooking liquid. When the joint is cooked allow it to cool in the liquid. Wrap in foil and keep in the fridge until required. Spiced beef will hold well in the fridge for approximately a week.

To Serve as a Starter: Slice the spiced beef very thinly and serve small portions, with a little soured cream flavoured with chives, garlic, finely grated orange rind and freshly ground black pepper.

To Serve as a Party Bite: Slice thinly and serve on brown bread with soured cream, horseradish, or this simple Apricot and Almond Chutney (also an attractive little gift when packed prettily in small jars; makes 1 litre/ 13/4 pints).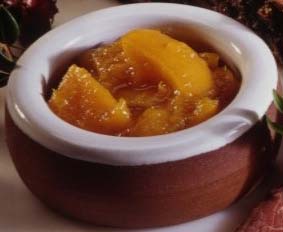 Apricot & Almond Chutney

450g /1 lb no soak dried apricots, chopped
225g/8 oz brown sugar
1 onion, chopped
500ml/scant 1 pint wine vinegar
1 cooking apple, chopped
2 tables. fresh root ginger, grated
1/2 tbsp. coriander seeds, toasted and crushed
75g /3 oz almonds, blanched and roughly chopped
Dash of Tabasco and salt

Mix all the ingredients in a large saucepan. Heat gently, stirring all the time, until the sugar has dissolved. Simmer for about an hour (don't over cook). Spoon into warmed, sterilised jars and seal immediately. Improves with keeping.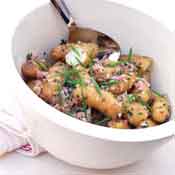 Warm potato salad with herb dressing

This delicious warm potato salad and the colourful orange salad below are ideal with the spiced beef, or with leftover turkey and ham on St Stephen's Day. Scales up well for parties.

Serves about 6-8:


1kg/2lb baby potatoes, or any waxy type, cooked but still warm

Dressing:

3 tbsp. olive oil
1 tbsp. red wine vinegar
1 tbsp. chopped tarragon
1 tbsp. chopped parsley
2 cloves garlic chopped
1 tbsp whole grain mustard
salt and black pepper

Mix the dressing ingredients together and stir through the potatoes.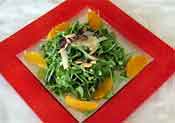 Orange and rocket salad

A pretty and refreshing side dish - also ideal for richer meats such as goose or duck. You could make this into a light meal by including chunks of farmhouse cheese in the salad, and serving it with freshly baked soda bread.

Serves about 6-8:

2-3 oranges cut into segments
Rocket leaves
Red onion finely sliced
Dressing
3 tbsp olive oil
1 tbsp red wine vinegar
1 tsp Dijon mustard
Salt and black pepper

Mix the dressing ingredients together.
Toss the oranges, rocket leaves and onion together and mix with the dressing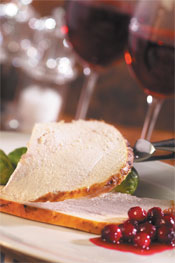 Roast Turkey with Traditional Parsley & Thyme Stuffing

Serves at least 8 on Christmas Day, and enough for a cold meal for St Stephen's Day:

7 kg /14 lb turkey, oven ready
Salt, black pepper and a little flour
2 tbsp. softened butter
8 slices streaky bacon

Stuffing

450g / 1 lb bread, broken into pieces
6 tbsp. fresh parsley, chopped
2 tbsp. fresh thyme, chopped
1 medium onion, cut into quarters
Salt and black pepper
100-150g /4-6 oz butter, softened

To Make the Stuffing

Place the bread, parsley, thyme and onion in a food processor. Process until you have fine breadcrumbs and the onion is finely chopped. Remove to a bowl, season and mix in the butter.

To Stuff the Turkey

Loosen the skin at the neck end with your hands. Pack the stuffing in, pushing it up between the flesh and the skin, but not too tightly, because it will expand during cooking. Tuck the neck flap under the bird's back and secure with a cocktail stick. Any remaining stuffing can be cooked in a covered baking dish with the turkey. Weigh the turkey, and calculate the cooking time. Allow 15-20 minutes per pound/450g (allow 10-15 minutes per pound for turkeys weighing over 16 lb). Place the turkey, breast side up, in an oiled roasting tin.

To Cook the Turkey

Set the oven at Gas Mark 7, 220°C (450°F).
Season the turkey with salt and pepper and dust with a little flour. Rub all over with the butter, then lay the bacon slices on the breast, overlapping each other. Cover the bacon with a piece of buttered greaseproof paper. This will keep the bacon in place. Wrap the turkey loosely in foil and roast in the preset oven. After the first half hour reduce the heat to Gas Mark 3, 170°C (325°F). Baste a couple of times during roasting. For the last half hour remove the tin foil.

To check if the turkey is cooked pierce the thickest part of the leg – the juices should run clear.

When the turkey is cooked remove from the oven, transfer to a large plate, reserve the cooking juices in the tin to make the gravy. Cover the turkey loosely with foil and allow to rest for half an hour in a warm place while you finish the ham and roast potatoes.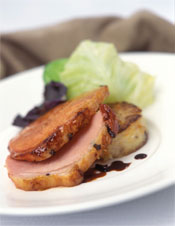 Loin of Bacon with an Irish Mist Glaze

This recipe is adapted from the modern Irish cookbook 'Full On Irish' (EUR25, available directly from Dunbrody House) by Kevin Dundon , proprietor-chef at the lovely Dunbrody House Hotel at Arthurstown, Co Wexford.

In this beautiful book, Kevin Dundon visits the producers and suppliers who provide his kitchens with the finest foods the surrounding area has to offer: simply magic!

The loin of bacon is most often used for back rashers but it also makes a wonderful joint, perhaps served with potato cakes and cabbage cups, as given as an option here.

Most bacon now doesn't need to be soaked overnight, but it is probably worth checking with your butcher. Serves 4 as a main course with the potato cakes, or 8 when served with turkey and traditional trimmings:

900g/2lb loin of bacon
2 tbsp Irish Mist
4 tbsp honey
100ml/3 1/2 fl oz tablespoons cider
12 whole cloves
Seasoning: salt and freshly ground black pepper

Place the loin of bacon in a large pan and cover with cold water. Bring to the boil, then reduce the heat and simmer for 1 hour until completely tender.

Preheat the oven to 180ºC/350ºF/Gas 4. Place the Irish Mist in a pan with the honey and cider, then heat gently until dissolved. Remove the loin of bacon from the water and leave until cool enough to handle, then trim away the rind and excess fat. Slash the remaining thin layer of fat in a criss-cross pattern and stud with cloves.

Place the clove-studded loin of bacon in a small roasting tin and brush all over with the Irish Mist glaze, pouring any remainder around the joint. Bake for 15-20 minutes until completely heated through and well glazed, basting occasionally.

Remove the bacon from the oven and leave in a warm place for at least 10 minutes. Season to taste.

To serve, carve the bacon into slices and then drizzle around the remaining glaze left in the tin.


Perfect Roast Potatoes

The most important thing to remember for perfect potatoes is not to roast them too long in advance as they lose their crunch if you keep them waiting. Start by par-boiling the peeled potatoes for approx. 5-6 minutes, depending on size, so they are just softening but not breaking up. Drain well and set aside.

When ready to cook, heat some oil or fat from the turkey in a roasting tin or baking tray (when cooking separately, goose or duck fat is ideal). When it is very hot, add the potatoes and shake around to roughen the surface and distribute the fat.

Sprinkle with salt and roast in the hot oven (preheated to at least Gas Mark 6, 200°C, 400°F); allow half an hour.

Shallots, roasted with the potatoes, are also delicious.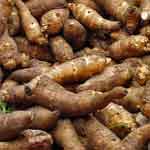 Jerusalem Artichokes are beautiful root vegetables and, while we will also have carrots and possibly parsnips on the Christmas table, these knobbly sweet-fleshed treats take pride of place. Although traditionally served in white sauce, this simpler recipe is less hassle on Christmas Day. Serves 6-8:

11/2-2 lb/700-900g Jerusalem artichokes
Lemon juice or vinegar, as required
Salt
2 oz/50g unsalted butter
Seasoned flour (optional).

Peel the artichokes, dropping them straight into a bowl of water acidulated with a good dash of lemon juice or vinegar to prevent browning.

Cut up so that the pieces are matched for size, otherwise they will cook unevenly. Bring a large pan of salted water to the boil, drain the artichokes and boil them for about 5 minutes, or until just tender. Watch them carefully, as they break up easily.

Melt the butter in a roasting tin, coat the artichokes in the seasoned flour and roll them around in the butter then put into the oven (350'F, 180'F, Gas mark 4 approx.) for 20-30 minutes, or until golden brown.

Variation: You can take short cuts with this recipe, by omitting the flouring stage and using ordinary salted butter. If you keep a close eye on them, you can also speed them up by browning the artichokes at a higher temperature if convenient.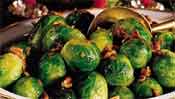 Greens with Shallots & Bacon

Sprouts are the traditional choice and given here, but this recipe could be used for other vegetables, including green beans, broccoli florets or even celery. The advantage is that they can be prepared ahead and popped into the oven to reheat while you're getting everything else onto the table.

Serves 6-8:

1 kg /2 lb small-medium sized sprouts, trimmed
1 tbsp. oil
2 cloves garlic, chopped
1 onion or 2-3 shallots, sliced
3-4 slices of streaky bacon, chopped
Salt and black pepper
1-2 tbsp. stock from the ham

Trim the sprouts, cut a cross in the base of each one and blanch them for 2-3 minutes; drain well. Heat the oil, saut? the garlic, onions and bacon for 2-3 minutes and season. Add the mixture to the sprouts and pour the lot into a baking dish with the stock. Reheat in a hot oven for 10-15 minutes just before serving.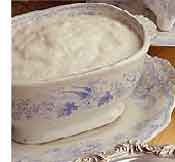 Bread Sauce - a very traditional accompaniment for the turkey. Can be prepared ahead and gently reheated, adding more milk or cream as required to correct the consistency.

l small onion
2 or 3 cloves
l small bay leaf
1/2 pint/300 ml milk
2 oz/50g soft white breadcrumbs
1/2 oz/12g butter
Salt and freshly ground black pepper
A pinch of grated nutmeg (optional)
l tablespoon cream or top of the milk.

Peel the onion, stick it with the cloves and put into a milk pan with the bay leaf and the milk. Bring it just to boiling point, then take the pan off the heat and leave it to infuse for 15 minutes. Strain and discard the onion and bayleaf.

Add the breadcrumbs and set the pan in a warm place or on a simmering mat over very low heat for about 1/2 hour until the breadcrumbs have soaked up the milk.

Add the butter, season with salt, pepper and the nutmeg if using, and stir until smooth. If it is too thin, simmer the sauce very gently for about 5 minutes, stirring frequently as it burns very easily; if it is too thick, adjust with extra milk as required.

Just before serving, stir in the cream.


Cranberry Sauce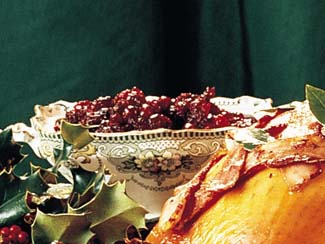 Very simple to make and far better than anything out of a jar. Make the day before. Serves 8:

1 packet x 325g (12 oz) cranberries
225g (8 oz) sugar
125ml (1/4 pt) water

Heat everything together gently until the sugar has dissolved, then simmer for 5-10 minutes. Cool and store in the fridge until required.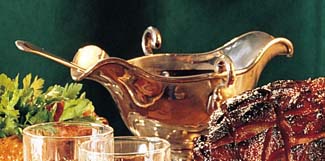 How to make Good Gravy

A well-flavoured stock is important so, a day ahead, place the giblets, with some onion slices and a bay leaf in a saucepan; season lightly, cover with water and simmer gently for 11/2-2 hours. Then strain and check seasoning.

After removing the turkey from the roasting tin, pour off most of the fat and leave behind the juices. Over a medium heat, stir in a heaped tablespoon of flour, or as much as the fat and juices can absorb.

Blend well and stir for a minute or two, to cook the starch. Blend in the stock and a dash of wine; simmer for 2-3 minutes, also adding in any vegetable stock until the gravy reaches the consistency you like.

A tablespoon of redcurrant jelly, or a splash of red wine or balsamic vinegar will also add to the flavour. Season to taste.

(Variation: I always cook a finely chopped onion in the juices before adding the flour, which improves the flavour even more; there is no need to strain them out.)


If you are having a traditional hot Plum Pudding, steam for a couple of hours before the meal. We usually have a choice of hot Rum Sauce (a sweet white sauce flavoured with navy rum) and Rum Butter (equal quantities of soft light brown sugar creamed with unsalted butter, then flavoured generously with rum).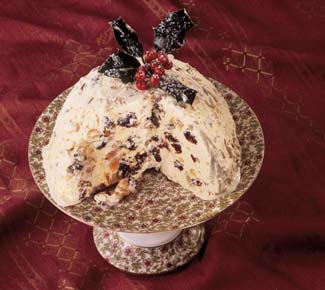 Christmas Ice Pudding can be made at the last minute if necessary - a delicious alternative to the traditional hot pudding.

Serves 6-8

100g/4 oz granulated sugar
125 ml/1/4 pint water
4 egg yolks
600 ml / 1 pint cream
1 tsp vanilla essence
500g/1 lb mixed dried fruit, eg raisins, currants, sultanas, chopped figs, apricots (soaked overnight in port, or similar)
100g/4 oz toasted almonds, chopped.

Put the sugar and water into a pan. Dissolve the sugar over a gentle heat, then boil steadily until it forms a syrup. Beat the egg yolks well, then carefully pour the syrup onto them. Continue to whisk to a thick mousse-like mixture. Whip the cream. Fold the cream and vanilla essence into the mousse with the fruit and nuts. Pour the lot into a pudding bowl and freeze.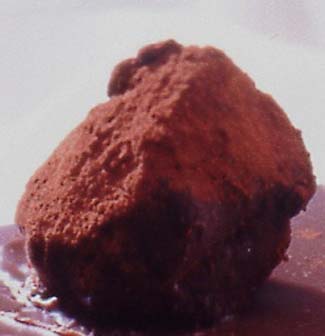 Chocolate Truffles

Irish handmade chocolates are all the rage. Makes about 50:

200g/7 oz best quality dark chocolate (eg Valrhona, Celtic or Green & Black)
50g/2 oz butter
50 ml/2 fl oz cream
Unsweetened cocoa powder for dusting

Melt the chocolate over gentle heat, then stir in the butter. When all the butter has melted, add the cream. Transfer the chocolate mixture to a baking tray and chill.

Shape the truffles rapidly, spooning out the paste with a teaspoon and rolling into walnut-sized pieces with the palm of your hand. Drop them one by one into a bowl containing unsweetened cocoa, twisting the bowl to coat the truffles with cocoa. Store in a cool place.

Variations: Add a tablespoon of Irish whiskey, Irish cream liqueur or other similar flavouring when melting the chocolate. Chop 100g/4oz of dried fruit such as prunes and fold into the chocolate mixture before you transfer it to a tray.


Christmas Dinner - Timing Guide

Based on a medium-sized stuffed turkey about 14-15lb/6.5-6.75kg, covered with butter muslin or wrapped loosely in foil (see above), this is a rough guide to timing if serving at around 1 pm; adjust to suit your turkey size and preferred serving time:

The night before, remove turkey from fridge and leave it in a cool place overnight (eg the cold oven) to bring it to room temperature

8.00 Preheat the oven to 425F/220C/Gas 7

8.30 Put the turkey in to roast

9.00 Lower temperature to 325F/160/C/Gas 3 and cook for 3 1/2 hours

9.30 Put Christmas Pudding on to steam; check water regularly

10.30 Add finishing touches to table; prepare wines

11.15 Unwrap turkey, baste and continue cooking. Start potatoes (see above). Put plates and serving dishes to warm.

12.30 Put bacon rolls and cocktail sausages into the oven with the turkey, or cook under a hot grill. Keep warm
Make white sauce - rum or brandy - if using; keep warm. Whip cream, cover and store in fridge; cream flavoured with Baileys or brandy can be used instead of a hot sauce if preferred.

12.40 Test turkey with a skewer; if cooked, wrap in foil and rest for at least 20 minutes. Turn up oven temperature after removing the turkey and finish cooking the potatoes (see above). Make gravy.

Part-cook green vegetable; cook any other vegetables, eg carrots, drain and keep warm (reserve stock for gravy).

Reheat Bread Sauce, adding a little milk to thin if necessary.

12.50 Turn the Christmas Pudding onto a heated serving dish; cover with foil to keep warm until ready to serve.

Place turkey on a carving dish; if serving a large number, carve in the kitchen, transfer to a serving platter, cover and keep warm. Finish cooking green vegetable. Dish up, leaving the potatoes in the oven as long as possible so they will be crisp. (Arrange to have plenty of help for serving if the numbers are large.) Transfer any frozen dessert from freezer to fridge before sitting down.

1.00-1.15 Sit down and enjoy your Christmas Dinner!