Achill Island Sea Salt - Special Irish Foods & The People Who Make Them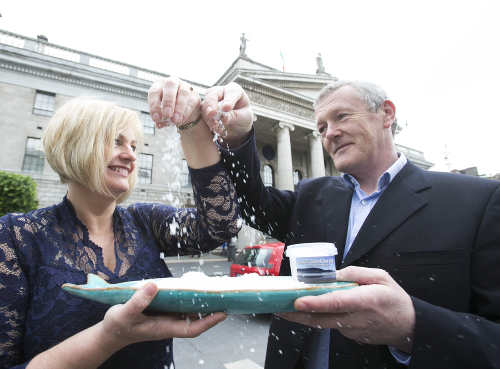 Georgina Campbell
New products (and themed books) are like buses, you wait for ages for one to come along and then suddenly there are several.
Despite our long, rugged coastline and clean Atlantic water, Irish sea salt was a long time coming, and now we have three - Irish Atlantic Sea Salt from West Cork, which is relatively well established; Oriel Sea Salt of Co Louth (a pouring salt, due on the retail market soon); and Achill Island Sea Salt (www.achillislandseasalt.ie), a small family-run Co Mayo business that was one of five recipients of the 2014 EirGrid Euro-Toques Food Awards, presented in May.
The business is very new, having been founded by Kieran, Marjorie and Sean O'Malley less than a year ago, in July 2013. Their aim was to revive the age-old tradition of salt production on Achill Island and to produce a hand harvested, sustainable and pure artisan product from the wild Atlantic waters of Keel Bay.
In time-honoured style, the business began in the family kitchen, where sea water collected in plastic buckets from Keel and Dooagh Bay was boiled in saucepans to evaporate the water so that the salt crystals could be harvested.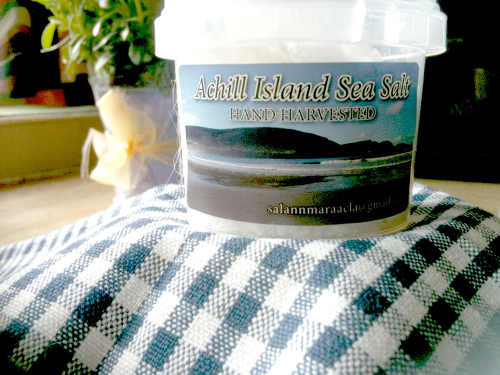 Achill Island Sea Salt is a natural product, with a soft, flaky texture similar to the benchmark sea salt product, Maldon Salt, and flavour between that and the intensely salty Irish Atlantic Sea Salt. Chefs particularly appreciate that the crystals break down quickly on food.
Euro-Toques Chefs and members of their Food Council were impressed with the salt for "its texture, taste and flaky appearance"; praised the O'Malley's entrepreneurial spirit and determination in setting up a sustainable business on Achill Island."
Achill Island Sea Salt attracted a lot of publicity from an early stage and, in order to increase production and meet demand from chefs and speciality food shops, the O'Malleys have now moved into a pilot plant beside their home in Keel.
As production increases it should become more easily available. It is displayed in shops and restaurants locally, and features on some Euro-Toques and other discerning menus in other areas too.
There is a list of stockists on their website, but online listings get dated easily so you may have to put a bit of work into finding Achill Island Sea Salt, but it's worth the search. On a recent visit to Mayo, it was unavailable at Kelly's of Newport, but we later spotted it at Café Rua in Castlebar (both listed stockists) and have since seen it on sale at Sheridans of Carnaross, Co Meath and the shops at Ballymaloe, Co Cork (not listed stockists). Other products in the pipeline are turf smoked sea salt; seaweed infused sea salt? and sea salt blended with various herbs and spices.
[Note: The Euro-toques Food Awards have been in existence since 1996. Their purpose is for Euro-toques chefs to identify the very best food being produced in Ireland for the benefit of fellow chefs and consumers, and above all the producers themselves, who are often very small operators.
In doing this they seek to highlight foods and production methods that may be in danger of being lost and to promote people who were producing food of the very highest quality and, above all, the best taste.
Producers are nominated by Euro-Toques member chefs who use their produce on their menu. The Euro-toques Food Council made up of 8 chefs from across Ireland carry out tastings, investigations and visits before choosing 5 winners each year. The awards have been sponsored by EirGrid since 2010.]