Achill Island Turbot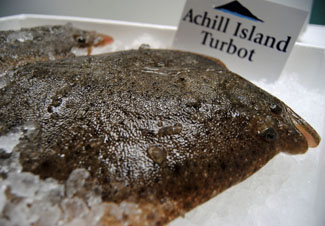 Turbot is a flat fish with pure white flesh that is highly prized for its texture and flavour – a delicacy since Roman times, it is a favourite of that great seafood chef Rick Stein.

A large left-eyed flatfish, wild turbot (Scophthalmus maximus) is mainly found in sandy shallow waters throughout the Mediterranean, the Baltic Sea, the Black Sea and the North Atlantic, where it lives quietly on the ocean floor.

European turbot has an asymmetrical disk-shaped body, and has been known to grow up to 100 cm (39 in) long and 25 kg (55 lb) in weight; however wild stocks have been depleted in recent years, and landings are now unpredictable in size and quality.

In its natural habitat turbot lives a sedentary life, and it is ideally suited to land-based farming in pristine sea water; it is already successfully farmed in several countries, including Scotland.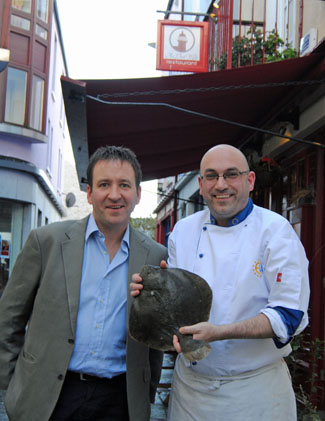 Now Michael Flanagan and Raymond Mairs' turbot farm, Achill Island Turbot (+ 353 (0)98 47023; www.achillislandturbot.ie), at Bunnacurry on Achill Island, Co Mayo, looks set to become important in Ireland and beyond, as their top quality fresh turbot have taken the Irish the market by storm and the new facility is expected to reduce pressure on wild stocks.

Achill Island Turbot was established in 2008 with the objective of creating a world class recirculation aquaculture facility on the island; the recirculation system used has no negative impact to the surrounding environment and there is no visual impact on the sea coast.

Udaras na Gaeltachta has been a strong supporter of the business from the outset and BIM, the Irish Sea Fisheries Board, continue to work with the company to develop their business potential.

Sustainability is at the heart of the project and the quality fish they produce has been warmly welcomed, notably by Euro-Toques chefs.

In October 2010 members of this prestigious chefs' association organised a trip to Co Mayo, to visit the farm and to taste the fish at the Westport seafood restaurant An Port Mór, where owner-chef Frankie Mallon prepared a special lunch to celebrate the arrival of the first Achill Island Turbot harvest.

Turbot in Tarragon and Soured Cream Sauce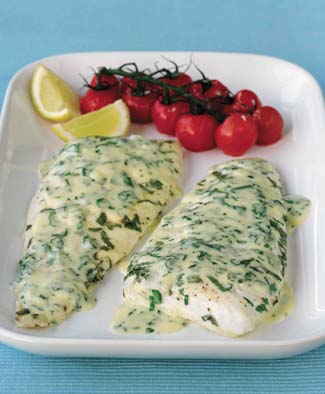 Try using Achill Island Turbot for this easy dish if you can get it. Whatever the source choose larger fish if possible, as you would with any flat fish, so that you get nice chunky fillets.

As with other flat fish, turbot will yield four fillets, of which the upper two will be thicker. If turbot is unavailable, other flat fish such as John Dory or brill would be good alternatives; although not as sweetly flavoured as turbot, brill is also a fine fish and can be good value too.

It is quite difficult to distinguish a large brill from turbot but running your finger over the skin will soon tell you which is which as turbot have little lumps on their skin.

Click for Recipe