Black Forest Gateau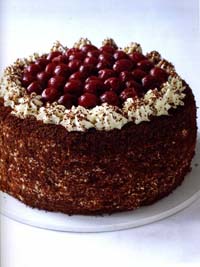 From MasterChef KITCHEN BIBLE, Everything you need to know to become a MasterChef in your own kitchen (Dorling Kindersley hardback, £26/€30)

"This is a classic cake that cannot be improved. However, don't waste the remaining cherry juice - use it as a basis for a berry fruit salad."

Preparation time 55 minutes
Cooking time 40 minutes

Serves 8

6 eggs
1 75g (6oz] caster sugar
125g (41/2 oz) plain flour
50g (13/4 oz) cocoa powder
1 tsp vanilla extract
85g (3oz) butter, melted
600ml (1 pint) double cream
2 x 425g (15oz) can pitted black cherries
4 tbsp kirsch
150g (51/2oz) dark chocolate, grated

1 Preheat the oven to 180°C (350°F/Gas 4), Lightly grease and line the bottom of a 23cm (9in) deep springform cake tin with baking parchment. Put the eggs and sugar into a large heatproof bowl, and place over a saucepan filled with simmering water. Don't let the bowl touch the water. Whisk until the mixture is pale and thick, and will hold trail. Remove from the heat and whisk for another 5 minutes, or until cooled slightly.

2 Sift the flour and cocoa together and fold into the egg mixture using a large metal spoon or a spatula. Fold in the vanilla and butter, Transfer to the prepared tin and level the surface. Bake in the oven for 40 minutes, or until risen and just shrinking away a little from the sides. Turn it out on to a wire rack, discard the lining paper, and cover with a clean cloth. Allow the cake to cool completely.

3 Carefully cut the cake into 3 layers, Drain 1 can of cherries, placing 6 tbsp of the juice into a bowl with the kirsh. Roughly chop the drained cherries. Drizzle a third of the kirsch and cherry syrup over each layer of sponge.

4 Whip the cream until it just holds its shape. Place 1 layer of the cake onto a serving plate. Spread a thin layer of cream over the top of the sponge, and scatter with half the chopped cherries. Repeat with the second layer and top with the final layer of sponge. Using a palette knife, spread a thin layer of cream around the edges of the cake
to cover, and spoon the remaining cream into a piping bag fitted with a star-shaped nozzle.

5 Using a spoon or a palette knife, press the grated chocolate onto the side of the cake. Pipe swirls of cream around the top edge of the cake. Drain the second tin of cherries and use them to fill the centre of the cake. Scatter any remaining chocolate over the piped cream.