Book Review - Chapter One, An Irish Food Story by Ross Lewis
Gill & Macmillan, hardback 315 X 285, 302pp, ISBN 9780717157877; photography by Barry McCall; €39.99. From bookshops, the restaurant, and online
Stunning is a word that's overused these days, but first sight of this beautiful and long anticipated book simply took my breath away.
It is big, very big (weighing in at around two and a quarter kilos in fact) but, even before you open it, the subtle, enigmatic cover design flags an original and thought provoking approach.
Opposite the imprint page, a glorious full page image of four earthy potatoes on a crumpled brown paper bag leaves you in no doubt of the down to earth philosophy underpinning both this work of art and the restaurant and maturing food culture that it celebrates.
Chapter One is one of Ireland's most highly-praised restaurants, and rightly so. It's now hard to believe that its location in Dublin's north city was originally such a disadvantage but, following a slow burn in the early years, it started to attract the attention of critics, with the Guide among the earliest admirers - being northsiders ourselves, we were especially delighted to have such quality in the area and it was our Restaurant of the Year in 2001.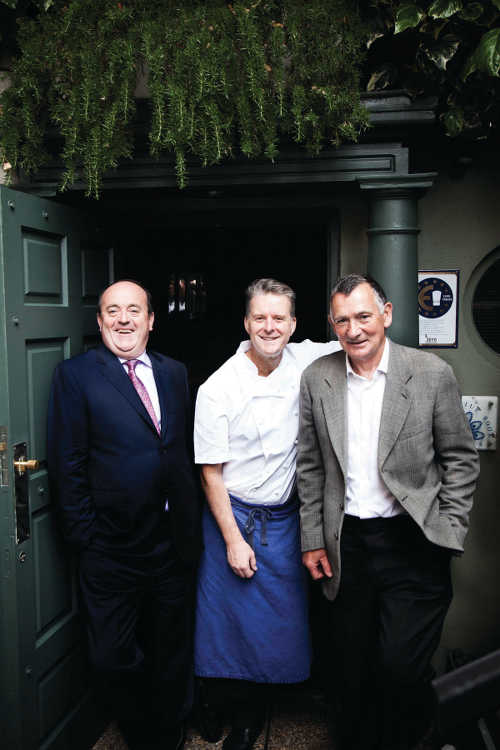 Southsiders soon came in droves however, to experience the exceptional ingredients-led cooking and warmly professional service at this superb and always slightly understated restaurant, enjoying not only the outstanding dining experience but also the sense of discovery (crossing the Liffey to dine being regarded as an adventure at the time).
Many dozens of books have been written about Irish food in recent decades, some of them excellent, but Chapter One, An Irish Food Story is head and shoulders above the best of them. The Irish food book of its generation, it is both a personal story - of chef-patron Ross Lewis, his co-proprietor and 'maitre d' extraordinaire' Martin Corbett, and all involved with this remarkable and much-loved restaurant - and the story of Irish food and its recent development.
Published to coincide with Chapter One's 21st birthday, the book also marks a coming of age for modern Irish food - a success story which owes a huge debt to people like Ross Lewis and the artisan producers that he and his fellow travellers have always championed.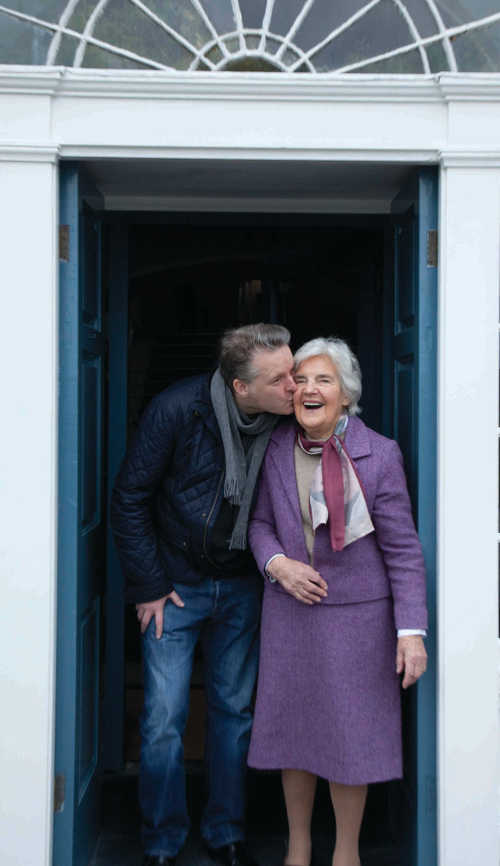 A committed member and former Commissioner General of Euro-Toques Ireland (www.euro-toques.ie), which Myrtle Allen founded in 1986, Ross Lewis's introduction to the book is entitled 'Food Philosophy' and cuts straight to the chase: "Good cooking begins with good produce, and when you have the richness of the Irish larder to choose from, there is an opportunity to really soar." And soar he most certainly does, both in the restaurant which has established an international following and in the book, where his treasured growers and artisan suppliers - some of whom have supplied the restaurant since the 1990s - are given pride of place.
Many of the giants of the artisan food world are feted here - legendary figures like Veronica Steele the 'matriarch of Irish farmhouse cheese, the catalyst for the artisan food movement'; other dairy specialists including Seamus Mulligan and Valerie Kingston; passionate growers like Dermot Carey, Denis Healy, David Llewellyn, Brendan Guinan and Donnacha Donnelly; dedicated hunter gatherers - Manus McGonagle, Mick Healy and Mark Cribbin - butchers, fishmongers and smokers including Jack McCarthy, Tom Durcan, Alan Murphy, Ed Hick, Maurice Kettyle, Terry Butterly and Fingal Ferguson; 'Ireland's patron saint of bees' Eoghan Mac Giolla Coda and innovators like Kitty Colchester and Arun Kapil, who bring new flavours to enrich Irish traditions.
The word 'palette' occurs often in the text, a reminder of the constant quest for perfection at Chapter One, in the sourcing of ingredients and their transformation into beautiful modern dishes that demonstrate a keen interest in current food trends (Nordic influences, for example, and a re-examination of the historic role of spices), always based on the solid foundations of classical techniques and tradition.
I have never encountered a food book that expresses a philosophy so holistically in every aspect of its production and design, and this is down to an exceptional team including Ross Golden-Bannon (Editor, Project Manger and Concept Consultation) who ensured that the vision came to reality; Orla Broderick, who had the challenging task of recipe editing; and of course the acclaimed photographer, Barry McCall. His work interprets the food philosophy succinctly, conveying a sense of pared down simplicity with great depth; photo portraits of Chapter One's key personnel and artisan suppliers are especially memorable and the clean, deceptively simple food photography makes you want to eat off the page.
While recipes from the restaurant play a central role, along with some marking special events, notably the State Banquet for the visit of Queen Elizabeth II in 2011, Ross Lewis is quick to concede that the recipes may be challenging, even for proficient home cooks - and, for many readers, 'the story' will be the main focus.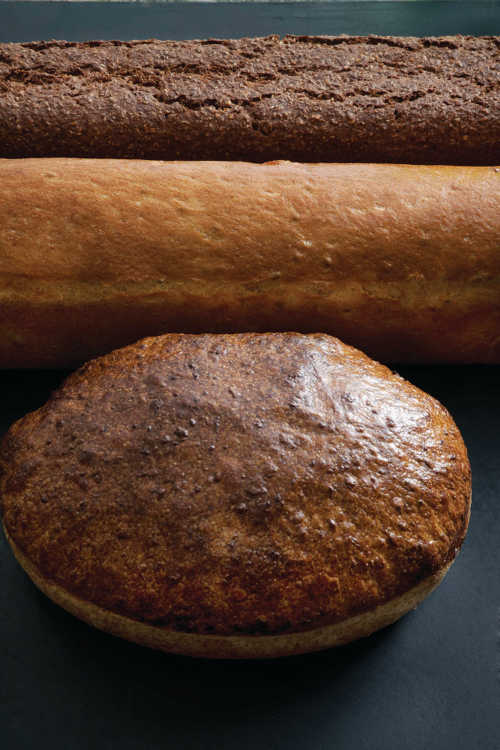 Aspiring MasterChefs will find plenty to hone their skills on but, for the rest of us, Orla Broderick's meticulous editing makes it possible to pick out elements of complex dishes that we could comfortably tackle at home - and of course there are some simple treats that are central to the restaurant's repertoire that we can all enjoy, such as their magnificent breads (see below).
Destined to earn its place among the great classic food works, this is a book that should be seen in high places - to represent Ireland in embassies and international food fairs, in executive lounges and on managing directors' coffee tables. But it is also the perfect (and surprisingly kindly priced) gift for any genuine food lover - and everyone who values Irish food, and takes pride in its journey, will want to have a copy.
RECIPES
While complex, the seasonal starter recipe given below is a good example of a Chapter One dish with multiple elements that can be undertaken separately; there are some slight variations from the version given in the book, where more details can be found.
The bread recipe that follows is one of the half dozen or so breads that form part of the delicious opening sequence that is an essential part of any meal at Chapter One. The Brown Soda Bread is probably the simplest recipe in the book - and none the less enjoyable for that.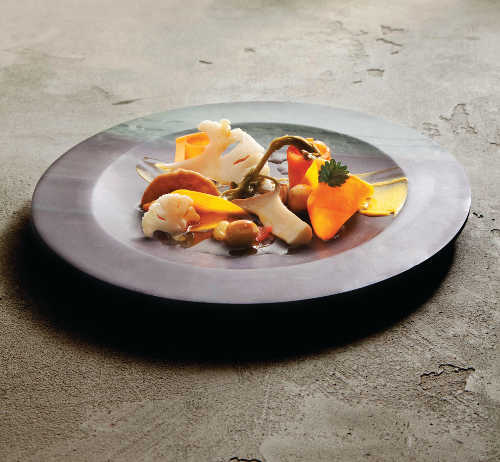 Winter pickled vegetable salad with marinated green raisins and caper sprouts, beurre noisette and fresh salted hazelnuts
"This is a beautiful way to start a meal. The golden raisins, caper and hazelnuts make for a play of textures and flavours. Different pickling liquids combine saltiness and acidity with the crunch of the vegetables. Fresh salted hazelnuts add further to the texture, so we've everything from sweet, sour and salty to umami. The carrot purée adds the all-important ingredient of luxury."
Serves 8
FOR THE MARINATED GREEN RAISINS
Ingredients
50 g large green raisins, 40 in total
100 ml Sauternes wine
Method
Bring the raisins and wine to a simmer and then leave to
infuse for 24 hours. Drain.
FOR THE PICKLED CARROT
Ingredients
3 large carrots
handful of salt
50 ml water
50 g sugar
100 ml Llewellyn's apple balsamic cider vinegar
2 tsp Japanese apple vinegar (glossary), optional
5 coriander seeds
1/2 star anise
1 tsp caraway seeds
Method
Slice the carrots on. a mandolin. Lay on a tray, sprinkle evenly with salt and leave for 20 minutes. Rinse and pat dry.
Put the water, sugar and vinegars in a pan together with the spices and bring to the boil until the sugar has dissolved.
Leave to cool, then pour over the carrots and pickle for at least 2-3 hours.
FOR THE PICKLED CAULIFLOWER
Ingredients
1/4 cauliflower, tough core removed
4 g salt, plus a handful for the cauliflower slices
600 g rice wine vinegar
40 g sugar
5 g lemon zest
Method
Slice the cauliflower on a mandolin. Lay on a tray, sprinkle with salt and leave for 20 minutes. Rinse and pat dry.
Bring the vinegar to the boil with the sugar, zest and salt. When the sugar is dissolved, allow to cool.
Reserve 350 ml of the pickle for the pumpkin and pour the rest over the cauliflower. Pickle for at least 2 hours.
FOR THE PICKLED PUMPKIN
Ingredients
1/4 small crown prince pumpkin
6 g salt, plus a handful for the pumpkin slices
250 ml Hondashi stock (details in glossary)
30 ml mirin
30 ml sake
5 g rice vinegar
30 ml dark soy sauce
350 ml pickling liquor from the pickled cauliflower
Method
Peel the pumpkin and then slice on a mandolin. Lay on a tray, sprinkle with salt and leave for 20 minutes.
Rinse and wring out in a clean tea towel to get rid of as much water as possible.
Bring the Hondashi stock, mirin, sake, vinegar and soy to the boil with the salt. Leave to cool, then mix with the 350 ml of reserved pickle from the cauliflower recipe.
Pour over the pumpkin slices and pickle for at least 2 hours
FOR THE PICKLED WHITE RADISH
Ingredients
1/2 white radish, scrubbed
600 g rice wine vinegar
40 g sugar
5 g lemon zest
4 g salt
Method
Finely slice the white radish on a mandolin. Bring the vinegar to the boil with the sugar, zest and salt. When the sugar is dissolved, remove from the heat and add the ascorbic acid, then leave to cool.
Pour over the radish slices and pickle for at least 2 hours. pinch of ascorbic acid
FOR THE PICKLED RED RADISH
Ingredients
10 radishes, scrubbed
100 g Llewellyn's apple balsamic cider vinegar
50 g sugar
Method
Finely slice the red radishes on a mandolin. Bring the vinegar to the boil, then add the sugar and allow to dissolve and cool. Pour over the radish slices just before serving.
FOR THE ROASTED HAZELNUTS
Ingredients
20 g skinned hazelnuts
25 g butter
Method
Heat the butter in a saute pan until it starts to brown.
Add the hazelnuts and pan-roast them, tossing frequent!. until they are an even golden brown.
Drain on kitchen paper and season with salt, then crack with the blade of a knife.
TO SERVE
250 g carrot and brown butter purée with black cumin
(see below)
16 pickled Ballyhoura king oyster mushrooms (details in Basic Recipes)
handful caper sprouts (details in glossary)
100 ml beurre noisette (details in Basic Recipes)
fresh micro herbs
CARROT AND BROWN BUTTER PURÉE WITH BLACK CUMIN (Makes 400g)
300g carrots, very finely sliced
90g beurre noisette (butter cooked to a nutty brown state)
10g tarragon vinegar reduction (details in Basic Recipes)
Pinch of ground black cumin
Cook the carrot slices in the beurre noisette over a medium heat until completely soft. Blend to a smooth purée in a blender, adding the tarragon vinegar reduction and finishing with a small pinch of the black cumin to taste.
Refrigerate until needed.
SERVING
Put the carrot purée into a squeezy bottle. Pipe a 4 cm line of purée onto the left-hand side of each serving plate, then use an offset palette knife to spread the purée to form a long rectangle across the middle of each serving plate.
Gently warm the beurre noisette. Arrange 2 pieces of each pickled vegetable, as well as 2 pieces of pickled mushroom on and around the puree, then add 3-4 caper sprouts and some of the hazelnuts.
Add the marinated raisins and then dress with a little of the beurre noisette.
Garnish with the fresh micro herbs.

Chapter One Brown Soda Bread
Makes a 900 ml loaf
Ingredients
380 g wholemeal flour
230 g self-raising flour
140 g wheat bran
40 g jumbo porridge oats
40 g pinhead porridge oats
15 g salt
8 g sugar
25 g bread soda
1 litre buttermilk
40 g treacle
butter, to grease
Method
Preheat the oven to 200°C.
Put all the ingredients, except the bread soda, buttermilk and treacle, in a KitchenAid fitted with a whisk attachment. Mix the dry ingredients with the whisk.
Heat the treacle and buttermilk to 45°C (this enables the flour to take the liquid and to absorb more quickly and evenly).
When the buttermilk and treacle mixture is heated, add the bread soda. Then add to the dry ingredients in the mixer and mix on a medium speed for 5 minutes, then on a high speed for 2 minutes.
Transfer the dough to a greased 900 ml non-stick bread tin and cook in the oven for 40 minutes. (We place a heavy tray on top of the tin to ensure an even-shaped bread for even slices.)
Remove from the tin and cook for another 10 minutes, then transfer to a metal rack to cool.
Leave to cool for 2 hours before slicing as the treacle makes it quite sticky and difficult to cut while still warm.