Book Review - Irish Pantry by Noel McMeel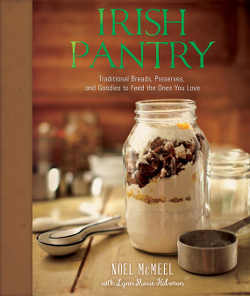 IRISH PANTRY: Traditional Breads, Preserves and Goodies to Feed the Ones You Love By Noel McMeel With Lynn Marie Hulsman; photographs by Steve Legato. Running Press, hardback 320pp. Price €25.00, £18.99.
The number of cookery books published each year is mind boggling, but there is a depressing sameness about most of them.
Perhaps it is a reflection on the relative ease with which a book can be published since the digital revolution, that so many of them are unoriginal and do little more than re-package a predictable collection of all-too-familiar recipes. Happily, this handsome hardback from one of Northern Ireland's best known chefs, Noel McMeel, bucks the trend.
You wouldn't feed a family using his recipes, but you could certainly spoil them - and you could stock up with all the treats to be shared and enjoyed with those 'unexpected visitors', or to be given as gifts on departure - or for any of the little milestones in life when something personal is called for: a handmade jar of jam or chutney, a loaf of crusty soda bread, a tin of biscuits, a freshly baked cake, or a box of carefully wrapped homemade sweets all speak volumes.
Noel - who has an impressive c.v. and is currently Executive Head Chef at Lough Erne Resort in Fermanagh, venue of the recent G8 Summit - grew up on a farm at Toomebridge, Co Antrim (a place we know well from working on our Taste of the Waterways guides) and, like many others who have found a lifetime's fulfilment in the kitchen, it all started with the farm, the seasonal foods of the area, and his mother's kitchen.
Many people who remember a country childhood will feel a surge of recognition when reading Noel's description of his mother's kitchen pantry, which "featured a cooling marble slab and sighing shelves laden with traditional and delicious treats standing at the ready to sustain her large family, or to celebrate the vibrant stream of expected and unexpected guests they loved to welcome."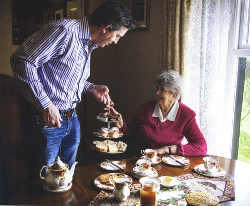 Noel's philosophy is to "Find the very best local ingredients. Support farms and grocers that respect the earth. Prepare meals that delight and excite the senses, but don't get seduced into over complicating. Above all else, let the natural flavour of good food shine through." A sound foundation for a cooking style that embraces traditional Irish roots while also welcoming influences from time spent working in Europe and the United States.
All of this is reflected in Irish Pantry, including the international influences - in fact the book, which was published in Philadelphia and has an American co-author, has a distinctly American tone with US measurements put ahead of European ones and a good sprinkling of un-Irish recipes, including the likes of Jamaican jerk rub, graham crackers, watermelon rind pickles, garam masala and 'a simple Chinese dressing' among the surprises.
And Irish Pantry is not all about nostalgia either. Many practical hints from Noel's professional training and experience as a teacher are passed on to ensure success, no matter how little cooking experience you may have, and he explores traditional techniques that are currently enjoying a revival like potting, curing and pickling, unusual condiments (include a saltless seasoning salt), and some intriguing drinks - did you know you could make your own 'Irish cream'? And, says Noel, it's "embarrassingly easy to make" too.
A lovely gift book, and one that's sure to be a treasured souvenir for its sense of place - especially perhaps by guests at the Lough Erne Resort, who may have enjoyed some of the recipes during their stay.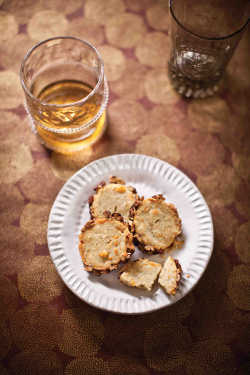 SAMPLE RECIPE: Blue Cheese and Pecan Crackers
Cashel Blue is an example of one of Ireland's many fine cheeses. Fragrant and sharp, baked into crackers, it's a great accompaniment to fruity white wines and full-bodied reds.
Makes about 21/2 dozen crackers
8 tablespoons (1 stick) / 120 grams unsalted butter, at room temperature
8 ounces / 230 grams blue cheese, such as Cashel Blue, crumbled, at room temperature
11/2 cups / 180 grams all-purpose flour, plus more for dusting
2 teaspoons kosher salt
1 teaspoon freshly ground black pepper
2 medium-size eggs, beaten
1/2 cup / 75 grams roughly chopped pecans
In the bowl of an electric mixer fitted with the paddle attachment, cream the butter and blue cheese together on high speed for 1 minute, or until smooth.
With the mixer on low speed, add the flour, salt, and pepper and mix until it's in large crumbles, about 1 minute.
Add 1 tablespoon of water and mix until combined.
Dump the dough onto a floured board, press it into a ball, and roll it into a 12-inch /30-centimeter-long log.
Brush the log completely with the egg wash.
Spread the pecans in a square on a cutting board and roll the log back and forth in the pecans, pressing lightly, distributing them evenly on the outside of the log. Wrap in plastic wrap and refrigerate for at least 30 minutes or for up to 4 days.
Meanwhile, preheat the oven to 350°F / 175°C. Line a baking sheet with parchment paper.
With a sharp knife, cut the log into slices 3/8 inch / 9 millimeters thick and place them on the prepared pan.
Bake for 22 minutes, until very lightly browned. Rotate the pan once during baking.
Transfer to a cooling rack, and let cool completely, and serve at room temperature, or store in an airtight container in a cool, dark place for up to a month.