Book Review - The Extra Virigin Kitchen by Susan Jane White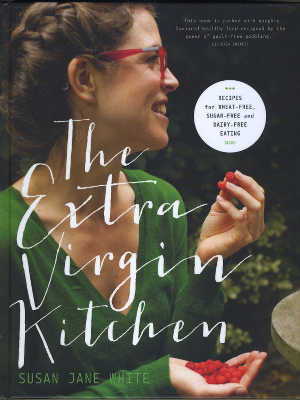 The Extra Virgin Kitchen, Recipes for Wheat, Sugar and Dairy-Free Eating by Susan Jane White with photographs by Joanne Murphy (Gill & Macmillan, hardback, 262pp; €27.99).
"Sinfully delicious recipes for wheat-free, sugar-free and dairy-free eating" are the promise in this handsome and very timely book from Susan Jane White, a well known specialist writer who has earned a following for her entertaining and insightful column in the Sunday Independent's Life magazine.
Demand for free-from food and advice on food intolerance is one of the fastest areas of growth in health and nutrition and, as is now widely documented, Susan Jane's interest in it came the hard way, through personal experience of health problems that turned out to be caused by intolerance to wheat and sugar.
Typically, she chose not to see this as restrictive but as "an opportunity to escape the shackles of energy-sapping processed food." And, as anyone who has met her - glowing with health and brimming with energy and enthusiasm - will agree, Susan Jane is the best possible advert for the pure food philosophy she advocates.
A lot of the recipes use ordinary everyday ingredients, less familiar ones may come from specialist shops (there is a list of favourites), but the range and variety of dishes will surprise many who think in terms of 'special diets' and this persuasive and very readable book will entice you to give it a go, especially as there's something for everyone here, including the children.
A good place to start would be to have some fun with a spiraliser (which makes pasta-like ribbons from vegetables), or knock up a batch of hazelnut and raisin freezer cookies, strawberry shortbread or beetroot candy for a treat.
Then maybe think about some superfoods - brazil nut pesto, perhaps, sprouting seeds, or ocean vegetables ("seaweed is the next big thing"). Vegetables, whole grains, pulses are all major players in the Virgin Kitchen but, while animal proteins play a secondary role, you can also enjoy familiar main courses like roast chicken, which Susan Jane pairs here with gremolata and charred pumpkin. But the single most-missed food mentioned by people on wheat-free diets is good bread - so why not try her buckwheat bread and see how it goes.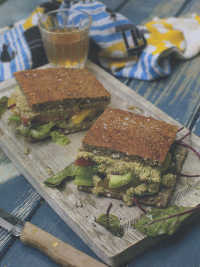 RECIPE: YOUR NEW WHEAT-FREE BREAD
Few pleasures in life con compete with tearing open a hot focaccia. I'm not suggesting you quarantine or banish such pleasures. On the contrary, let's celebrate these delights for what they are and enjoy them from time to time.
For a wholegrain and nourishing alternative, I recommend inaugurating this recipe to your life. And your freezer. It tastes like Irish brown bread, but without the bloating often associated with wheat.
½ cup buckwheat flour
½ cup organic soya flour
2 teaspoons baking powder
1 teaspoon Herbamare seasoning, celery salt or sea salt
1 teaspoon ground ginger
1 teaspoon ground cinnamon
2 cups almond milk, oat milk or hemp
¾ cup millet or barley flakes
¾ cup sunflower seeds
½ cup whole buckwheat grains
1-2 tablespoons honey, barley malt or maple syrup (optional).
Makes one loaf

Preheat the oven to 200°C/180°C fan/400°F. Line a shallow tin just smaller than a magazine page with greaseproof paper. We're going to bake this in a tray rather than a loaf tin, so when it's cooked, we'll cut it into squares. Each square can be used for a sambo, sliced horizontally like a bap.
Sieve the flours, baking powder, seasoning and spices into a large bowl to introduce air and make it fluffy. Try not to omit the spices, as they are central to this bread.
Add the milk, millet flakes, sunflower seeds, whole buckwheat grains and honey (if using). It should be a pouring consistency and be quite runny. Pour the batter into the lined tin.
Bake for 35-40 minutes, depending on the depth of the tray you are using. Remove from the oven, allow to cool on a wire rack and divide into quarters. Looks really slick.
Once you taste this buckwheat bread, you'll never want to buy bread again. Freeze in quarters, ready to split horizontally and toast every morning.