Book Review - The Proof is in the Pudding - Kelly's Black & White Pudding Recipes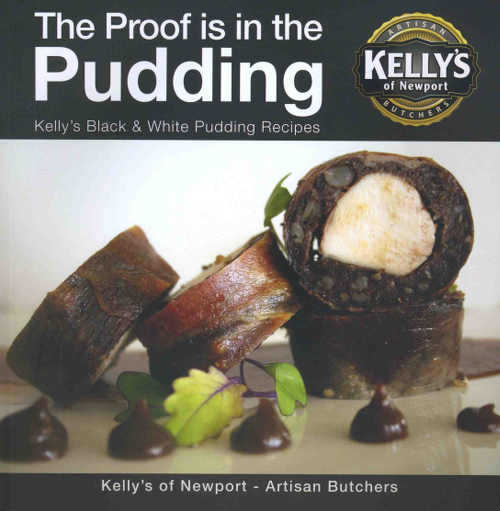 Available from Kellys Butchers, Newport, Co. Mayo; The Castle Bookshop, Castlebar; and online from mayobooks.ie Price: €15, with proceeds going to Cystic Fibrosis West.
There may be nothing new about black (and white) pudding in Ireland, it's been a great everyday food for generations. But this traditional pork product did slip a bit in the popularity stakes for a couple of decades while we were getting used to the idea of 'being modern' and enjoying international cuisine - and eating less of the full Irish too.
Then the late great Gerry Galvin and several other like-minded chefs instigated a revival by using pudding - especially black pudding - as an ingredient in their restaurant dishes in the '70s and '80s.
And just look at them now. Puddings have never been more popular, and not just in the traditional cooked breakfast either. Practically every self-respecting restaurant now has a house speciality of some sort based on black or white pudding, and very good most of them are too.
A few specialist butchers have the competitive edge when it comes to the core product and Kelly's of Newport - winners of a gold medal from the Confrerie des Chevaliers du Goute-Boudin (The Black Pudding Fraternity of Lovers of Good Food), no less - are among the very best.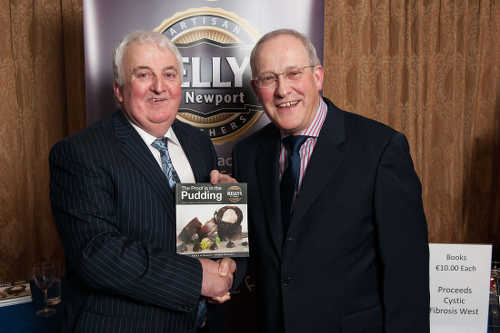 So who better to make up a compilation of pudding recipes? And no ordinary compilation either, but a very smart 124 page book, proudly compiled, edited, designed, printed and marketed in Mayo - and even with a Foreword by the First Man of Mayo, An Taoiseach, Enda Kenny.
But, while the key products and the book itself undoubtedly represent Mayo's best, the recipes come from the best of chefs and cooks all over Ireland, and a very handsome little collection it makes.
The range is wide, covering everything from starters and snacks to sophisticated main courses and even dessert, so you'll find inspiration for every taste and occasion here.
SAMPLE RECIPES:
If you're new to black pudding and wondering whether to get some in the shop, you can try before you buy by popping into Kelly's Kitchen restaurant next door, which is run by Sean's daughter Shauna Kelly.
Many of the ingredients come from her Dad's butchers and once you've enjoyed some of her simple, tasty fare - like this appealing combination of black pudding and organic goat's cheese from Co Clare - you'll be hooked.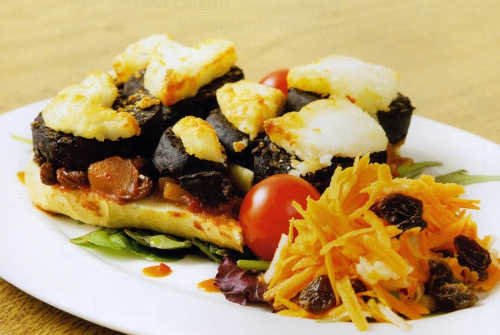 Black Goat
Serves 2
8 slices of Kelly's award winning black pudding
8 tablespoons of Kelly's kitchen home-made tomato relish
one long crusty baguette
8 slices of St Tola organic goat's cheese
1 tablespoon of rapeseed oil
Preheat the oven to 180°C.
Heat the rapeseed oil in a non-stick frying pan.
Cook the Kelly's Black Pudding for approx 2 minutes on each side.
Cut the baguette lengthways in half and smother with home-made tomato relish.
Next cut the Black Puddings in half and place on top of the relish, and then cover liberally with St Tola organic goat's cheese.
Place each baguette half in the preheated oven for 5-6 minutes, or until the goat's cheese is bubbling.
To serve cut each baguette into 3 pieces and serve with a seasonal salad.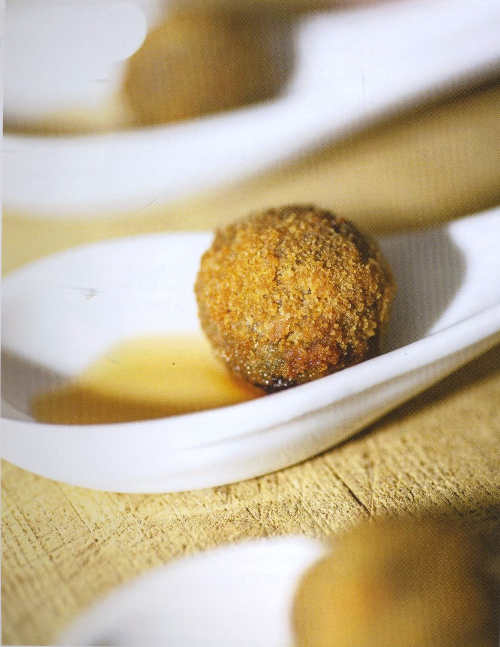 Kelly's Black Pudding And Chocolate Truffles
Jonathan Keane, head chef at the Lodge at Ashford Castle (formerly Lisloughrey Lodge), contributed these unusual sweet/savoury morsels to The Proof is in The Pudding: "Here at Wildes Restaurant we serve these tasty little appetisers on a Chinese spoon with some fig vinegar and a mint leaf. Can also be served at dinner parties with some melted Westport Grove
marmalade."
Makes 10
100g Kellys putog
10 small squares 72% dark chocolate
50g flour
2 eggs
100g breadcrumbs (dried)
Blitz the putog in a food processor to make a smooth paste.
Roll the putog into 10 balls, then insert a square of chocolate into each one.
Roll the truffles in flour, followed by beaten egg and then breadcrumbs.
Leave in fridge to set for 15 minutes.
Deep-fry at 180°C until golden brown.