Book Reviews - Bread on the Table & Wholesome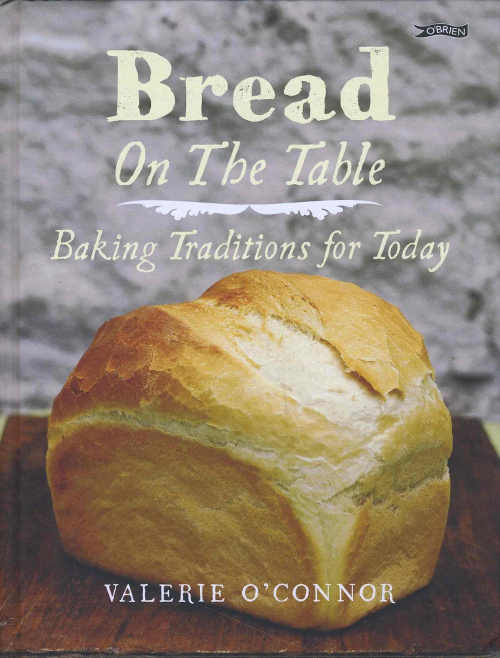 Two more cookery books from well known Irish food bloggers this month - anyone who thinks print is dead should take a look at the avalanche of food bloggers' books that have appeared since Donal Skehan broke the mould with his Good Mood Food (Mercier Press, 2009). And also, perhaps, consider the ever-growing popularity of children's books, a publishing phenomenon that's growing a whole new generation of book lovers.
Bread on the Table, Baking Traditions for Today, by Valerie O'Connor (O'Brien Press, hardback 160pp, €19.99/£17.99).
I really like this first book by the Limerick food writer and blogger Valerie O'Connor (valskitchen.com). A knowledgeable and innovative cook, she has many strings to her culinary bow - not only as a cook, food writer, consultant and photographer, but also an organic horticulturalist, 'city farmer', and organiser of Limerick Food Trails.
How she found time to write, style and photograph this book with all that going on is a mystery, but it's a credit to her and, even if you have other books on baking, this one merits a place on your kitchen bookshelf for its freshness and the high proportion of recipes that bring something original to the table.
All of the usual categories - yeast, soda, sourdough - are covered, also breads with seaweeds and wild herbs (happy partnerships with a long tradition), gluten-free bakes and some nice extras including butter making and flavoured butters.
The recipes are well organised and easy to follow and the interesting introductions have a tone of authority that will give confidence to beginner bakers, no doubt a side effect of Valerie's popular baking classes.
Recipes that are different enough to make it a book that stands out from the crowd include Potato Bread (not the usual Irish potato bread, but a white yeast loaf using a combination of flour and mashed potatoes); Griddle Cake Burger Buns (cooked in the frying pan); Soda Bread Pizza (nice to see this one coming round again); Spelt Soda Bread with Dilisk (keeps better than traditional soda bread); and Black Pudding and Apple Scones ('great with tangy cheese and a pint').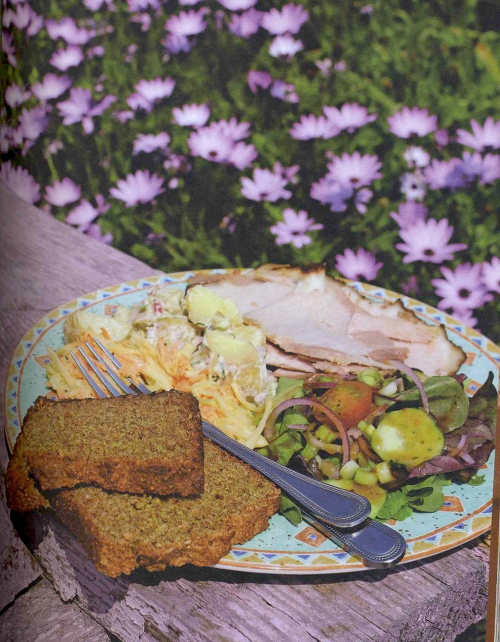 SAMPLE RECIPE: Brown Bread Nan Phadai
'Brown soda bread is an institution in Ireland, one that inspires heated discussion amongst (mostly) women about quantities and techniques; some folk like to add wheatgerm and oats, some throw in an egg or a glug of oil.
I loved this bread from the first time I tasted it at the wonderful Tigh Nan Phadai cafe on Inis Mor, the largest of the Aran Islands, where I was met by six of the eight Concannon sisters, all of whom had their own take on bread recipes.
Their mother, who catered daily for her brood of twelve, baked three loaves of this every morning, along with another two cakes of white soda bread. If you think you don't have time to bake, think about Mrs Concannon!
This bread is simply perfect, and another easy one. If you visit Inis Mor be sure to stop at the cafe and try this bread with one of their amazing salads.'
Makes one large 2lb loaf
Ingredients:
700g/1 lb 8oz wholemeal flour
1 tsp salt
2 tsp bread soda
100g/4oz wheatgerm
700ml/1 pint 6fl oz buttermilk
50ml/2floz sunflower oil.
Preheat the oven to 190C/375F/Gas 5
Prepare a 2lb loaf tin by rubbing the insides with butter or oil

1. In a large bowl combine the flour with the salt, bread soda and wheat-germ, pour in the buttermilk and oil and mix with a spoon to a sloppy consistency.
2. Spoon the mixture into your prepared tin and bake in the oven for 10 minutes, then remove from the tin and return it to the oven for a further 10 minutes.Allow to cool on a wire rack.
3. This loaf has a delicious, crumbly texture so take care when cutting it. It works with just about everything from smoked salmon to ham or cheese, or just plain with butter.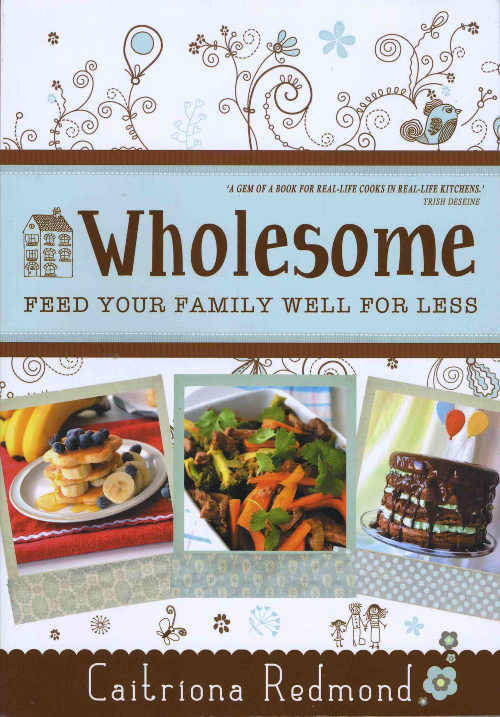 Wholesome: Feed Your Family Well for Less, by Caitriona Redmond (Mercier Press, paperback 256pp, €19.99).
A heartening recessionary tale, this is the story of a steep learning curve originally driven by necessity - and that ultimately brought about a rewarding change of lifestyle for a home cook and her family.
'Gone are the days when I filled a supermarket trolley without a care for what it would cost when I got to the checkout' is an opening line that will resonate with many readers and, in this book, Caitriona Redmond (wholesomeireland.com) shares the tips and recipes that have helped her to keep to a budget of just €70 per week since she was made redundant in 2009 - and feed her husband and two boys very well into the bargain.
Once she got over the initial shock of redundancy Caitriona decided to apply the skills she had developed as a successful PA to the problem in hand. Approaching her kitchen as a business, with ingoing and outgoing items, she takes a forensically analytical approach to the situation - stocktaking, working out budgets (food and non-food items), compiling meal plans and shopping lists - and explains clearly and dispassionately the value of buying fresh instead of processed foods.
Regarding the latter, she is very honest - cheap processed foods such as pizza can actually work out cheaper than using fresh foods, and they certainly take less time to get onto the table. "There are three key things you need in order to serve up fresh food on a regular basis: Time; Skills; Information. By educating yourself and getting used to having fresh food in your kitchen you'll find yourself less likely to pick up convenience food in the supermarket…There's an old saying 'what goes in must come out, and that can be applied to good and bad food."
The extent of the journey for Caitriona is summed up by a comment in the introduction to the Roast Chicken recipe: "I used to roast a chicken, pick the two breasts off and then discard the rest. Oh my goodness, the sheer waste of it turns my stomach." I have to admit that I was quite shocked by that admission, but you can't help but admire the honesty - and she now stretches a chicken to provide two dinners for four, plus a batch of chicken stock. All easy to do if you know how.
Savvy shopping, storage, batch cooking, alternative protein sources, and 'the emotional toll of living on a tight budget' are all considered. If you're in the same boat at the moment, you should be able to take heart from this comment: "When so much of my life was out of my control, cooking and nourishing my family was something I could control. It gives me great strength to be able to take ownership of and responsibility for the food we eat and where it comes from."
This is in a sense a social commentary as much as a cookery book. That the book had to be written at all is a reflection on the lack of priority that we now give to the fuel a healthy body needs: good food.
If the Minister for Health wants to save money on hospitals, a serious longterm plan for food education would be the best place to start.
The proportion of our income that is spent on food has plummeted since the 'cheap food policy' was introduced in post-war Britain and (unintentionally) produced several generations that expected food to be cheap as a right, something we are paying heavily for now.
The skills of everyday home cooking and running a household that were once passed down from parent to child have almost been lost (although 'hobby cooking' is now having some positive impact), and the skills gap is not being filled in our schools.
Ironically, the good housekeeping that Caitriona Redmond advocates in Wholesome - the budgeting, the careful shopping, the meal plans, the batch cooking - was once the norm, and many famous and not so famous books have been written on the subject over several hundred years. Plus ca change…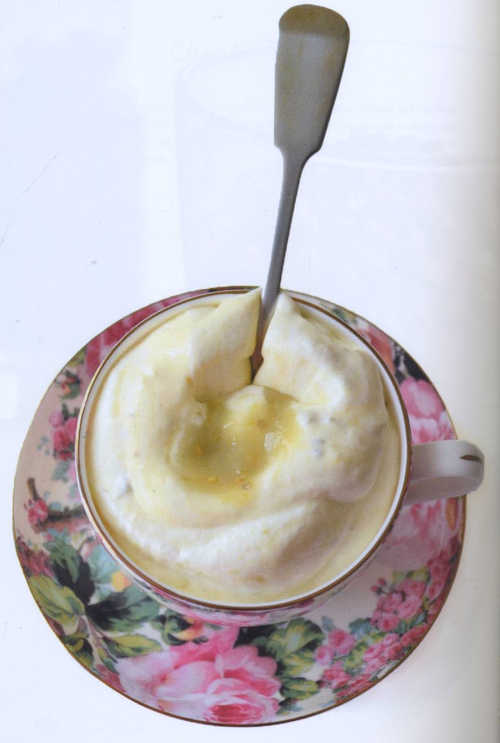 SAMPLE RECIPE: Gooseberry Fool
'While gooseberry fool is a very seasonal treat for the middle of the summer when gooseberries are ripe, you can enjoy fool all year round -just change the type of fruit you use, or use frozen gooseberries.'
Serves 5
• 200g fresh gooseberries • 3 tablespoons sugar • 200ml milk
• 1 teaspoon vanilla extract • 2 egg yolks • 1 tablespoon cornflour
•150ml fresh cream
Method
Put the gooseberries and 2 tablespoons of the sugar in a small saucepan and heat on low. Leave to simmer gently until all the fruit has popped. Once it has popped, mash with a potato masher, then strain away the larger pieces through a sieve.
Heat the milk in a large saucepan along with the vanilla extract. Put the egg yolks, cornflour and the remaining tablespoon of sugar in a mug and stir with a fork.
When the milk is warm, pour this mixture into the milk and whisk well. Continue to lightly whisk the milk as it comes to the boil. Keep on whisking until it becomes thick and fluffy. Remove from the heat and allow to cool.
Once all the ingredients are cold, whip the cream to loose peaks. Pour half the whipped cream into the custard mixture and stir with a spoon. Pour in the gooseberry sauce. Stir again and then fold in the rest of the cream.
Serve immediately in individual glasses/cups.