Book Reviews - No-Bake Baking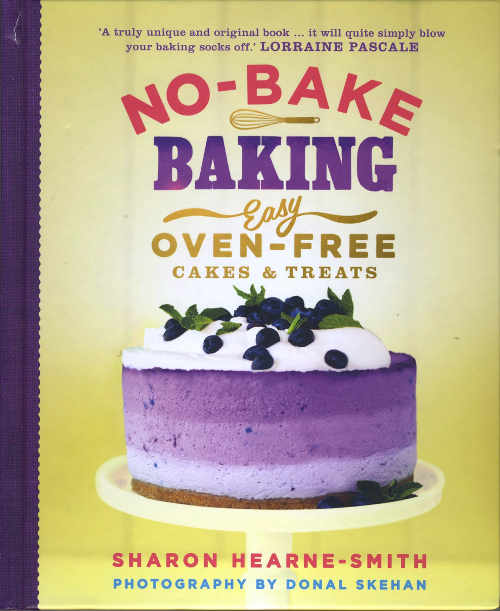 NO-BAKE BAKING Easy Oven-free Cakes & Treats by Sharon Hearne-Smith with Photography by Donal Skehan (Quercus, £16.99 Hardback).
Although this is her own first book, food stylist Sharon Hearne-Smith's name will be well known to aficionados who read the credits on the major TV food shows and ogle the gorgeous food shots that she sets up for magazine features and cookery books by many of Britain and Ireland's most famous chefs.
Her styling and editorial work attracts plenty of well-deserved praise, but this job was special and she has pulled out all the stops to show that, despite the huge numbers of cookbooks that pour off the presses these days, it is still possible to be different - and partnering with the multi-talented Donal Skehan as photographer was a stroke of genius, giving the reader double value and adding to Sharon's own great sense of style and fun.
You could be forgiven for thinking that everyone's into home baking these days, but no one is better placed than a food stylist to see what's really going on and Sharon has clearly sensed that there's a whole raft of people out there who like the idea but may be reluctant to try it themselves.
And so the concept of oven-free baking was born. It is, she says, 'perfect for novices, cooking with kids or anyone who's short on time', and - although no-bake does not mean no-cook - the range of treats that she has lined up using alternative cooking and preparation methods to 'magic them up' is impressive.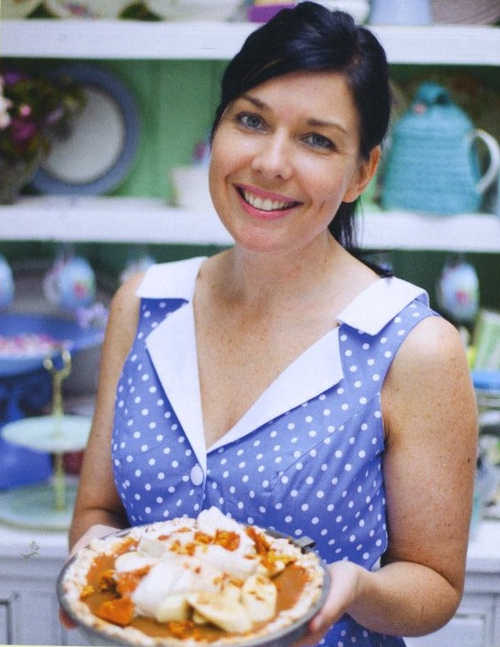 The oven may be taboo, but anything else that can cook or heat - the hob, microwave, slow cooker and bread machine, for example - is called into action, along with the all-important fridge and freezer for those irresistible cold sweets and refrigerator cakes; I'm sure it won't be long before Sharon's Frozen Yoghurt Breakfast Ring starts appearing on B&B menus around the country.
While some very easy recipes may include completed ingredients such as biscuits, you won't find too many 'how to cheat at cooking' recipes here. But there are lots of fun ideas that the kids will love (anyone for Peppermint Cream Buttons, Watermelon Bombe or Eat-the-Bowl Peanut Butter Puds or Bumblebee Jelly Cake?) and some show-stopping special occasion cakes and desserts, such as a Jewelled Princess Castle Cake (a biscuit cake decorated with towering white chocolate shards be-jewelled with dried fruits and nuts, edible gold balls and glitter), the Candy-Stripe Blueberry Cheesecake that features on the cover, and the luscious Strawberry Charlotte, given below.
Published in London, priced in sterling and boasting cover quotes from Jamie Oliver, Lorraine Pascale and Rachel Allen, No-Bake Baking is well and truly aimed at the international market - and this original book is set to be big success.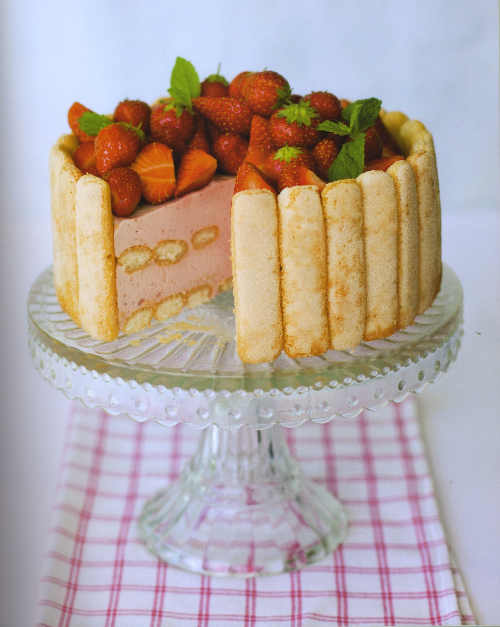 RECIPE: Sharon's handsome Strawberry Charlotte would make an impressive seasonal centre piece for a summer party
A charlotte is a French cake in which sponge fingers form the sides, concealing a set fruit mousse filling. You can add chopped strawberries to the filling if you want more texture and colour throughout.
Serves 8-10
200g caster sugar
Sunflower oil, for greasing
350g sponge fingers (about 60 depending on size)
FILLING:
8 gelatine leaves
400g Strawberry Purée (see below)
100g caster sugar
325ml double cream
500g natural yoghurt or natural fromage frais
TO FINISH:
500g fresh strawberries, halved if large and with most green tops removed
Small handful of fresh mint sprigs
150ml double cream, softly whipped
ESSENTIAL KIT:
20cm round, spring form cake tin
STRAWBERRY PURÉE: Makes 200g, so make a double batch
250g fresh strawberries
Optional: 1-3 tsp icing sugar; a little lime juice.
Wash the berries and remove any green tops. Blend in a food processor or liquidiser until completely smooth. Pass through a sieve into a bowl. If you like, add sifted icing sugar a teaspoon at a time to give your preferred sweetness, or add a squeeze of lime juice to give a bit of bite.
This is now ready to serve but will keep for 2-3 days in the fridge.
1. For the filling, soak the gelatine leaves in just enough cold water to cover, for 5-10minutes until soft. Make the strawberry purée if you haven't yet, pour into a wide frying pan and simmer over a medium heat for about 5 minutes until reduced by half and thickened.
2. Meanwhile, place the sugar for the sponge fingers in a medium saucepan with 200ml of water and bring to the boil on a high heat, stirring until dissolved. Give it another minute before pouring into a wide baking dish. Leave the sugar syrup to cool slightly.
3. When the purée has reduced, stir in the filling sugar until dissolved, then remove from the heat. Squeeze excess water from the soft gelatine and stir into the puree until dissolved. Leave to cool.
4. Whip the cream in a large bowl until just stiff. Fold into the yoghurt or fromage frais in another large bowl until blended.
5. Grease the tin and line the sides with parchment. Soak a few biscuits at a time in the sugar syrup for 30-60 seconds, turning halfway, until softened but not soggy or breaking. Carefully place upright against he tin edge, sugared side outwards. You will need about 30. Soak half the remaining biscuits in the syrup and lay them flat in the tin, trimming to cover the base completely.
6. Gently fold the cooled purée into the cream mixture until well blended, pour half into the tin and smooth with the back of a spoon. Soak the remaining biscuits in the syrup and arrange on top, trimming to fit. Pour the remaining filling over, smoothing again. Cover with cling film and chill for 3hours or overnight until firm.
7. Carefully remove from the tin, place on a stand and peel away the paper. Decorate with strawberries and mint sprigs on top. Cut into wedges and serve with softly whipped cream.