Chardonnay Glazed Carrots with Chive Butter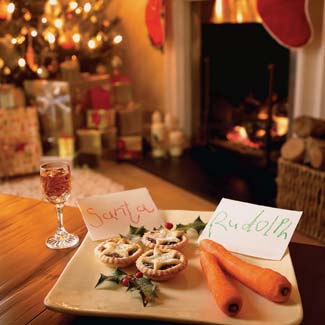 This appealing recipe is easy to make; it comes from a UK agency dedicated to promoting carrots and I do wish we had something similar here. (More on this in the New Year.)

Serves 6

450g/1lb carrots
100ml/4floz chardonnay or other dry white wine
100ml/4floz vegetable stock
25g/1oz butter
2.5ml/1/2 tsp caster sugar
salt and freshly ground black pepper
45ml/3tbsp snipped fresh chives

Peel the carrots, if liked, then cut each into chunky batons about 1.5cm thick and 7cm long.

Place in a large pan, add the wine, stock, butter, sugar and seasoning and bring to the boil.

Crumple a piece of baking or greaseproof paper and place over the top of the pan cover with the pan lid - this will make a tight seal. Reduce the heat and simmer the carrots for 7 minutes.

Remove the lid and paper and check the carrots - they should be just tender. Increase the heat and cook the carrots without a lid until the cooking juices reduce to just a glaze.

Stir in the chives and spoon into a serving dish.