Book Reviews
Two very appealing new cookbooks have hit my desk recently, and both will merit a re-visit later in the year, as there are some delicious recipes well worth sampling.


What To Eat Now – More Please! by Valentine Warner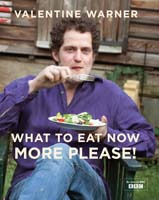 Followers of Valentine Warner's first TV series and book, What To Eat Now, which turned the spotlight on autumn and winter food, will have been pleased to see him back on BB2 in recent weeks, doing the same for summer food in
What To Eat Now – More Please!
(Mitchell Beazley, stg£20).
As well as being a curious and accomplished chef (those years working under luminaries such as Alastair Little and Rose Carrarini really show) Valentine has artistic talent which can be seen in his quirky illustrations, curiosity and offbeat style. But, aside from all that, he has a great way producing lovely simple food with style – and, while there's plenty of international influence at work (and nothing wrong with that), what's inspirational is the use of what are mostly familiar everyday ingredients at the peak of their perfection.
Howard Sooley's photography deserves special mention for getting this across, as his images are so full of life they just leap off the page. I really like this book, it has lots of ideas for gardeners, foragers and fisherpersons; people on holiday, holding a barbeque or heading off on a picnic: deelish.
Picnic crudité loaf
Most of the dishes in the book are basically pretty sensible, but I can't make my mind up about the following recipe – is it actually any use or just a bit too fey? It's certainly cute anyway – and, without the loaf idea you have a good basic recipe. And you can always use the discarded bread to make breadcrumbs (freeze until the next time you want to make a stuffing or crumb topping).
"I cannot remember where I saw this dish first", says Valentine Warner, "But I do recall a sixties-looking book with a sun-bleached dust jacket and the weirdest-coloured food inside. I thought this ingenious idea should resurface. You'll need a good, large crusty loaf, not the pale, soft and weedy type that people give to 1-footed pigeons." Quite.
Click here for recipe

Mackerel Tataki
This is a more typical recipe from What To Eat Now - More Please! And, as Valentine rightly says, "It's a fine way to approach small and lean summer mackerel. The tastes are so clean." (I'm not sure that too many of us are likely to "carry a tiny case with the rapid response kit of ingredients, [so] you can make this outdoors with fish caught or bought", but you could certainly make it in a holiday cottage.) Make sure that the fish is super-fresh.

Click here for recipe
Green & Black's Chocolate Recipes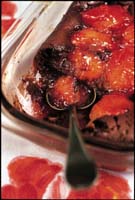 By contrast,
Green & Black's Chocolate Recipes
(Kyle Cathie stg£14.99) is full of all sorts of luscious items that should only be seen as special treats - and a dead cert to come at the top of a lot of wish lists. The recipes are predictably irresistible, combining unfamiliar and sometimes unexpected combinations (chocolate in sauces for savoury dishes, eg game, for example), with a host of luscious favourites and their variations (chocolate mousses, for example, comes in no less than eight guises – I like the idea of the bitter chocolate mousse with blackcurrants…).
There's also background on the production of chocolate, plus practical tips on cooking techniques and handling chocolate. A must-buy for all chocoholics.
Drunken Damson Dessert
This gorgeous dessert is one of the healthier recipes in Green & Black's Chocolate Recipes and, now that top fruit is coming into season, this combination of damsons (or other plums) with best quality chocolate should fit the bill perfectly when you need a grand finale for a special late summer meal.
If you are not using damsons rescued from your own damson gin, you can use fresh plums instead in this recipe, as explained in recipe.
Click here for recipe