Fresh Orange Fruit Cake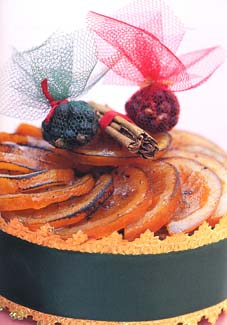 An interesting, fresher-flavoured alternative to the usual rich fruit cake, this cake owes its individuality to the quality of its ingredients, including unrefined sugar, and it can be decorated prettily with glacé orange slices (available from Country Choice), or whole glacé fruit.

Makes an 8in/20cm cake, serving 10-12.

250g/8 oz sultanas
250g/8 oz golden sultanas
115g/4 oz currants
115g/4 oz raisins
115g/4 oz mixed peel, preferably freshly chopped
250g/8 oz butter
250g/8 oz pale muscovado sugar
250g/8 oz plain flour
1/e teaspoon mixed spice
1 teaspoon ground mace
1 teaspoon ground coriander
50g/2 oz ground almonds
4 large eggs
2 tablespoons fresh orange juice
1 tablespoon Cointreau, or other orange-based liqueur
Finely grated rind of 1 orange.

The day before you make the cake, rinse all the fruits thoroughly. Drain and put into a bowl, cover and set aside until required. There is no need to dry the fruit if thoroughly drained; it will absorb the moisture and give a better texture to the cake.

Cream the butter and sugar in a large bowl until light and fluffy.

Sift the flour and spices and stir in the ground almonds.

Whisk the eggs and add to the butter and sugar, alternately with the flour mixture, using a wooden spoon to blend thoroughly between additions. Continue stirring whilst adding the orange juice and Cointreau. Finally add the prepared fruits, together with the freshly grated orange rind, stirring until the cake mixture is thoroughly combined.

Spoon the mixture into a greased and lined 20cm/8 inch round cake tin. Tie two layers of brown paper around the outside of the tin. Finally, covering the top of the cake tin with a piece of brown paper, place the cake in the centre of a preheated oven, 160'C/325'F/gas mark 3 for one hour before turning the oven down to 140'C/275'F/gas mark 1 for a further 2 to 21/2 hours.

Remove the brown paper from the cake for the last hour of baking, but keep an eye on it to prevent over-browning. The cake will be cooked when it feels firm and a skewer inserted into the centre comes out cleanly.

Remove the cake from the oven and place it, still in the tin, on a wire cooling rack. Cover with a clean cloth and leave until cold before carefully turning out. It can then be decorated as wished, preferably with sumptuous glacé fruits.