Fresh Salmon & Spinach Pasta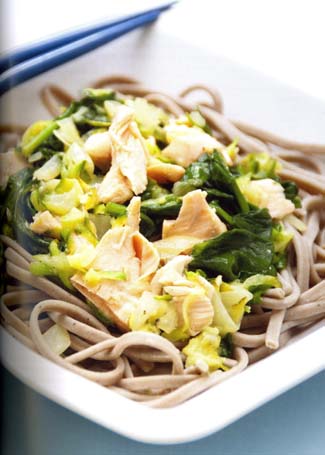 A lovely light summer dish from Cooking Gluten Wheat and Dairy Free by Michelle Berriedale-Johnson - very quick to make.

If you cannot get gluten and wheat-free tagliatelle, you could use Japanese soba (buckwheat) noodles, which are also delicious. Alternatively, use a gluten and wheat-free spaghetti.

Serves 6

6 tbsp good olive oil
1 medium onion, chopped small
150g / 6 oz young courgettes, wiped and grated coarsely
350g / 12 oz baby spinach leaves
350g / 12 oz cooked fresh salmon, flaked finely
sea salt and freshly ground black pepper
juice of 1-2 lemons
600g / 1.25 lb gluten/wheat-free tagliatelle, spaghetti or soba noodles

1. Heat the oil in a heavy pan and gently cook the onion until nearly soft.

2. Add the grated courgettes and continue to cook for a minute or two.

3. Add the spinach to the onion and courgette, cover and cook for a few minutes or until the spinach is wilted.

4. Add the salmon and season to taste with the salt, pepper and lemon juice.

5. Meanwhile, cook the pasta in plenty of lightly salted boiling water according to the instructions on the pack.

6. Once the pasta is done, drain it, spoon it onto a dish or individual plates and spoon over the salmon and sauce.

7. Serve at once.

Note: Gluten and wheat-free pasta can be made from a variety of grains which not only bulk up more or less in the cooking, but take more or less time to cook.

The cooking may also be affected by how the pasta was made so always, initially, follow the instructions on the pack. However, we have found that on-pack instructions are not always very accurate so test the pasta regularly so that you do not either under or over cook it.