Goatsbridge Trout Caviar
A surprising number of small producers are bucking the system at the moment, doing well in businesses that you'd never expect to succeed in recession. One of these success stories is still in the making in deepest Kilkenny, where Ger and Mags Kirwan continue to develop the Goatsbridge Trout Farm at Thomastown, building on the established success of their excellent quality fresh and smoked rainbow trout.
But their latest product to reach the market may seem surprising in the current climate, as it's one that has always been associated with luxury: caviar.
Caviar is basically salt-cured fish eggs, a speciality food that's used mainly as an appetiser or garnish. The term is usually taken to refer to the 'king' of caviar, the inky black sturgeon roe, which is extortionately expensive, but other fish eggs can be used to make a similar product – and trout caviar, being a pretty red, is much more attractive than 'real' caviar.
Goatsbridge Trout Caviar has been going down a treat with chefs since March 2012, when restaurant trials began. More recently, they've brought this jewel-like treat to the consumer market, where it has also been well received – and what better time than Christmas to indulge, or to buy it as a novel present for a foodie friend.
It can be used in the same way as 'regular' caviar, and an ideal way to introduce it to friends and family over Christmas would be to use it as a garnish with smoked salmon: blini with smoked salmon and soured cream, topped a little spoonful of trout caviar would be delicious – and very festive.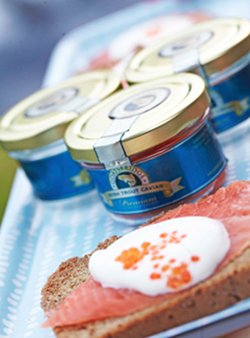 Goatsbridge Trout Farm is a member of the Kilkenny Food Trail and has always welcomed visitors by arrangement, but the welcome is growing along with the product range as a new visitor centre is due to open shortly. They'll have a demo kitchen and a little smoke house and they're also putting in an Aquaponics unit. They expect this to be a great attraction for school kids, and a friend has written a Syllabus which uses the idea to teach many aspects of science to children.
This is a highly sustainable business - previous generations of Gerard Kirwan's family took over where the Cistercian monks of old left off in this area, ensuring there's trout a-plenty here in the crystal clear Little Arrigle River in the Nore Valley. Enough, in fact, for the restocking of lakes, rivers and fisheries all around the country, and they deserve great credit for the way they are managing and developing their business, especially in these challenging times.
Along with their other products, Goatsbridge Trout Caviar is available through LaRousse as well as specialist shops around the country, including Cavistons, Donnybrook Fair, Fallon & Byrne, Nolans of Clontarf, Ardkeen Food Stores, Kilkenny Design Centre, and Keoghans of Cork.
They can also offer free delivery to anywhere in Ireland; just email details to info@goatsbridgetrout.ie or call Mags Kirwan on 086 818 8340. Goatsbridge Trout products, including the caviar, are also available online from Knockdrinna Farmhouse Cheese (www.knockdrinna.com), where Trout Caviar costs 50/100g jar €11.00/19.95 respectively.