Grilled Supreme of Chicken with Sweet Potato and Asparagus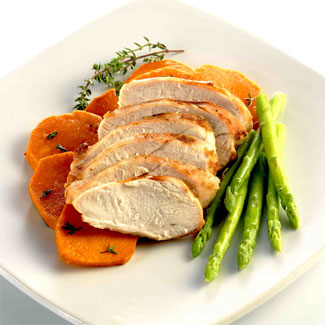 This dish was devised for a recent Happy Heart Eat Out campaign by Michael O'Meara, Oscars Bistro, Upper Dominick Street, Galway.

Serves 4

4 x 100g /4oz chicken fillets, skinless
25g /1oz flour
4 sweet potatoes, peeled and sliced
30ml/2 tablespoons olive oil
1 bunch asparagus, ends removed
1 bunch thyme, chopped
1 clove garlic
Freshly ground black pepper

Place the sweet potato in a roasting dish.

Mix with the thyme and 1 tablespoon of olive oil.

Roast in a preheated oven, 160°C/325ºF/Gas Mark 3, until very tender.

Rub chicken with garlic clove and black pepper.

Flour the chicken and place a little olive oil onto each breast.

Cook the chicken under a hot grill on both sides until cooked.

Cook the asparagus in boiling water.

Place the sweet potato onto the plate, slice the chicken and place onto the sweet potato.

Decorate with asparagus and serve.