Grilled Vegetables with Mozzarella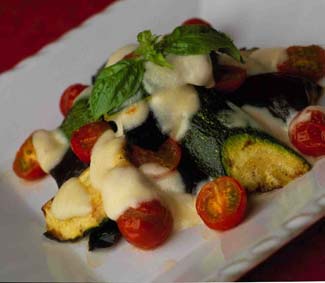 An easy-peasy dish that uses much the same ingredients as ratatouille but also cherry tomatoes – ideal if you grow your own out of doors, as you'll probably have masses of them coming along at the moment – and it's much quicker to make than ratatouille: just the job to serve with plenty of crusty bread for a colourful meal-in-a-hurry.

Grilling is suggested here, but if you have a range type cooker such as an Aga or Waterford Stanley, simply pop the oiled vegetables into the hot oven and they'll 'grill' in a few minutes, allowing excess moisture in the vegetables to evaporate.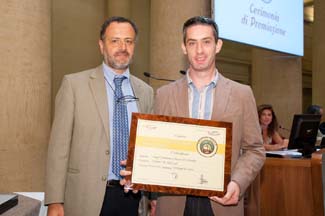 As an alternative to the mozzarella, why not try the Greek Style variety in the St Tola organic range from Siobhan Ni Ghairbhith's Inagh Farmhouse Cheeses, made in Ennistymon Co Clare - who have just added to their collection of awards by collecting a Silver Medal at the prestigious Premio Roma awards in Rome, for their mature organic goat's cheese log.

Serves 2-4

1 large aubergine (about 350g/12oz)
2 or 3 courgettes
350g/12oz cherry tomatoes
2 tbsp. olive oil
Salt & freshly ground black pepper
225g/8oz buffalo mozzarella cheese, or similar
sprigs of basil

Set the grill to high, or use a very hot oven.

Cut the aubergines into pieces about 5cm/2 inches long, 2.5cm/1 inch wide and 0.5cm/¼ inch thick. Slice the courgettes quite thinly into rounds.

Place the prepared aubergines and courgettes in a bowl, sprinkle with the olive oil and season well. Using clean hands mix all the vegetables, so that they get coated with oil.

Put the vegetables on a grill pan or into a roasting tin and place under the hot grill (or in the hot oven) for 10 minutes, turning occasionally. Then add the whole cherry tomatoes (or small tomatoes, quartered) and grill or roast for another 5 minutes.

Cut the cheese into small chunks and scatter over the vegetables. Grill or roast for another 5 minutes, or until the cheese has melted and browned slightly. Tear the basil over the top of the vegetables and serve with plenty of crusty bread.