Home-Produced Treats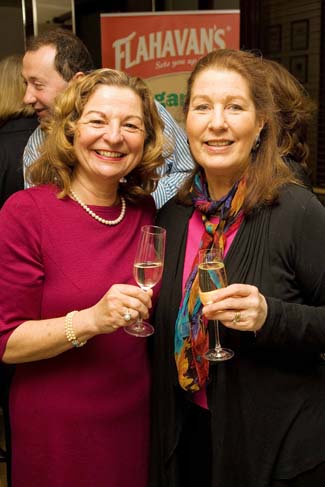 Homegrown talent, quality & integrity were honoured at the 2011 Irish Food Writers' Guild Food Awards - highlighting the vital work of small, independent Irish food producers, at a time when supporting home-grown industry is of the utmost importance.

Those awarded for standards of excellence and for their exceptional contribution to Ireland's reputation as a top food producing country were: Janet Drew for Janet's Country Fayre Beetroot Blush (Wicklow); Brian and Lindy O'Hara for Coopershill House Irish Venison (Sligo); Pat O'Neill for O'Neill Foods' Dry Cured Rashers, Bacon and Ham (Wexford), with a special Environmental Award going to John Flahavan of Flahavan's (Waterford).

In addition, artisan baking innovator, Derek O'Brien, head of the Baking Academy of Ireland and a former head of the Baking Department at DIT, was honoured with the Guild's seldom-awarded Lifetime Achievement Award for his continuing dedication to passing on skills to the next generation and ensuring the survival of traditional craft baking in Ireland.

Now in its 17th year, the Irish Food Writers Guild (IFWG) Food Awards promote and reward the highest quality produce and have been described as the most important food awards in Ireland. The awards focus on recognising and rewarding indigenous, independent producers that are the lifeblood of the food industry in Ireland.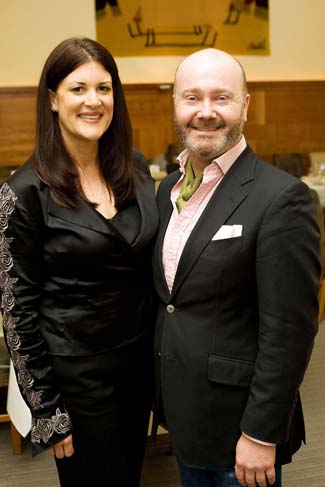 The Guild warned against failure to support local producers, and IFWG Chairperson, Orla Broderick, said, "Now more than ever, we need to be supporting our local producers, many of whom are suffering as a result of rising costs; cheap, low quality imports and our contracted economy…If retailers fail to make room on the shelves for our indigenous producers and if we, as consumers, fail to support them, we will in a short space of time witness the demise of dozens of small and medium-sized producers, who will simply be squeezed out of business. This will affect not only Ireland's food producing capabilities but will also have a significant impact on jobs."

Outlining the selection process for the shortlist of award winners, Ms Broderick said: "We are not confined by the size of the company nor indeed product categories. What's important and unique about these awards is that no food producer can enter for an award. No company ever even knows that it is being considered for an award until the judging is complete and we make contact with the winners. Our criteria is strict but straightforward - the products, traditional or innovative, must be produced in Ireland and the main ingredients must be home produced."

The IFWG Food Awards were presented by one of Ireland's best known chefs, Darina Allen. Darina commented, "Ireland is one of Europe's largest dairy and beef exporters, and home to several world-class firms and hundreds of food artisans. All this comes at a time when the global demand for food is projected to increase by 70% over the next 40 years. The affluent world is demanding locally grown, non-polluting, traceable, transparent food, exactly what we in Ireland can produce. Thus, recognising the opportunities for Ireland Inc., we need to encourage the brightest and best to pursue a career in all aspects of food production, distribution and marketing to drive the Irish food industry into the future."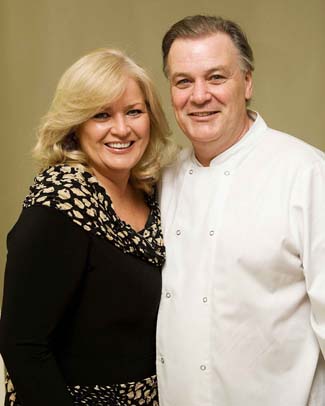 The IFWG Awards are supported by Bord Bia and, following each year's presentations, Derry and Sallyanne Clarke host a lunch for guests at their acclaimed Dublin restaurant, L'Ecrivain.

Following the judging, Derry is given details of the award winning products and he then creates a bespoke menu of dishes designed to showcase each product. Recipes for the dishes served at the 2011 IFWG Food Awards lunch are given below.


RECIPES CREATED BY DERRY CLARKE FOR THE IRISH FOOD WRITERS' GUILD AWARDS 2011



Whiskey cured smoked salmon with Janet's Country Fayre Beetroot Blush and citrus mayonnaise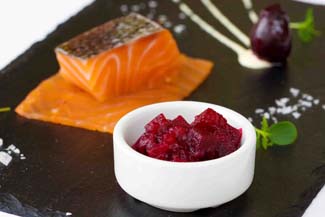 Serves 4

Click for recipe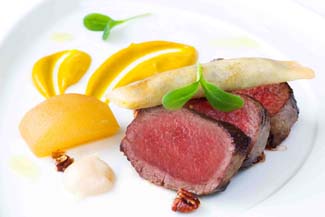 Coopershill House Irish Venison loin with pumpkin purée and a black pudding filo cigar

Serves 4

Click for recipe



Flahavans mille feuilles flapjacks with lemon cream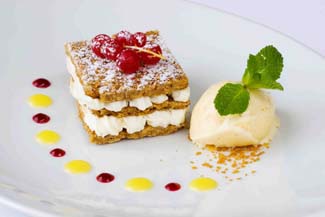 Serves 4

Click for recipe