In Season - Radishes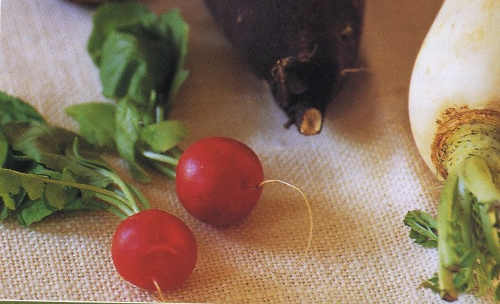 Although there are other edible members of the ancient radish family, Raphanus sativus - which includes white radish (daikon or mooli, used widely in Japan) and black radish - it is the jaunty little red globe that's in season now that we all know and love, and that we are most likely to see on sale or harvest from our gardens this month.
Quick growing and appealing, it's long been a popular beginner vegetable for children to grow, although they may prefer the milder flavour of the longer variety with white tips, the French breakfast radish - which is probably the one experienced by a young Darina Allen in France, described below.
Related to horseradish, turnip and mustard and recognised for its diuretic and cleansing properties since earliest times, the radish is high in vitamin C and, like other cruciferous plants (including broccoli and cabbage), is linked with anti-cancer properties.
The bright colour, easy preparation and punchy flavour of radishes make them an appealing quick addition to brighten a salad, and they're the perfect crunchy appetite stimulant to serves with aperitifs.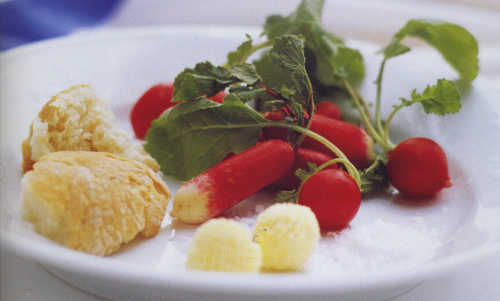 RECIPE: Radishes with Butter, Crusty Bread and Sea Salt
Fresh back from the Ballymaloe LitFest, and with the new edition of Myrtle Allen's classic, The Ballymaloe Cookbook, to savour, I started browsing through the shelf of older Ballymaloe books including Darina's A Year At Ballymaloe Cookery School and found this delightful little recipe.
This book was published in 1997 and, even in relation to such a simple recipe, so much has changed since then. The local butter mentioned is no longer available - but Ballymaloe now have their own beautiful butter, made for the house by Tim Allen using the organic milk from their Jersey cows.
The dominant sea salt at the time was Maldon (which is still an excellent product) but we now have three Irish-made sea salt to choose from, including one from West Cork (Irish Atlantic Sea Salt) and Achill Island Sea Salt (see Special Irish Foods and the People Who Make Them) which won a 2014 Euro-Toques Food Award, and both are on sale at Ballymaloe Cookery School.
The crusty bread is probably homemade as usual - or, perhaps, supplied by Declan Ryan's Arbutus Artisan Bread which was a great hit in The Big Shed at the LitFest - and the one reliable is the cheery little radish, every cook/gardener's staple to boost early summer salads.
"When I was just nineteen, an au pair, alone and frightened in Besancon, a French girl took pity on me and invited me to have lunch with her in a café. We had a plate of charcuterie and radishes. I watched in fascination as she smeared a little unsalted butter on her radishes, dipped them in sea salt and ate them greedily. I followed suit - and I've never forgotten the flavour. We use Bill Hogan's fine unsalted butter churned from morning cream whenever we can get it."
Fresh radishes complete with leaves
Finest unsalted butter
Sea salt (se use Maldon flakes)
Crusty bread
Wash the radishes and trim the tail and the top of the leaves if they are long.
Cut a chunk of butter into 1cm (1/2 in) cubes. If you have a pair of butter pats, soak them in cold water and then roll each cube into a ball, and drop then into a bowl of iced water.
To serve: put 7 or 8 chilled radishes on each plate, add 2 or 3 butter balls and a little mound of sea salt.
Serve fresh crusty bread as an accompaniment.