In Season - Seed Potatoes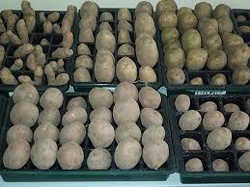 No, we're not suggesting that you should be eating seed potatoes, but it's the ideal time to plant them (see Michael Kelly's GIY column) and it's worth thinking carefully about the best variety before you put the work in. You might consider a heritage variety, for example, as some of them are not only particularly well suited to the Irish climate, but also have natural blight resistance.
The Heritage Irish Potato Collection is one of the 2014 Irish Food Writers' Good Food Awards winners, honouring David Langford and Dermot Carey and supporting them in their aim to find a permanent home for a collection that has been growing since the 1970s when David began collecting and growing heritage potatoes. In 2006 he teamed up with Dermot Carey, an experienced organic vegetable-grower who was then gardener at Lissadell House in Co. Sligo.
The horticultural skills, passion, and hard work of David and Dermot has resulted in an amazing collection, grown and managed by them on an entirely voluntary basis. The collection has well over two hundred varieties including the Irish Apple (dating from 1768), and the Lumper (forever associated with Irish Potato Famines) as well as more recently developed varieties. This valuable collection is in urgent need of permanent home where all these varieties can be maintained as part of our Irish food culture and heritage for the generations to come.
Meanwhile, gardeners and cooks interested in heritage potatoes for their own plots can get more information and seed potatoes from the Irish Seed Savers Association (www.irishseedsavers.ie) where over 50 varieties are available.
RECIPE: created for the Irish Food Writers' Guild Food Awards 2014 by chefs Derry Clarke and Michael Hunter of l'Ecrivain Restaurant, Baggot Street, Dublin 2.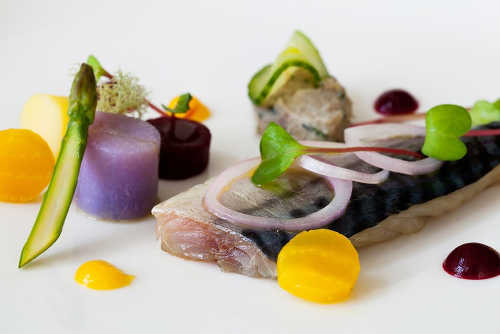 Cured & smoked Irish mackerel, Irish Heritage potato salad, pickle, beetroot
Serves 4
In this recipe Derry Clarke pairs one of Ireland's most delicious and sustainable fish, sourced from one of over 100 members of Responsible Irish Fish, with indigenous spuds from the Irish Heritage Potato collection.
for the cured mackerel
4 mackerel fillets, all bones removed
100g Irish Atlantic Paprika Sea Salt
100g white sugar
1 large bunch fresh dill, chopped
for the smoked mackerel pâté
4 mackerel fillets, all bones removed
200g wood chips
100g cinnamon sticks
50g star anise
2 tbsp fresh rosemary and thyme, chopped
2 tbsp mayonnaise or crème fraîche
1 tbsp grated fresh horseradish
1 tbsp chopped fresh chives
a squeeze of fresh lemon juice
for the pickle
100ml white wine vinegar
1 tbsp fennel seeds
150g sugar
1 cucumber, thinly sliced
2 shallots, peeled and sliced
for the potato salad
200g cooked Irish Heritage potatoes, peeled and diced
50ml olive oil
1 shallot, peeled and diced
1 tbsp chopped chives
Irish Atlantic Smoked Sea Salt
To cure the mackerel, mix the salt, sugar and dill together and spread over the flesh of the mackerel, cover and refrigerate overnight. Remove from the fridge, scrape off the curing mix and rub the mackerel with rapeseed oil.
To make the smoked mackerel patéyou will need to smoke the mackerel fillets. Begin by placing the wood chips into the bottom of a deep roasting tin, add the cinnamon sticks, star anise and rosemary and thyme.
Cover with an oiled wired rack and place the four mackerel fillets on top, skin-side-up. Tightly cover the tin with tinfoil and place it over a low heat for 15 minutes (this is best done outside your house on a barbecue). Once smoked, remove cover and leave to cool.
To make the mackerel pâté, flake the mackerel flesh into a bowl, add the remaining ingredients and mix well until you have a nice paté texture.
To make the pickle, boil the vinegar, sugar and fennel seeds for three to four minutes in a small pot, season, allow to cool, and then add the sliced cucumber and shallot.
To make the potato salad, gently mix all ingredients together.
To serve, arrange the cured mackerel at the centre of the plate with a quenelle of smoked mackerel paté and a spoonful of potato salad to the side.