In Season - Wild Garlic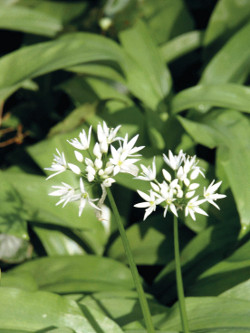 Also know colloquially as 'ramsons', this attractive bulbous perennial (Allium ursmum) is a member of the onion/garlic family that grows prolifically in woodland and along hedgerows in spring, often carpeting the ground and reaching a height of about 50cm/20in high.
Both the long spear-shaped leaves and the white star-shaped flowers (April-May) are edible and feature on many a fashionable menu - fresh when in season, and preserved all year.
Thanks to its pungent smell and abundance, wild garlic is one of the easiest wild foods to harvest, and one of the simplest to use; the flavour is less overpowering than the pungent aroma suggests, and it can be used in salads, notably the young leaves can be chopped and used as a substitute for chives. Like other members of the onion and garlic family, wild garlic leaves have a useful affinity with tomatoes - perhaps better even than the ubiquitous and strongly flavoured basil.
While this free food is a wonderful countryside resource in spring, gardeners need to be wary of wild garlic - 'prolific' and 'carpeting' are the danger words, and it can become a serious weed in a small garden where it may arrive uninvited. Although you may at first be delighted to have it, the tiny bulbils spread like wildfire and it can very quickly become a problem.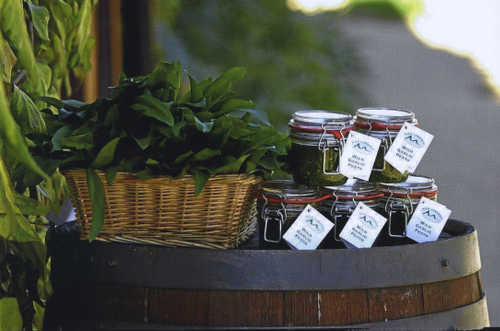 RECIPE: Wild Garlic Pesto - a Strawberry Tree Restaurant recipe from Wild Food, Nature's Harvest: How to Gather, Cook & Preserve by BiddyWhite Lennon & Evan Doyle (O'Brien Press, €16.99). Allotting 10 pages of this book to Wild Garlic is a measure of its popularity and, among other useful information, there is also a great Wild Garlic, Leek & Potato Bake and a recipe for Wild Garlic Preserved in Oil.
WHAT GOES IN
50g fresh wild garlic leaves
25g pine, cashew, hazel or chestnuts…your choice!
200ml organic olive oil or better still- Irish organic rapeseed oil
40g Parmigiano-Reggiano or really mature Desmond, grated
Organic black pepper and sea salt.
HOW IT GOES
Simple recipes are not always the easiest. It's taken us years to get just right. Any of the above nuts, oils or cheeses will make a fabulous fresh spring-tasting pesto ... we're just not saying which go into our Strawberry Tree wild garlic pesto!
So, the easy way is to blitz the nuts and half the oil in a food processor and add in the grated cheese. Then add the wild garlic and blitz with the remaining oil to the right consistency. Then simply season, to your taste. As a fresh oil dressing, it'll work, every time
HOW TO FINISH
Pour into sterilised Kilner jars and keep in the fridge or a really cool, dark pantry. More so than with basil pesto, there is a reaction between the wild garlic, oil and especially metal lids ...hence the Kilner.
WHAT YOU GET
Is a serious pesto; a deep dark green pesto with attitude, a pesto that will slap you in the face with the unmistakably strong taste of wild natural garlic and its lush woodland dwellings. What you also get is 'bottled spring and summer ... to give as a present to your friends, if you are able!
If not, use it to impress as a dressing over salads, bake into your favourite bread dough, add to any pasta dish or mix with butter and slip under the skin of a chicken roast... the list goes on, just use your imagination and go wild!