Autumn Breaks at Renvyle House Hotel - Co Galway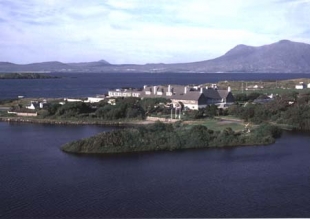 A wonderful place to visit at any age or any time, Renvyle House appeals to people with a yen for the rugged west of Ireland - and a love of the cosy contrasts you find indoors, where a snug conservatory provides an all-weather vantage point to admire the view, and dark beams, rug strewn floors and open fires cast their spell.

It's a place that it's easy to fall in love with, and a happy destination for families (and the dog). There is loads to do but, unlike many hotels catering for the family market, the focus is less on organised activities (there is a heated outdoor swimming pool in summer, but don't expect a leisure centre – less still a spa) and more on the old fashioned pleasures of doing things together – or doing nothing very much at all – with plenty for older children who want to have a go at lots of things.

AUTUMNAL FAMILY FUN ESCAPES ON THE WILD ATLANTIC WAY IN CONNEMARA, CO. GALWAY
Renvyle House Hotel & Resort is situated on the shores of the Wild Atlantic Way on 150 acres of private estate which include a private lake, a par 3 golf course, 1km beach, tennis courts, outdoor heated swimming pool, boating, canoeing and much more for all the family to enjoy.

It is an ideal location from which to explore Connemara where you can enjoy nearby; the Connemara National Park, adventure centres, Boat trips, Island Hopping, beautiful beaches, visitor attractions and much more.

3 nights Bed & Breakfast, 2 Dinners in our award winning dining room for parents, 3 Kids evening meals (based on 2 adults and 2 children sharing accommodation) from euro €599.00 and includes free use of all leisure facilities on the hotel grounds

Click here to enquire Or call +353 (0) 95 43511

Please quote "Georgina Campbell's Ireland Guide" when enquiring or booking.

In one of the country's most appealingly remote and beautiful areas, the Coyle family's famous Lutyens-esque house has a romantic and fascinating history, having been home to people as diverse as a Gaelic chieftain and Oliver St John Gogarty - an ...
more...
Show Me All Special Offers