Insider View - Is Irish Food Really Getting Better?
This month Lucy Madden questions whether Irish food is really getting better - saying that, in rural Ireland, a good meal at a reasonable price is hard to find
It was a recycled wine bottle filled with a brownish liquid lurking on the table that alerted us to the fact that all was not well. We were a party of 8, meeting for lunch in a restaurant in the Midlands and, having pre-booked, arrived at the venue to see that we were the only customers there.
We were led through an empty room to a narrow nook at the back where our table awaited. Above us, the wall was decorated with a sign reading Toilets and as we ate those visiting this destination and thus opening the door sent a breeze of bleach across our bows.
The food was vaguely reminiscent of the early 1970s. My salad was decorated with a flotilla of fruits – orange and kiwi, a slice or two of apple and of course vol-au-vents featured largely on the menu. Baked goods had clearly had an existence over a long weekend. There may well be a market for this kind of fare but it was not in evidence that day.
If our host, a kindly woman in her sixties, had not looked so harassed and disappointed with life and had she not informed us that business was very slow, we would have expressed some measure of discontent. As it was, we paid up and left, but how is it that some businesses can get it so radically wrong? What would a tourist think arriving to eat here? This is at a time when we are overwhelmed with advice about producing good food and yet, as we know, food has scored very low in some recent visitor appreciation surveys.
As Fran Lebovitz said about her native country "If you are visiting America, bring your own food". One of the most distressing things about living in these islands off the coast of Europe is our food culture. The rows, and rows, of confectionery and sugary drinks on sale in our shops, the ubiquity of the over-weight and the seeming determination of a vast majority of the population to resist any change in their diet bewilders and appals, in equal measures.
This was demonstrated locally in my grandson's primary school where a recent campaign to improve the diets of the wee ones was met with a forceful and indignant Facebook campaign by parents who were 'not going to be told what to do' and so the children continue to go to school with lunch boxes packed with crisps, sweets and minerals (not of the nutritious kind). Are these the restaurateurs of the future? Nobody likes to sink her teeth into a carvery lunch more than I, in the occasional burst of nostalgia for the food of my childhood, but this is not the kind of fare that is going to bring in the tourists.
Last year in a mood of despair I told a huge woman in a supermarket in Enniskillen that she was poisoning her children with her trolley load of fats and sugar. After the inevitable altercation with her and her (huge) teenage children I later found her loading fruits and vegetables into the trolley, now emptied of its previous contents, and, to my surprise, she hugged me and said how grateful she was because her children bullied her to buy 'rubbish'. This encounter proves little except that we are caught up in a cycle of poor nutrition that has been foisted on us by uncaring and greedy food processors.
The chef Dylan McGrath, speaking recently on radio, told his audience that, in the last couple of years, food was improving on our island and that chefs were 'updating' traditional foods. As a person of a certain age I felt a strange affront at his arrogant words because it seemed he had forgotten a whole raft of wonderful cooks who have revolutionised food in this country since the 1970s.
The Allen family, for a start; the influence of Ballymaloe cannot be challenged. It is very easy, and very misguided, for new generations to dismiss what has gone before and imagine that they and they alone have an understanding of the zeitgeist. I say there is too much faux foreign food around, too much sweet chilli sauce, panini, burritos et al.
You only have to look at the cookery books that were written centuries ago, to realise that food goes through many incarnations and that menu planning in past times was far more sophisticated than it is today. You can indeed eat very well in this country, but in rural Ireland a good meal at a reasonable price is hard to find and is this so surprising when our future food providers are being raised as fatties?
There seems to be a disconnect between our genuinely great food producers and the public at large. I read of a successful restaurateur in Boston who brings a busload of under-privileged children every week to his premises, gives them lunch off his menu and then a tour of his kitchens and wine-cellars. What better way could there be to introduce the next generation to good food? Step this way, children.

---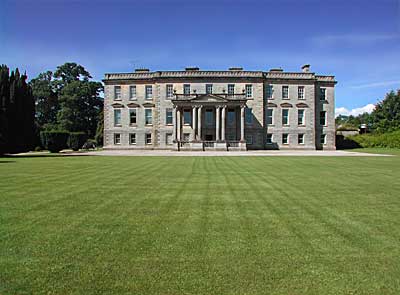 Together with her husband Johnny & family, Lucy Madden runs their magnificent 18th century mansion, Hilton Park, Clones, Co Monaghan as a country house which is open to private guests, groups, small weddings and conferences. The restored formal gardens are also open by arrangement. Lucy is a keen organic gardener and also a member of the Irish Food Writers Guild.