Insider View on Calorie Counted Menus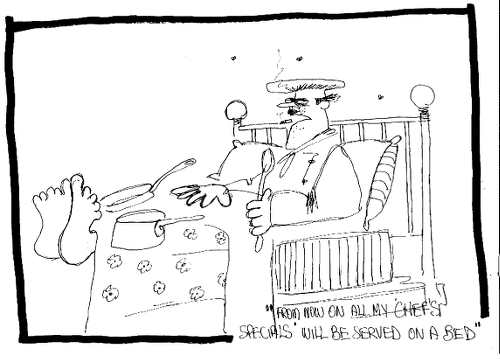 This month, Lucy Madden speaks for us all - on the dread topic of calorie-counted menus - and has some sensible tips on meaningful menus too. (Ken Buggy's quirky drawing shown here, has been pinned up in the Guide's office for many years by the way…)
Picture the scene. A couple in a restaurant are perusing the menu. After prolonged head-scratching, one says "I think I'll have the pork, but I can do that only if I have a half-portion of mussels." His companion, after some maths, replies: "Honey that leaves you way over the limit. That's only possible if you don't have the potato. And put that piece of bread back in the basket."
A public consultation held by the Food Safety Authority reveals that 96 per cent of us consumers are in favour of displaying on menus the calorific nature of the food on offer. How can this be so? I know it is popular in America, but then so much of American life, like child beauty pageants and gun laws, are not to our liking.
Dining out is meant to be fun, not a guilt-inducing, number-crunching experience. I can see that there is an argument for large restaurant chains whose offerings change little, and whose products are generally accepted to be waist-line unfriendly, to have to display the calorific value of each plateful, or boxful.
The makers of the Happy Meal could lead the way perhaps? But the idea that businesses who change their menus on a daily or weekly basis, should have to start counting calories, even with the aid of MenuCal, an online tool for food businesses, is likely to tip some providers over into insanity. How, for instance, do you assess the calories of a plate of homemade scones which are inevitably of different sizes and the lottery of how much cream constitutes a spoonful?
In our own small premises, food is chosen on a daily basis and according to what is fresh and available. To run a small food business is, as I know well, to flirt with disaster. So much can go so wrong, as even Heston Blumenthal found out, and it is no wonder that so many of the world's great chefs can't stand the heat.
Even when you do it well, as happened in a neighbouring town, where an enterprising Portuguese opened a café serving a small choice of freshly cooked food with lots of salads and at a reasonable price, success is far from guaranteed. Within weeks a copycat version had opened across the street and his clientele was halved. He closed, of course, but his rival has reverted to micro-waved fare of an indigestible nature, and the loss is everyone's.
The idea that hard-pressed kitchens should have to evaluate calories is just not on. I would argue, too, that the message is being delivered to the wrong people, and that those in need of drastic weight reduction are not the ones who frequent the places where good food is served. I just don't believe that the obese study the nutrition labels on food packages. It is the already stick thin who scrutinise the small print, call for egg white omelettes and declare themselves lactose intolerant.
On the subject of menus, too, I read that the use of French is falling out of fashion and a good thing too since so often it is (hilariously) inaccurate in translation. The decline in the popularity of so-called fine dining may have something to do with this, as there is a growing realisation that diners are fed up with being intimidated by starchy interiors or uppity waiters or bewilderment at the choices before them.
While we are at it, recreating our menus, I would suggest that two of my own pet hates are knocked on the head, once and for all. The term 'pan-fried' should be first to go since what other vessel can be used for the purposes of frying? Secondly, is the expression 'on a bed of…', a crudely clichéd term for the dreadful practise of presenting food as a pyramid. Nor would we miss meaningless generic terms like 'farm eggs' or 'homemade jam'.
Lengthy menus should be avoided too, since clearly it is not possible to produce scores of dishes in the average restaurant kitchen and the food is more likely to have put together in a factory in a faraway land.
As food writer Michael Pollan suggests, choose a restaurant where the delivery vans out the back are small, because if a restaurant is getting its supplies delivered by articulated lorry, the food is likely to be undistinguished.
Here a personal anecdote: on this day of writing after a walk in the fantastic Cavan Burren we went to eat at a nearby caff. My daughter, granddaughter and I ordered delicate helpings of carrot soup and a roll, then sat down.
At the next table a couple were attacking platefuls of an Ulster Fry, the All Day breakfast. Our eyes met. Go and change the order, I whispered to the granddaughter. Some moments later we were all tucking into fried bread, sausages, mushrooms, bacon and eggs.
Thank goodness there were no reminders of the calories we were consuming. If we want to pay for the occasional pig-out, leave us alone. Let's keep our restaurants free from the worthiness police.
---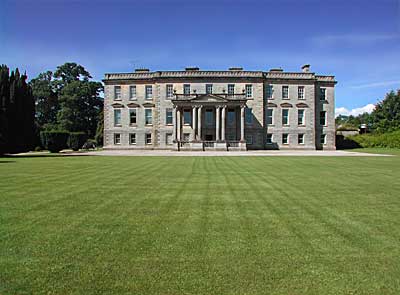 Together with her husband Johnny & family, Lucy Madden runs their magnificent 18th century mansion, Hilton Park, Clones, Co Monaghan as a country house which is open to private guests, groups, small weddings and conferences. The restored formal gardens are also open by arrangement. Lucy is a keen organic gardener and also a member of the Irish Food Writers Guild.