Irish Food Writers Guild Awards - Nothing But The Best!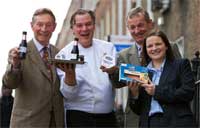 Every February the Irish Food Writers Guild (IFWG) announce their unique Awards of Excellence, which are presented to just three or four carefully selected top food producers at a special awards ceremony in Dublin.

Held at L'Ecrivain restaurant, this is a seriously hot ticket, attended by Ireland's leading 'foodies' and media - who come to honour the winners and sample their products in a celebration lunch menu specially devised for the occasion by Michelin Star chef, Derry Clarke.

This year's accolades were presented to the County Offaly Derryvilla Blueberry Farm for their excellent blueberries and innovative blueberry tonic and preserves; Marine Harvest Ireland for their superb Clare Island Organic Salmon; and the Berridge Family of Carrigbyrne Farmhouse Cheeses, County Wexford, for their excellent hand-crafted St Killian Irish Farmhouse Cheese. And this year the IFWG announced a new Environmental Award – also presented to Carrigbyrne Irish Farmhouse Cheese Company, in recognition of the innovative and wide-ranging exemplary practices in many areas of their business, both farming and cheese-making, which have a positive and enduring effect on the environment.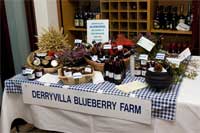 Now in its 15th year, the annual IFWG Awards honour outstanding Irish food producers for their exceptional produce, hard work and dedication to their craft. IFWG Food Awards are regarded within the industry as the most prestigious food awards in Ireland. They are unique in that the winners are chosen by the members of the Irish Food Writers Guild 'in camera', following a lengthy, year-long process.

There are no set categories, and no one can enter or be entered for an award. Rather every Guild member keeps their taste buds at the ready throughout the year and nominates products they believe are worthy of being honoured. Each of the Guild's 30+ members is involved in the carefully considered selection process, and the winners do not even know they have been nominated until they are informed after a secret vote.

The products must be produced in Ireland and may be traditional or innovative; the product itself may be new to the market, but the producer must have been trading for at least three years. On occasion members also recognise an individual or an organisation which has contributed something exceptional towards promoting good food in Ireland.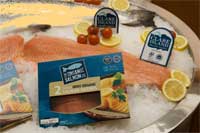 The awards were presented by Trevor Sargent T.D., Minister for Food and Horticulture, who said; "It is imperative that we recognise the hard work, expertise and dedication of Ireland's indigenous food producers. These awards are a fitting celebration of some of our finest food producers and organisations and I commend all winners for the outstanding quality of their produce. We have an outstanding provenance in fine food in Ireland and it is my priority to ensure more and more of this food is available organically. It must be a near impossible task to select just a handful of winners each year. However, it is clear that these awards, chosen by such a distinguished panel, continually help to raise standards among food producers in Ireland," stated the Minister.

WHY NOT TRY THE VERY BEST OF IRISH PRODUCE IN LEADING CHEF DERRY CLARKE'S SPECIALLY DEVISED RECIPES?

The recipes given here were all created by Derry Clarke, of acclaimed Dublin restaurant L'Ecrivain, for the Irish Food Writers Guild Food Awards 2009 – each year Derry is presented with a 'mystery basket' of award-winning ingredients, and he never fails to come up with imaginative and delicious dishes for the occasion.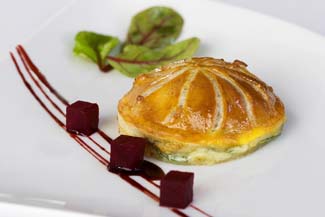 1. AWARD WINNER: CARRIGBYRNE ST KILLIAN

Made in County Wexford by the Berridge family since 1982, the camembert style Carrigbyrne St Killian is one of Ireland's longest-established and best-loved farmhouse cheeses, and is easily recognised by its trademark hexagonal box- which is secure and light, making it an ideal gift purchase at airport shops.

Appreciated by cheese lovers for its consistent high quality, Carrigbyrne is one of the most widely available Irish farmhouse cheeses; always on sale in specialist shops and leading supermarkets in Ireland and the UK (Tesco, Dunnes, Superquinn, Supervalu, M&S, Waitrose) and also Metro in Germany - one of their strongest areas of growth.

RECIPE: Carrigbyrne St. Killian Farmhouse Cheese Pithivier

These tasty morsels are very versatile, making unusual bites to serve with drinks, or as a starter – and would also make a delicious savoury to finish off a good meal.

Click here for recipe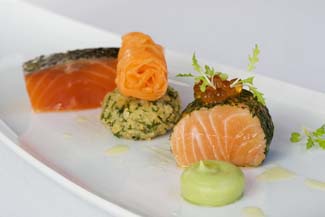 2. AWARD WINNER: CLARE ISLAND ORGANIC SALMON

Ireland's Atlantic waters have the highest organic rating possible (AI) and Clare Island is six miles off the Mayo coast, in Clew Bay, where stormy conditions can last for days in winter, with waves over ten metres. The water quality and the strength of the tidal exchange are crucial to the excellence of Clare Island organic salmon, from the most exposed salmon farm in the world.

Renowned for its superb flavour, lean flesh and firm muscle texture, you'll often see Clare Island salmon named on menus in leading restaurants, and it is used by the top fish smokers like Kinvara, Belvelly Smokehouse and Ummera, all previous IFWG Award winners.

It is currently available from Irish speciality shops (eg Cavistons of Dun Laoghaire, Beshoff's in Howth, both County Dublin, and Clarke's in Ballina, County Mayo) and the company is developing a range of pre-packed products.

*Further information and recipes for Clare Island Organic Salmon can also be found in our recently published cookbook, From Tide To Table (Epicure Press, €25), sponsored by Bord Iascaigh Mhara, the Irish Sea Fisheries Board.


RECIPE: Trio of Clare Island Organic Salmon With Avocado Cream & Caviar.

Click here for recipe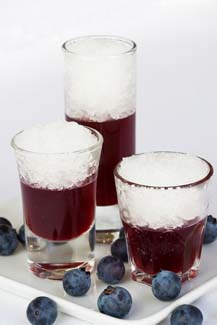 3. AWARD WINNER: DERRYVILLA BLUEBERRIES

The American blueberries grown at Derryvilla Blueberry Farm are closely related to the native Irish fraughan or bilberry, a fruit associated with celebration, feasting and fertility. The cultivated berry is a juicy, versatile fruit, prized as a vitamin-rich food – and, in Ireland, it is grown on cutaway bog in County Offaly.

The history of Derryvilla Blueberry Farm involves a number of dedicated farming pioneers including, for the last five years, Nuala O'Donoghue who has been involved, in particular, with development of the innovative Blueberry Tonic and delicious blueberry preserves – both of which are out-sourced to other well-known artisan food producers. [Derrvilla Blueberries and products are available from selected retailers, including Nolans in Clontarf, Dublin 3, and Foxes in Mullingar?

RECIPE: Derryvilla Farm Blueberry Tonic Granita with Blueberry Jelly

Con Trass of The Apple Farm in Clonmel, County Tipperary, makes the blueberry tonic for Derryvilla Farm.

RECIPE: Baked Derryvilla Farm Blueberry Cheesecake

Irish-grown Derryvilla Farm blueberries can be used fresh in this classic dessert when they are in season (August-September). They can also be frozen, for use in made up dishes and as a sauce (coulis).

Click here for Blueberry Recipes