Irish Food Writers Guild Awards 2010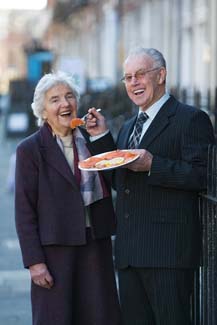 QUALITY & SUSTAINABILITY THE REAL WINNERS AT FOOD AWARDS

Agriculture was the prevailing theme at the Irish Food Writers' Guild Food Awards 2010. From farm to fish, just five indigenous companies were acknowledged as among the finest food producers in Ireland and contribute to Ireland's growing international reputation for fine food and produce.

Presented by one of the pioneers supporting Irish food producers and the promotion of good food in Ireland since the 1960s, Myrtle Allen of Ballymaloe House, Co Cork, the awards for outstanding products went to:

Moonshine Dairy Farm (Westmeath) for its gently pasteurised Moonshine Organic Milk;

Knockdrinna Farmhouse Cheese (Kilkenny) for the company's distinctive Farmhouse Sheeps Cheese;

Kettyle Irish Foods (Fermanagh) for the excellent eating quality of its Fermanagh Free Range Chickens.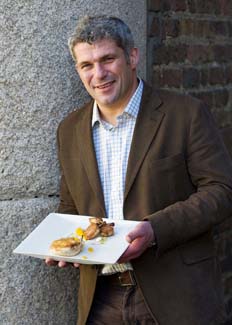 In addition, The Guild Environmental Award was presented to Omega Beef Direct (Tipperary), for using farming and production methods that are a model of sustainability, and the Guild's seldom awarded Lifetime Achievement Award was made to Nicky McLoughlin of Nicky's Plaice (Co Dublin) who, for half a century, has been the lynchpin of an exceptional fishmongers on Howth Pier.

Now in its 16th year, the annual Irish Food Writers' Guild (IFWG) Food Awards promotes and rewards the highest quality of produce, craftsmanship and dedication to Irish food. These awards, which are highly regarded and much coveted within the industry, have been described as the most reputable and indeed, the most important food awards in Ireland. This is only the second year that an environmental award has been made; introduced last year in recognition of the growing importance of sustainability across the food and retail sectors.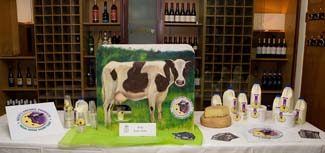 The Guild's new Chairperson, Orla Broderick said; "These awards are not about luck or chance and the industry cannot lobby on behalf of food producers. These awards are about one thing only, achieving consistent standards of real quality and excellence and as a Guild, we are very proud of the high standards we have helped to set. The strict judging process ensures that only exceptional producers are recognised, each year.

"We are not confined by company size; set categories; turnover or established relationships. No food producer can enter for an award and indeed, no company ever knows that it is being considered for an award until the judging is complete and contact is made. Our criteria is strict but straightforward - the products, traditional or innovative, must be produced in Ireland and the main ingredients must be home produced. We are really thrilled with the calibre of this year's winners and hope the accolade will contribute somewhat to their long-term success."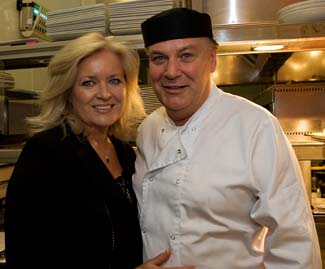 In celebration of the awards, which were again supported by Bord Bia, Ireland's leading food writers, food critics and retail and industry representatives enjoyed a special awards lunch, which was hosted by SallyAnne and Derry Clarke of Michelin star restaurant, L'Ecrivain.

As he has done for a number of years now, Derry devised a menu comprising all of the winning produce and guests feasted on Nicky's Plaice smoked salmon with crab salad & cucumber; Fermanagh free range seared chicken breast with barley, cured bacon & turnip purée; Chocolate pave with Moonshine organic ice cream and Moonshine organic milkshake followed by Knockdrinna Meadow Sheeps Cheese and rarebit with port & pear purée and candied pecans.

Accompanying wines were supplied by Gilbeys, bottled water by Tipperary Natural Mineral Water – and William Rochford of BR Marketing presented chocolates to all the guests.

The Judging Process

• Every member of the Guild is invited to nominate products they believe are worthy of an award
• The products must be produced in Ireland and the main ingredient must be home produced
• The producer must be trading for at least three years
• Products are bought and paid for and a formal tasting meeting takes place where members vote, using proportional representation

For further information log onto: www.irishfoodwritersguild.ie


© All recipes created by Derry Clarke, L'Ecrivain, for the 2010 Irish Food Writers' Guild Food Awards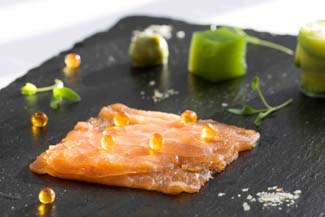 Nicky's Plaice smoked salmon with crab salad & cucumber

Click for recipe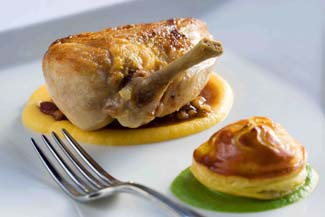 Fermanagh free range seared chicken breast with barley, cured bacon & turnip purée

Click for recipe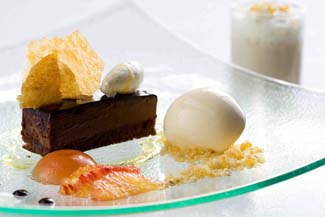 Chocolate pave with Moonshine organic ice cream and Moonshine organic milkshake

Click for recipe