Just Ask Restaurant of the Month for March - Belleek Castle
The "Just Ask!" Restaurant of the Month winner for March is Belleek Castle, Ballina, Co Mayo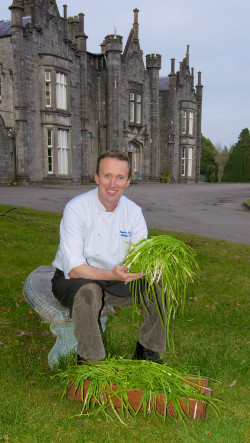 Complete with 16th century armoury, huge open fires, massive chandeliers and many quirky features, this castle just outside Ballina makes an unusual small hotel. It's a wacky place for those who enjoy something out of the ordinary and it would be great fun for a group get together.
Illuminated by candles of all shapes and sizes, the restaurant is full of character, with oak panelled walls, a ceiling of oak baulks reputed to be salvage from the galleons of the Armada, rustic floor tiles and the flickering shadows created by diners and staff all adding to the atmosphere.
But there is much more than atmosphere to this appealing place as Head Chef Stephen Lenahan, who has been in charge of the kitchens for well over a decade, is committed to local suppliers and produce - meats, game in season, seafood, organic vegetables from nearby Enniscoe House and foraged foods from the woodland surrounding the castle. Admirably seasonal menus include a predictably amusing quotation from Brillat-Savarin (on how to spot a congenial dining companion), but they begin in the best possible place, with warmly worded thanks to 'Respected Suppliers' and announce that, in an exciting move for the 2013 season, they now also grow produce in their own polytunnel.
Except for fresh crab, (Paddy Ward, Co Donegal) and mussels (Padraig Gannon, Achill Island), most of the fish is supplied by Joe Garvin of Ballina; the salmon and sea trout that the area is world-famous for tops the bill, of course - and Stephen takes pride in hot-smoking and making gravlax in-house.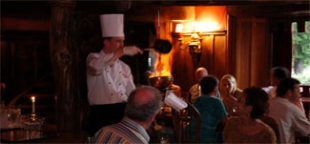 No less than three local butchers are credited - Anthony Heffernan, Ballina, Michael Mc Hale, Castlebar, and Michael Carr, Ballina - and beef is dry-aged in-house, so it should come as no surprise that the chef's signature dish involves red meat: "The Drunken Bullock", consists of a large fillet of prime local Angus beef flambéed at the table - on a 15th century Spanish Armada conquistador sword, no less - in a generous measure of Jameson whiskey. Quite a show-stopper, especially in these theatrical surroundings.
SAMPLE MENUS
A warm welcome to you from everyone at Belleek Castle. one of Irelands historic stately homes, saved and expertly restored into the splendid building it is today by Marshal Doran.
Our Menus
Daily from 5.30pm~6.30pm we offer our Early Bird Menu, a good value menu of simpler choices.
Sunday~Thursday we offer the " Market Menu", this is a 5 course tasting menu priced at €49.50 it's the Chefs selection chosen from the best ingredients available each day. This helps us to maintain our commitment to quality and value, of course if you would prefer to change a course we will always endeavour to accommodate your needs.
Friday~Saturday we offer the "A La Carte" which is a selection of various individually priced Starters, Main Courses & Desserts from which you can choose. or The "Gourmet" , our specialty , an eight course tasting menu of smaller portions, all of which add up to a unique dining experience. The 8 course Gourmet menu is priced at €65.50
All menus are available as vegetarian options.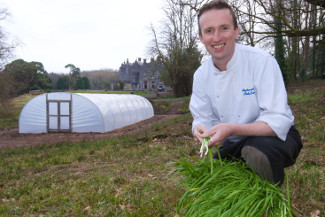 Respected Suppliers List
Stephen's philosophy is to use classic and imaginative cooking with local, seasonal ingredients from our land, sea and air to combine a depth of flavour with the traditions of the castle. This is impossible without our food producers and partners.
We dry age our precious beef in-house, sourced from local farms and supplied by Anthony Heffernan, Ballina, Michael Mc Hale, Castlebar, and Michael Carr, Ballina. They also supply us with lamb, pork, bacon & chicken.
In Belleek we take our game seriously! Many thanks to the suppliers of woodcock, pheasant and venison sourced through authorised dealer Pat White in Claremorris,and nationally with Wild Irish Game in Wicklow
We have wonderful seafood with Killala Bay and The Moy Estuary on our doorstep; we take pride with our in-house hot-smoking and famous gravlax. Travelling a little further up the north coast to Donegal for our fresh crab, fished by Paddy Ward, back home to Mayo and Achill Island for our Mussels picked by Padraig Gannon; otherwise most of our fish is sourced by Joe Garvin, Ballina.
Triangle of garlic in springtime, wood sorrel in summer, and wild mushrooms in autumn, these are just a few of many examples of the bounty we forage from Belleek forest.
Organic herbs and vegetables from Enniscoe House in Crossmolina.
Alfred Devers from Ballina supplies us with all the rest.
We now have our Polytunnel on the back lawn and are looking forward to growing are own!!
Our Farmhouse cheeses are all Irish, including Bluebell Farm, Co Clare, Gubbeen Farmhouse, Co Cork, Cashel Blue Cheese, Tipperary

Early Bird 5.30pm – 6.30pm

Starters
Piglet Pie
Castle Soup of the Evening
Roulade of Irish Chicken
Freshly Hot-Smoked Fish of the day
Farmhouse Cheese Tart
Mains
Slow Braised Mayo Beef
Silverhill Duck Casserole
Seared Best End of Mayo Lamb
Glazed Pasta with Seasonal Vegetables
Grilled Fresh Fish
Dessert
Please ask your server….
3 COURSE €28
Side Dishes Herb Glazed Potato €4.50 ~ Chips €4.50 ~ Belleek Side Salad €4.50 ~ Poached Seasonal greens €4.50

Individuals predestined to gourmandism are generally of medium height, they have round or square faces and lips, well rounded bright eyes, small foreheads and short noses, full lips and well rounded chins. The women are buxom, pretty rather than beautiful with a tendency to run fat.

Such is the exterior beneath which to look for the most agreeable company, for these guests who accept everything they are offered, eat slowly and savour each morsel thoughtfully. They are never in a rush to leave the place where they have found true hospitality and they are invited to stay all evening because they know that the games and pass times appropriate to gastronomical gatherings. Those on the contrary to whom nature has refused an aptitude for the pleasure of taste have long faces,
noses and eyes, whatever their height is there is something elongated in their proportions, their hair is dark and flat and they are never plump.

It is they that invented trousers. The women whom nature has afflicted with the same misfortune are angular in body, are easily bored at the table and only live for cards and scandal.
JEAN-ANTHELME BRILLAT-SAVARIN 1825
Gourmet Menu...
GRILLED KILLALA BAY TURBOT
Served with seapray lime, organic leaf salad.
~~~~
WEST COAST SHELLFISH SELECTION
In a saffron glaze.
~~~~
BUTTERMILK & GRAPEFRUIT SORBET
Shot of Vodka.
~~~~
TRIO OF MAYO HILL LAMB
Tenderloin wrapped in vegetable julienne, taster of casserole, tongue & cheek pudding, rad cabbage glaze..
~~~~
THE FAMOUS DRUNKEN BULLOCK,
Prime Mayo fillet beef flambéed on our 15th century Spanish Armada conquistador sword, served with a mild peppercorn jus & vegetable roti.
~~~~
MATURED CASHEL BLUE CHEESE
With chutney & fruits.
~~~~
DESSERT SURPRISE
~~~~
PETIT FOURS
Handmade chocolates to delight.
A La Carte…Starters
RARE WOODPIGEON IN THE WILD
Seared wild Irish pigeon breast, with a tender braised pudding, wild forest leaves, berry compote.
€12.90
KNOX-GORE PIE
Traditional House recipe, Irish rare breed pork in pork fat pastry, sauté of seasonal cabbage, orange & ginger marmalade.
€12.90
WEST OF IRELAND SHELLFISH
Crab & langoustine pudding, on a bed samphire, saffron mussel cream..
€12.90
TRADITIONAL SMOKED ATLANTIC SALMON
With a wild leaf & horseradish salad.
€12.90
FOREST & HEDGEROW SOUP
Forest mushrooms, wild triangle of garlic, nettle pesto.
€8.90
A La Carte...Main Course
THE FAMOUS DRUNKEN BULLOCK
Prime Fillet of Mayo Beef flambéed in Jameson Whiskey, roasted root vegetables and mild pepper jus
€32.90
CREPINETTE OF GUINEA-FOWL
Succulent breast of Guinea-Fowl with Forest mushrooms roasted in caul, with sliced breast, served with seasonal vegetables.
€21.90
DUO OF SEASONAL IRISH DUCK
Pot-braised tender leg, seared breast-fillet, foie-gras roulade
braised red cabbage, select vegetables and rich port jus.
€26.90
GRILLED MULRANNY SEATROUT
Tender fillet off the bone, with a sauté of green vegetables lemon & dill sauce
€18.90
PAN-FRIED KILLALA BAY TURBOT
Off the bone, scented with garden herbs, in a saffron an caper Champagne sauce
€24.90
Vegetarian Menu
TARTLET OF GRILLED PEPPERS
Sweet roasted pimento , garden herbs, Mozzarella.
BLUEBELL GOATS CHEESE,
Encroute with pesto , baby spinach.
BELLEEK VEGETARIAN SALAD,
Organic select leaves & vegetables , pine nut dressing.
~~~~~~
GLAZED HAND-MADE PASTA,
Olive tapenade.
WILD MUSHROOM RISOTTO,
Forest picked mushrooms with a white truffle cream
BAKED BUTTERNUT SQUASH,
Encrusted with a soda bread farce.
~~~~~~
YOUR CHOICE OF DESSERT OR CHEESE FROM THE A LA CARTE MENU
SET MENU
€39.90


Market Menu

SELECTION OF WEST COAST SHELLFISH WITH WILD SALMON GRAVLAX
Crab & scallop pudding with a saffron mussel cream on a bed of seasonal greens, garnished with chef caught gravlax !!!
~~~~~~~

SEASONAL SOUP OF THE EVENING
Please ask your server.
or
CASTLE SORBET
Served with a surprise !!

~~~~~~~
TRIO OF MAYO HILL LAMB
Braised tongue & cheek pudding, tenderloin wrapped in vegetable julienne, taster of casserole, red cabbage glaze.
or
FARMHOUSE CHEESE TART
Irish farmhouse cheese in a light pastry, balsamic oil.

~~~~~~~~
THE DRUNKEN BULLOCK
Prime Fillet of Mayo Beef, flamed in Jameson Whiskey, potato dauphinoisse , select vegetables, pepper jus.
or
GRILLED KILLALA BAY TURBOT
Served with sautè greens, champagne~butter sauce.

~~~~~~~~
BELLEEK DESSERT…
Please ask your server...
€49.50

The restaurant at Belleek Castle….using classic and imaginative cooking techniques with local, seasonal ingredients from our land, sea and air, we combine a depth of flavour with the traditions of the castle.

----------

VIEW ALL JUST ASK RESTAURANT OF THE MONTH WINNERS
---

"Just Ask!" is a public awareness campaign that aims to encourage consumers when eating out to look for information on where the food (particularly meat) on their plate comes from, and encourages chefs to provide this information on their menus. The programme supports both large and smaller artisan suppliers, encouraging both Irish diners and visitors from abroad to support restaurants that are in turn supporting their suppliers.

Here at Georgina Campbell Guides we have always been avid supporters of the 'eat local' concept, and we always enjoy reading menus that have a real sense of place. The dining experience is greatly enriched by knowing that the food on your plate is inspired by the produce and traditions of the area, and sourced nearby – and we would love to see more chefs sharing that precious information with their guests.

If you are a visitor to the area, learning a little about local food and the people who produce it adds a special extra dimension to the visit – and, for residents, it reinforces a natural pride in the good things of their locality and makes a meal all the more enjoyable.

So, we are delighted by the high standard of menus that continue to be submitted for our ' "Just Ask!" Restaurant of the Month Competition', menus that really speak of the best of Irish foods – and the dedication of both the people who make them, and the chefs who select them to create wonderful dishes with real Irish flavour for our enjoyment.