Just Ask Resturant of the Month for April - Harrys Bar & Restaurant
The "Just Ask!" Restaurant of the Month winner for April is Harrys Bar & Restaurant in Bridgend, Co Donegal.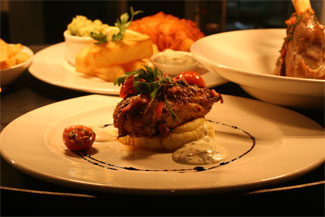 Donal & Kevin Doherty and Raymond Moran operate this well-run bar and restaurant close to the Derry border with a real passion for the food of the area. There's nothing they like better than shouting about it, so there won't be much need for anyone to 'Just Ask!' when eating here – although they'll 'Just Love It!' if you do, as their well-informed staff are just as enthusiastic about their food philosophy as they are themselves.
"Local Food From Local People" is the mantra on the cover page of their menus – big and bold, it's even more prominent than the menu heading itself, and continues in the same vein: "We collect the best of local produce direct from the people who farm, grow and catch it! Fish & Shellfish come from the Greencastle boats. Local meats arrive whole & mature in our own dry-aging room. Unique local produce to shout about!"
And that's only the beginning of the story, as the provenance of almost every item of the menu is explained on the way through – with special prominence given to 'The Greencastle Fishbox' and, of course, to the 'Famous Well Hung Donegal Steaks' that make this a serious destination for beef eaters from all over Ireland when visiting the north-west.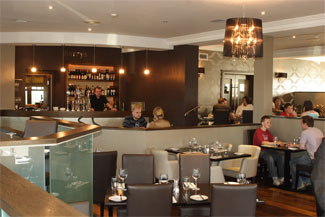 "All meats arrive whole and dry age in-house for up to 35 days; we use only select Donegal pasture-grazed beef." Now how many establishments could claim that? Needless to say the steak menu is quite something, offering a wide range of cuts, weights, sauces and dressings – and great value for money too, notably for the 8oz rump steak, which is a sure-fire winner at only €12.
But the total dedication to showcasing local produce at Harrys is by no means restricted to seafood and beef – a 'Best of Local Produce' section of the menu changes with the seasons and may include, according to availability, other treats such as: wild Donegal venison; Inch Island pheasant; an Inishowen Lamb Plate, which offers a range of cuts not normally seen on menus as well as the popular rump and rack; and – their current pride and joy, only recently introduced – Inishowen organic saddleback pork.
Then, if you turn to the back of the menu while you're taking a rest before indulging in the tempting home-made desserts (or a Sheridans cheeseboard), you can read the detailed lowdown on the products used, where they come from and the people who make them – it's magic stuff and the pride these guys have in the foods of the area is palpable.
And now they have also decided to add a 4-course "Taste of Inishowen" menu, with the main element of each course sourced in Inishowen; at just €24, including coffee and petit fours, it will be great value too.
Taking the time to browse the menus at Harrys gives you a real sense of the area, and the wonderful produce it has to offer – it certainly is something to be proud of and you won't find too many establishments shouting about it quite as loudly or as enthusiatically as this team does.
SAMPLE MENUS
BISTRO MENU
LOCAL FOOD FROM LOCAL PEOPLE
We collect the best of local produce direct from the people who farm, grow and catch it! Fish & Shellfish come from the Greencastle boats. Local meats arrive whole & mature in our own dry-aging room.
Unique local produce to shout about!
(Detailed information on our sourcing is available at the back of this menu)
Opens Seven Days a Week from 12pm
Closes: Mon & Tue 8pm, Wed, Thur & Sun 9pm, Fri & Sat 10pm
bookings now taken all sizes
Dietary Requirements and allergies – you must inform us if you have any allergies or special dietary requirements. Some dishes can be made coeliac friendly
No Separate Billings
find out more on...
www.harrys.ie
follow "Harrys Restaurant" on facebook
FOR BEGINNERS
HOMEMADE SOUP OF THE DAY €5
house recipes served with fresh home baked bread
INISHOWEN PRODUCE PATES €6
lamb en croute, pork rillette, wild game terrine, homemade chutney & brioche
GREENCASTLE SEAFOOD & CHORIZO CHOWDER €7
home baked brown bread
BAKED GARLIC MUSHROOMS €6
glebe brethan rarebit, harry's tomato & onion chutney
HOME SMOKED CHICKEN ORGANIC LEAF SALAD €6
croutons, parmesan & homemade dressing
BAKED ARDSALLAGH GOATS CHEESE €7
beetroot jam, honey & lavender dressing
INISHOWEN SHELLFISH PLATE €9
fresh caught lobster salad, prawn cocktail & crab tian all from Greencastle
INCH ISLAND WOODCOCK €8
pan-fried breast & terrine
ALL MAIN COURSE OPTIONS INCLUDE CHOICE OF SIDE ORDER
THE BEST OF LOCAL PRODUCE
OUR BEST EVER SELECTION OF DONEGAL & INISHOWEN PRODUCE
ALL PROPERLY DRY-AGED & BUTCHERED IN HOUSE
WILD DONEGAL VENISON €17
loin & pie, shallot purée, walnut rosti & pickled red cabbage
INISHOWEN ORGANIC SADDLEBACK PORK €17
chop, hot pot, celeriac purée, apple & cider jus
PARMA HAM CHICKEN €14
sage & garlic mash
INCH ISLAND PHEASANT €18
walnut & apricot stuffing, mulled wine jus
INISHOWEN LAMB PLATE €17
neck to shank variation plate (confit shoulder, walnut & apricot stuffed rump & rack)
THE GREENCASTLE FISHBOX
COLLECTED STRAIGHT OFF THE GREENCASTLE BOATS AND ONTO YOUR PLATE!
MENUS CHANGE AS THE BOATS COME IN, SIMPLE & DELICIOUS
FRESH BEER BATTERED LING FILLET €14
straight from boats, mushy peas, real tartar sauce
JOHN DORY €17
smoked cod & pea risotto
GURNARD €15
curry cream, celeriac & vanilla purée
TURBOT €20
pesto crust, spiced butternut squash
TRIO OF GREENCASTLE FINEST €18
selection of our three best fresh fish fillets
GREENCASTLE SEAFOOD & CHORIZO PIE €14
potato topping
VEGETARIAN
GOAST CHEESE, WALNUT & PEAR LINGUINI €13
TOMATO, OLIVE, PARMESAN, SPINACH & PESTO GNOCCHI €13
FAMOUS WELL HUNG DONEGAL STEAKS
ALL MEATS ARRIVE WHOLE AND DRY AGE IN-HOUSE FOR UP TO 35 DAYS
WE USE ONLY SELECT DONEGAL PASTURE GRAZED BEEF
"A PLACE OF PILGRIMAGE FOR STEAK LOVERS" – TOM DOORLEY, IRISH TIMES
"IF YOU SEEK ALL THE GOOD OMEGA OILS FROM PASTURE GRAZED, DRY AGED SIRLOIN, THEN HARRYS IS YOUR ONLY DESTINATION" – BRIDGESTONE IRISH FOOD GUIDE
Steak Tip: Less cooked tastes much better
FAMOUS DRY-AGED DONEGAL SIRLOIN STEAKS
10oz TENDER SIRLOIN €19
8oz TENDER SIRLOIN €17
8oz DRY AGED-DONEGAL FILLET STEAK €20
8oz DRY AGED RUMP STEAK €12
16-18oz AGED BONE-IN RIB FOR 2 €32
INCLUDES STEAK SAUCE
cracked pepper sauce béarnaise sauce
roast gravy harrys bbq steak sauce
argentine chimichurri
STEAK DRESSINGS €3.50
french - fried egg & béarnaise
italian – salami, parmesan, sun dried tomato & pesto
all main courses come with a choice of one of the following side orders:
in-season vegetables garlic potato chunks
chip shop chips dressed tossed salad
new potatoes traditional champ
dauphinoise potatoes creamed potatoes
caesar salad tomato & onion salad
the following side order dishes are charged extra at €3
sautéed mushrooms french fried onions
sautéed onions sautéed potatoes
THE GRANDE FINALE
FANTASTIC DESSERTS ALL HOMEMADE IN-HOUSE
DUO CRÈME BRULÈES €5.50
roasted coconut & orange served with poached pear
DELUXE CHOCOLATE FONDANT €5.50
vanilla ice cream (allow extra time)
APPLE PLATE €5.50
baked apple panna cotta; almond & apple sponge; apple crumble
BAKED TOFFEE & POPCORN CHEESECAKE €5
BANANA & GINGERBREAD PUDDING €5.50
glazed banana & ice cream
WARMED & SPICED RICE PUDDING €5
armagnac prunes & ice cream
SHERIDANS CHEESEBOARD €7.50
comté, ardrahan & cashel blue with biscuits and chutney
SELECTION OF BRAEMAR FARM ICE CREAMS
home-made in castlerock from their own cows
3 scoops €5.50
2 scoops €4.00
vanilla bean, strawberry, banana, chocolate, honeycomb, mint choc chip, cinnamon
Extra Scoop of Braemar Ice Cream with Dessert €1
AND TO FINISH…
BOOZY COFFEES €6
irish, scotch, tia maria, brandy, amaretto , sambuca, cointreau, vodka, baileys
DIGESTIF €5.50
St Vincent Armagnac VSOP, 10y Talisker, Remy Martin Cognac VSOP, 10y Glenmorangie,
12y Jameson & Powers, 12y Glenfiddich, Aged Appleton Estate Rum, Red Breast 12y
Hennessy XO €15
ARIOSA SPECIALITY COFFEE
espresso 1.50 double espresso 2.00 americano 2.00 cappuccino 2.00 café latte 2.00
café mocha 2.40 hot chocolate 2.40 teas & herbals 1.50
LOCAL FOOD FROM LOCAL PEOPLE
The following suppliers & people help make us deliver a true taste of Inishowen
Edenmore Farm Foods select top quality local beef & whole lambs
Jo Fowler rears the most amazing organic saddleback pigs in Moville and we collect a whole pig when available
Inch Island provides great Pheasant and Woodcock between Nov & Jan
Wild Inishowen Venison arrives between Nov & Feb
These & local Spring Rabbit arrive courtesy of one or two of our regulars!
All these meats we mature by dry-aging on the bone in our own hanging room & use all cuts. Beef we hang for up to 28 days.
Lamb, Pork & Game we hang for between 5-10 days
Amazing fish such as Gurnard, Ling, John Dory, Haddock, Pollock, Brill & Turbot as well as amazing Dublin Bay Prawns are sourced direct from the Greencastle Fishermen's Co-op auctions as the boats land.
Robert McKinley fishes for our fresh Lobsters, Crab, Mussels & Scallops
His pots go out from April to September, outside this crab is sourced from Malin Co-op
The Whiteoaks Rehabilitation & Community Organic Centre in Burnfoot grow lots of our Veg, Salads & Herbs and across the road, the Coulters in Burnfoot grow our mushrooms
A little further away in Co Derry, Breamar Farm in Castlerock make our ice cream from their own cows. The Tierney Farm in Co Louth directly supply their wonderful Glebe Brethan Cheese, with Sheridans also supplying other fine cheeses leaving Ariosa Coffee to finish us off with lovely beans.
We are continually adding sources to our list, and are especially interested in anything local, so please let us know if you hear of anything!
Thank you for helping us support these brilliant people & suppliers.
Donal & Kevin Doherty & Ray Moran
----------
VIEW ALL JUST ASK RESTAURANT OF THE MONTH WINNERS
---
"
Just Ask
!" is a public awareness campaign that aims to encourage consumers when eating out to look for information on where the food (particularly meat) on their plate comes from, and encourages chefs to provide this information on their menus. The programme supports both large and smaller artisan suppliers, encouraging both Irish diners and visitors from abroad to support restaurants that are in turn supporting their suppliers.
Here at Georgina Campbell Guides we have always been avid supporters of the 'eat local' concept, and we always enjoy reading menus that have a real sense of place. The dining experience is greatly enriched by knowing that the food on your plate is inspired by the produce and traditions of the area, and sourced nearby – and we would love to see more chefs sharing that precious information with their guests.
If you are a visitor to the area, learning a little about local food and the people who produce it adds a special extra dimension to the visit – and, for residents, it reinforces a natural pride in the good things of their locality and makes a meal all the more enjoyable.
So, we are delighted by the high standard of menus that continue to be submitted for our ' "
Just Ask
!" Restaurant of the Month Competition', menus that really speak of the best of Irish foods – and the dedication of both the people who make them, and the chefs who select them to create wonderful dishes with real Irish flavour for our enjoyment.