Lamb Boulangere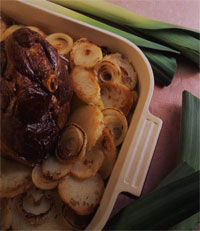 This classic dish makes a lovely, easy Sunday roast for the colder months. The meat, vegetables and potatoes are all cooked together.

Serves 4-6.

Half leg of lamb or a shoulder (well trimmed, boned and rolled)
2-3 cloves garlic, cut into slivers
A few sprigs of thyme or rosemary
Salt and freshly ground black pepper
2 tbsp / 30 ml olive oil
1kg (2lb) potatoes, thickly sliced
2-3 parsnips, sliced (optional)
450g (1lb) onions, thickly sliced in rings
250ml (1/2 pt) water

Set oven at Gas Mark 4, 180°C (350°F ).

Stud the lamb with the garlic slivers and the herbs. It will be easier to do this if you pierce the skin with a skewer or point of a knife. Season and brush with half the oil.

Layer the potatoes, parsnips and onion in the baking dish, in overlapping slices and brush the top layer with the remaining oil.

Place the joint on top and pour in the water.

Place in the oven, uncovered, and cook for about 1.5 hours or until the lamb is cooked to your liking.

Keep an eye on the liquid and top up if necessary. If the lamb or vegetables brown too quickly cover the dish with foil.

Serve with a lightly cooked seasonal green vegetable, such as sprouts or kale, and some redcurrant jelly.