Layered Easter Chocolate Cake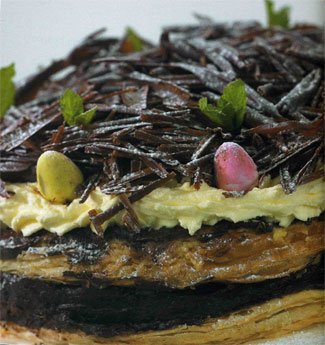 To make a simple but unusual chocolate treat at home, try this Layered Easter Chocolate Cake. It's from Jenny Bristow Cooks For The Seasons /Spring & Summer (Blackstaff Press, ISBN 0-85640-738-0)

"This simple cake is delicious," says Jenny, "And will make a wonderful finale to any Easter lunch."

Serves 8-10

approx 350g/12oz puff pastry

Filling:

175g/6oz good quality dark chocolate - broken into pieces
25g/1 oz butter
2 large egg yolks
110g/4oz crème fraiche, double cream or mascarpone
I egg white - beaten until stiff
To decorate:
150/1/4pt whipped cream
mint leaves
chocolate eggs

First prepare the pastry layers:

Roll out the pastry to a thickness of 1/2cm.

In order to ensure that the pastry rises evenly, place a circular plate (20-23cm/8-9 inches in diameter) on top of the pastry and, using it as a guide, cut out two circles.

Place both pastry circles on a baking sheet and transfer to the fridge for 15-30 minutes before cooking in a preheated oven at 200°C/gas mark 6 for 15-20 minutes until the pastry is golden.

Remove and allow to cool for 10-15 minutes.


To make the chocolate filling:

Melt the chocolate in a large bowl over a pan of warm water. Be careful not to overheat the chocolate. Now, add the butter and stir until it dissolves.

Add the egg yolks and mix well.

Allow the mixture to cool slightly, then add the crème fraîche and mix gently. Carefully fold in the egg white, a little at a time, and mix well. Be careful not to knock the air out of the mixture.

Chill the mixture in the fridge until it has just set. Don't leave it too long or it will become firm.


To assemble the cake:

Spread the chocolate filling on one layer of pastry and place the other layer of pastry on top to create a sandwich.

Decorate with whipped cream, mint leaves, chocolate caraque (curls) and chocolate eggs.