Moyallon Guanciale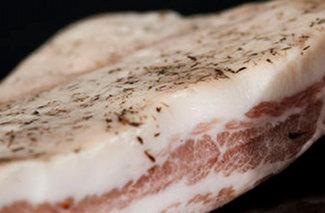 Guanciale (pronounced gwan-chalie) is an unsmoked Italian bacon prepared with pig's jowl or cheeks. Its name is derived from guancia, Italian for cheek, and it is a delicacy of central Italy, particularly Umbria and Lazio.

It has an especially rich, sweet, salty porky flavour and a buttery texture; stronger and richer than other pork products, such as pancetta, it is traditionally used in dishes like pasta all'amatriciana and spaghetti alla carbonara. It is less easily available in Italy than it used to be but, thanks to the dedication of an inspired team at Hannan Meats, chefs seeking the authentic product can now source it from the pretty village of Moira in Northern Ireland.

Jilly Dougan and her former company Moyallon Foods have been highly regarded on the Irish food scene for decades, winning many accolades for their quality products (including a 2001 Irish Food Writers' Guild Award for their Venison and Speciality Game). They're now part of Hannan Meats, who wisely retained both the premium brand and Jilly herself, who divides her time between Moyallon and work connected with another of the area's renowned food businesses, her husband Simon Dougan's deli and bakery, The Yellow Door.

"Guanciale is an amazing ingredient - porky, rich, and delicately textured," explains Jilly, "Since it is quite difficult to get, even in Italy, we decided (after much research) to make our own. To produce our version of guanciale, pork jowl, including the cheek is dry cured using salt, sugar, a mixture of spices, peppers and herbs and cured for a minimum of 3 weeks. During the curing process it is periodically anointed with red wine and garlic."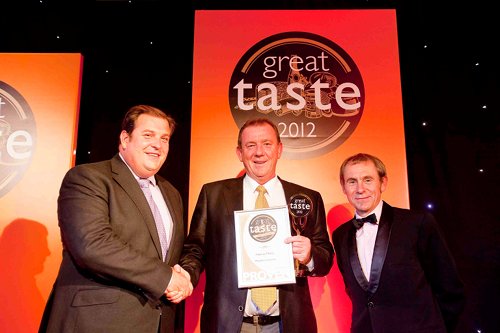 And Jilly is far from being alone in thinking their new product is amazing, as it wowed the judges like no other at this year's Great Taste Awards.

"Almost a case of making a silk purse out of a sow's ear," was the way Guild of Fine Food chairman, Bob Farrand, described Moyallon Guanciale in London earlier this month, when not only was it declared Best Speciality Food Product for Northern Ireland, but also Supreme Champion in Great Taste 2012 – topping the poll of over 8,800 products entered from the UK and Ireland. "This was doubly exciting as it is the second year that Northern Ireland has won this award, with George McCartney winning last year," said Jilly, "Must be something in the water in Moira!!"

And, while it is clearly exceptional, guanciale is not the only star to be won by Hannan Meats this year – in total this remarkable quality-driven company achieved Great Taste Awards stars for no less than 20 of their products, nine of them under the Moyallon brand. Wow!