No Kidding! Goat Meat Makes It Onto Irish Menus At Last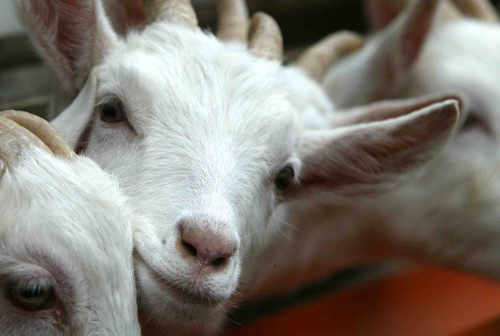 The goat is the most widely used farm animal in the world for its milk, the cheese and its meat - yet, astonishingly, we hardly use it at all here, except for cheese.
It really is the invisible meat. A quick check through a couple of dozen of the most likely cookbooks in my collection revealed only one or two passing references and no actual recipes at all, and online searches which initially looked promising first churned out masses of recipes using goat cheese instead of the meat requested.
But all that is about to change here, as a number of leading restaurants are beginning to put goat dishes on their menus and goat dairy farmers are seeing a new market emerging for their male kids.
Siobhan ni Ghairbhith, of St Tola Irish Goat Cheese in Co Clare, is Ireland's most energetic goat ambassador, having won endless accolades for the St Tola range of cheese over a quarter of a century and constantly introduced new ideas to raise the profile of Irish goats.
Very aware of the growing interest in food tourism as well as artisan produce, St Tola is a leading member of the Burren Food Trail and has recently opened an Economusée on site, allowing visitors to get a taste of what the farm and cheesehouse is all about without booking the full tour. (This French / Canadian programme, facilitated in Ireland by Teagasc, aims to help craft and artisan food producers to open up small working museums.)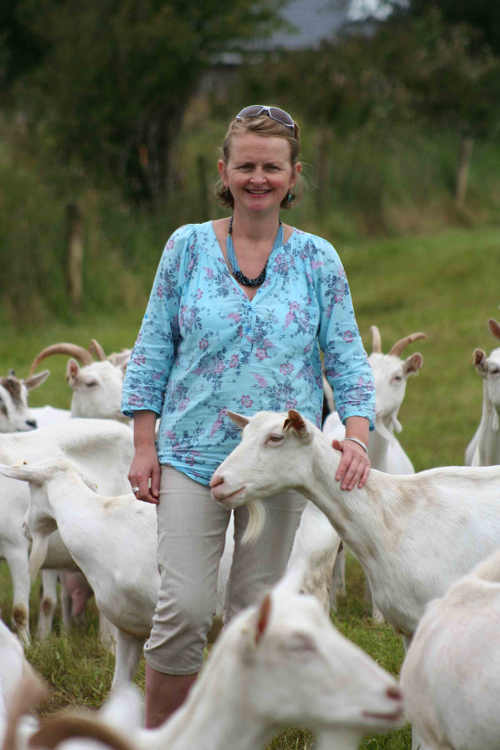 Siobhan ni Ghairbhith and the team at St Tola feel that it's a shame that goat meat has a poor image. So what's the problem? "There is some perception that goat or kid meat will be very strong but this is not true. For example Irish lamb has a strong flavour, but even adult goat meat does not taste as strong as lamb (and certainly not like mutton!) There is also still some association that the goat is the poor man's cow... In this area, there was once a tradition of having kid meat at Easter, a tradition that has died out but that we hope will be revived in the future."
They also point out that it's a very healthy meat - "only 3% fat in goat meat and, as it does not marble throughout the meat, the fat is very easy to trim. This is as opposed to 21% in lamb, quite a difference". It's versatile too, and can be substituted in many recipes where lamb or beef is usually called for although, being so low in fat, kid meat is usually best slow cooked: "think of lovely Caribbean Goat Curry...mmm!"
In Ireland most goats are farmed for their milk and cheesemaking, and St Tola is currently the main supplier of meat. "We are delighted to have some outlet for the male kids, this is always a problem in the dairy industry. The season for the meat runs from April to October.
Our kids are reared for a minimum of 12 weeks before slaughter. This is to give them a chance to fatten up a bit: as they are dairy breeds they don't put muscle on as fast as a breed kept specifically for meat (much like the difference between a Friesian cow and an Aberdeen Angus)."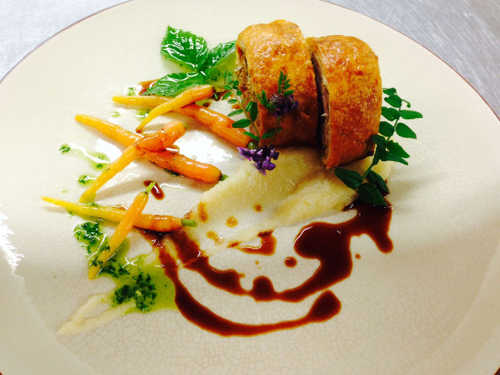 Perhaps not surprisingly, Evan Doyle of The BrookLodge Hotel, Co Wicklow was one of the first to spot the potential of Irish goat meat and St Tola kid meat is on chef Tim Daly's menus all the time when it's in season.
One of Tim's favourite dishes - and a very elegant one in the fine dining category - is slow cooked goat in puff pastry (a sort of 'goat wellington'), which he serves with baby carrots, celeriac purée and a little wild garlic.
In Dublin last month, Chef Philip Mahon of The Fitzwilliam Hotel created - and personally introduced - a whole menu around various cuts of goat meat, goat cheese and foraged/seasonal accompaniments for a Citron Supper Club to celebrate the restaurant's refurb, using goat sourced from Dundrum. Co.Tipperary. Although intended as a one off, it went down a treat and may well be the first of many.
The chef at Dromoland Castle, David McCann, is also a fan and not only runs "specials" at the Castle but he's also making it a key player on the menu at the new Shannigans gastro pub bar at The Inn at Dromoland, next door.
"In August, when the weather is kind, we will be doing St Tola goat kebabs, and billy burgers with pineapple and tomato salsa. Later we will move to the traditional curry, and braised dishes using cumin, coriander etc. We also love trying out traditional dishes using goat as a replacement meat, moussaka, cottage pie, meat balls and salads, all on daily specials."
Another huge fan of goat meat is Ross Quinn, of Vasco Dine Wine Deli & Eco Adventure at Fanore in West Clare: "Goat is probably our biggest seller apart from fish and seafood. It has become enormously popular from the slow introduction we had with it almost six years ago. We source our meat from two locations - the Jeuken family organic farm behind Father Ted's house (Glenquin Farm) and from Siobhan at St. Tola.
The Jeuken's offer a special type of kid that is bred for meat whereas the St. Tola kids are bred for milk and then can be better used for hotpots, pies, stews and curries. They both produce wonderful meat. We normally only use the female kids until we start running out in late summer, and then we begin to use the stronger tasting meat from the male kids."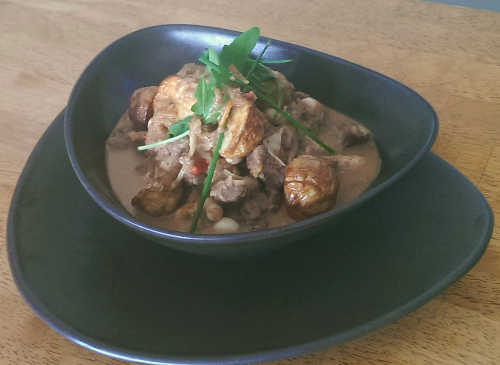 "As we move through the year we change our dishes considerably and, in particular, how we use the meat," explains Ross. "In early spring and summer we do very little apart from sprinkle the cutlets with sea salt and olive oil and grill quickly for 2 minutes either side, serving them with baby roast potatoes, wild garlic tzatziki and a salad. In early summer we begin to marinate the meat cutlets in coriander, soy, mint, cider vinegar, sesame oil, ginger & honey before grilling them and serving them with a dressing (as above), spiced couscous and a summer slaw. Now, in mid to late summer and into early autumn, we use lots of the shoulder meat for Caribbean style curries with coconut, allspice berries, coriander and cloves. We also have a great dish with slow-braised shoulder marinated in garlic and rosemary with borlotti beans (see recipe below). Another favourite as the meat develops stronger flavours is to cook it ever so slowly with chanterelles, blackcurrants, red wine and juniper berries, serving with steamed cabbage and baked potatoes."
And that's not all: "Our deli at Vasco sells a very popular sandwich based on slow-braised kid goat, apricot and ginger chutney and St. Tola Goat's cheese and our gourmet pie company, Connemara Pies, is also currently developing a pie for market, which we hope will join the rest of our range in being sold across Europe."
WHERE TO BUY GOAT MEAT:
O'Tooles Master Butchers (www.otoolesbutchers.com) in Dublin are selling goat meat in season, and a local farmer sells goat meat (not supplied by St Tola) at the Saturday Farmers' Market at Harrys of Bridgend, Co Donegal.
In Northern Ireland, the Cole family's Broughgammon Farm (www.broughgammon.co.uk), near Ballycastle, Co Antrim, rear goats for meat ('cabrito') along with several other interesting products, including free range rose veal and hand harvested seaweeds. They operate a farm shop (Wed-Sun 10-5), and offer postal sales throughout Ireland; an online shop is planned for next year.
RECIPES: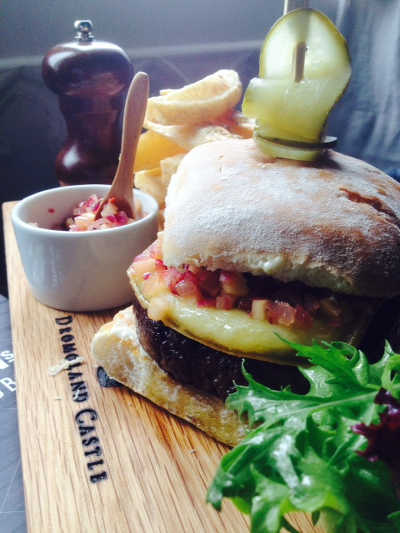 Chef David McCann of Dromoland Castle is using this fun recipe for 'Billy' Burgers with Chilli and Onion Salsa at the new Shannigans gastro bar at The Inn at Dromoland.
Serves 4
For the flavoured butter
50g butter
8 crushed green peppercorns
pinch of chopped parsley / sage,
1 clove garlic, crushed
Soften the butter (do not melt) add all the ingredients and mix well. Place on greaseproof paper and roll into a cylinder 1-2 cm in diameter, refrigerate. When firm, slice into discs.
For the burgers
600g minced kid goat (it's all very tender)
zest of 1 lime, or to taste
seasoning, a pinch of each: sea salt, ground cumin, paprika & pepper
Lightly season the mince and mix in the zest. Separate into four 150g balls of mince.
Using a ring or pastry cutter, mould half of each ball into the ring place a piece of prepared butter in the centre and cover with the other half of minced venison, mould into a burger shape. Repeat for the remainder of the minced kid.
To cook the burgers, shallow fry in Irish rape seed oil for 3 minutes on each side. Please keep medium rare for kid goat is very dry when cooked well done.
If you will only eat well done meat replace 150g of mince with the same quantity of minced pork and cook burgers through.
For the salsa (best if made 1 hour in advance)
100mls cider vinegar
2tsp brown sugar
dash of soy sauce
2 red onion finely diced
1 red chilli finely diced (seeds removed)
1 peeled granny smith apple, diced finely
dash of rape seed oil
drop of toasted sesame seed oil
drop of lime juice
In a saucepan, heat the vinegar and sugar, reduce to make a light syrup and remove from the heat.
Next add the soy sauce, then the onion, chilli and apple, mix well. Finish the salsa with the rape seed oil and sesame oil and finally the lime juice, correct the seasoning. Leave to rest at room temperature.
To finish
4 burger buns, good quality Irish (ideally Waterford blaas)
4tsp quality mayonnaise
1tsp prepared horseradish sauce
4 slices of Saint Brigid cheese (semi-soft, made in Fermoy by Frank and Gudrun Shinnick; distributed by Sheridans)
Cut the buns in half and toast.
Mix the mayo and horseradish together and spread on the toasted buns.
Place the Billy Burgers on the base bun, add the cheese next and melt, next add the salsa and then the top bun.
To serve: Skewer with your favourite pickles and serve with hand cut chips and mixed green salad.


Slow-cooked Burren Organic Kid Goat with Borlotti Beans and Rosemary is one of the most popular goat dishes served at Vasco Dine Wine Deli & Eco Adventure, Fanore, Co Clare.
Serves 4 - 6
Ingredients
1 onion diced
1 stick celery sliced thinly
4 garlic cloves, finely chopped
800g trimmed & diced kid goat shoulder
handful of flour
2 large sprigs of rosemary finely chopped
2 small grated carrots
200g borlotti beans (soaked overnight)
1 bottle of Stonewell cider (from Kinsale, Co Cork)
1 litre chicken stock
600g of baby salad potatoes
sea salt, cracked black pepper
flat-leaf parsley
• Cook the onion and celery until soft in a little Irish rapeseed oil on the hob, in an ovenproof pot.
• Add the garlic for 30 seconds and remove to another bowl.
• Dust the meat with flour and brown the meat in a little oil in the pot.
• Add the onion mix back in, together with the rosemary, carrots and beans, and stir through.
• On a medium heat, add the cider and reduce it down by about half.
• Add the chicken stock and put a tight fitting lid on the pot.
• Place it in the oven and cook gently at 150ºC for 1 hour. Add a little more stock if it is drying out.
• Skim off the excess fat at this stage & then add the baby potatoes to the pot and continue cooking for a further 30 minutes until the meat is very soft but not stringy.
• Add salt and cracked black pepper to taste.
• Ladle into bowls, sprinkle with parsley and serve with a green salad and some crusty bread to mop up the juices.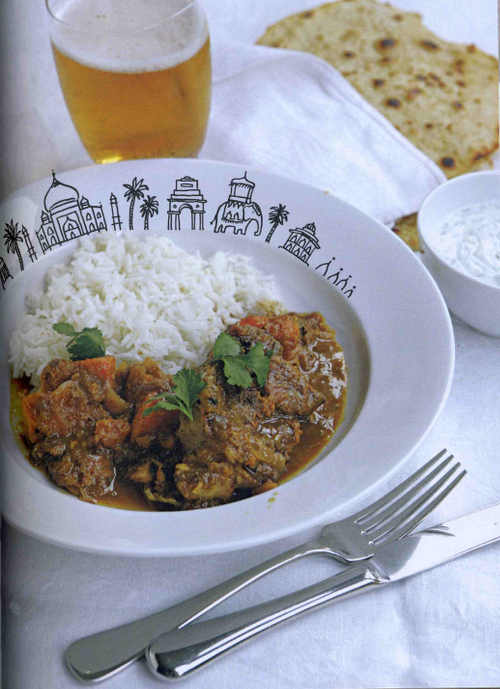 Many recipes for lamb and beef are easily adaptable for goat meat. This Lamb and squash curry from Hugh Fearnley-Whittingstall's excellent River Cottage Every Day (Bloomsbury, hardback) would make a good start.
"Slow simmering renders the meat meltingly tender, while adding a jar of chutney is a great shortcut to creating real depth of flavour. Use a good, spicy, fruity chutney - if it's home-made, all the better. I have no qualms about using a good-quality ready-made curry powder or masala in a recipe like this, but including some freshly ground cumin and coriander certainly enhances the flavour."
Serves 6-8
Ingredients
1 teaspoon cumin seeds
1 teaspoon coriander seeds
1.5kg shoulder (or neck) of lamb, trimmed of excess fat and cut into 4cm cubes
3 tablespoons rapeseed or sunflower oil
1 onion, sliced
2 garlic cloves, chopped
6cm piece of fresh ginger, grated
3-6 teaspoons medium- hot curry powder, to taste
500g jar of chutney
1 bay leaf
Water or stock to cover
About 750g butternut or Crown Prince squash, peeled and cut into 3cm cubes
Cayenne pepper (optional)
A handful of coriander sprigs (optional)
Sea salt and freshly ground black pepper
If you have time, lightly toast the cumin and coriander seeds together in a dry frying pan for a minute or so, until fragrant. Then grind them finely using a pestle and mortar or spice grinder. Season the meat with the ground spice mix, a little salt and black pepper.
Heat 2 tablespoons of the oil in a large, heavy-based frying pan, add the seasoned meat and cook over a medium-high heat until browned all over. Don't overcrowd the pan - you will probably need to do this in batches. Transfer the browned meat to a large, heavy-based saucepan, using a slotted spoon.
Heat the remaining oil in the frying pan and add the onion, garlic, ginger and curry powder. Saute for 4-5 minutes, until softened.
Tip the spiced onion mixture into the pan with the meat, then add the chutney, bay leaf and enough water or stock just to cover. Bring to the boil, reduce the heat and simmer very gently, uncovered, for 1 hour.
Add the squash and cook for a further 1 hour, until the lamb is very tender. Adjust the seasoning, if required - if you want a hotter curry, you could add a good pinch of cayenne. Serve with flatbreads and/or rice, and a scattering of coriander if you like.