Oat Crusted Herb Salmon Cakes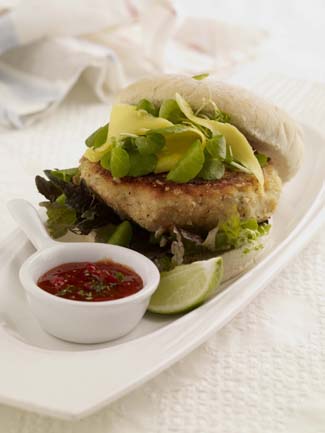 by Catherine Fulvio of Ballyknocken House and Cookery School for Flahavan's

"Adding the oats to the crumb gives these cakes a great extra crunch and of course loads of goodness, perfect for a hearty family meal."

Serves 4

Ingredients

400g cooked salmon, skinned and boned
450g mashed potato
2 tbsp chopped herbs e.g. chives and coriander
½ tsp cayenne pepper
½ lime, zest and juice
1 beaten egg
50g Flahavan's Organic Porridge Oats
50g breadcrumbs
2 tbsp chopped parsley
Salt and pepper to season

Sunflower oil, for frying

To serve

Sweet chilli relish
Large bunch watercress and mixed salad
½ mango, peeled into ribbons
4 baps
4 lime wedges

Method

1. Mix the salmon and mashed potato, herbs, cayenne and seasoning together with the lime juice and zest.

2. Shape and form 4 large cakes (or to fit the size of the baps).

3. Combine the breadcrumbs, oats and parsley. Add a little seasoning.

4. Brush the cakes with beaten egg and roll in the oat / breadcrumb mix. Place in the fridge for 30 minutes to set.

5. Heat the oil in a large frying pan.

6. Fry the cakes on a medium heat for approximately 6 - 8 minutes on each side until lightly golden brown and crisp.

7. Serve with the salad and mango in the bap, with sweet chilli relish lime wedges on the side.

Tip: Shape small bite size rounds – serve with lettuce leaves and a dill cream sauce for a cocktail party.