O'Neill Foods Dry-cured Bacon and Ham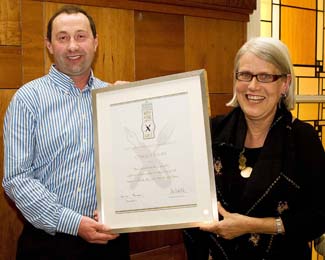 The excellent dry-cured bacon and ham produced in Co Wexford by O'Neill Foods was one of the winners at the 2011 Irish Food Writers' Guild Food (IFWG) Awards.

Having been born into a fairly small farm on the slopes of Slieve Bhuidhe, near Ferns in Co Wexford, where the family devoted some of the land to growing strawberries and raspberries that do so well in the sunny South-East, Pat O'Neill was initiated into hands-on high quality food production from an early age.

Pat chose a career in food, qualified in food quality control and spent a decade working in two highly regarded meat production companies in the region, Slaney Meats and Callan Bacon. Then, in 2004, he decided to set up on his own, and to specialise in that most important (and, until recent years, sadly neglected) area of traditional Irish food, hand-crafted, dry-cured bacon and hams.

The production unit in Ferns was designed and fitted to his own specification. His aim was to produce tender, well-flavoured bacon and ham, all meat for your money, low in salt, with no phosphates and no added water - just pure tasty bacon. That is what you get and that's why O'Neill's Foods have won an IFWG award. It's a world away from commercially wet-cured bacon.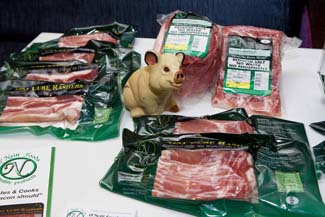 Dry-curing involves hand rubbing a mixture of sugars and salt into every piece of meat, turning and reapplying over a period of up to three weeks for the hams and about two weeks for smaller pieces.

Pat supplies to many leading chefs in the south-east including Eugene O'Callaghan of Kelly's Hotel of Rosslare who (much to Pat's delight) won the Georgina Campbell Hotel Breakfast of the Year in 2011.

Pat's business supports two full-time and two part-time jobs and a living for Pat, his wife and three small children. Output has grown 10% every year. With good cost control, Pat has not increased his prices for over five years and the product gives real value for money.

As well as selling wholesale into specialist food shops, butchers and restaurants, Pat runs stalls at Gorey and Enniscorthy Farmers' Markets and, in cooperation with a Wexford lamb producer, at other markets including Dun Laoghaire. Currently, to meet demand, he is working on producing smoked bacon, pancetta and bacon lardons.

RECIPE: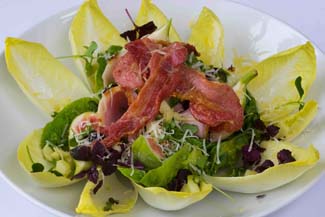 O'Neills Dry-Cured Bacon salad with figs and an apple & honey dressing

This lovely dish was created by Derry Clarke of the acclaimed Dublin restaurant, L'Ecrivain, for the lunch held to celebrated the Irish Food Writers Guild Awards 2011 - which showcased all of the award-winning products (see main Cookery Feature).

Although served as starter or 'between course' on this occasion, the quantities are generous and this would easily make a summery main course to serve at least four. It would also be good as part of a buffet selection for a party, served on a platter.

Click for recipe