Orange and Pomegranate Salad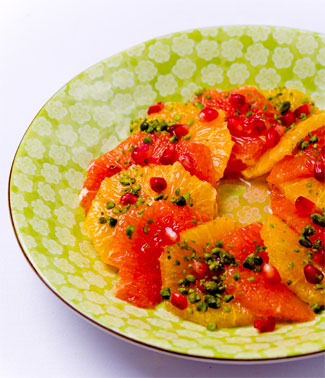 by Eunice Power of Powersfield House

With Christmas behind me I crave some fresh tangy food to tantalise my palate. This is a wonderfully fresh salad made pretty with the jewel like pomegranate seeds. By sprinkling a little feta on top you have a light starter. I love this salad for breakfast or dessert.

It's as simple as this...

Peel and slice oranges, if you can get some blood oranges as well as well as regular oranges all the better, the more colour the better, arrange on a serving dish, drizzle with a little honey and scatter pomegranate seeds and some shredded mint leaves over the oranges.