Peach & Strawberry Pavlova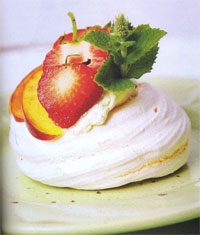 "I think pavlova is an eternally popular dessert; it's always a great success. Also, for the calorie conscious it does have a considerably lower quantity of fat than other desserts (you might need to go easy on the cream though!)"

From Food to Love by Edward Hayden

Serves 6

3 large egg whites
6oz/175g caster sugar
1/2 teaspoon of cornflour
1/2 teaspoon of vinegar
1/2 teaspoon of vanilla extract

To garnish:

Freshly-whipped cream
3-4 peaches
10-12 strawberries

Preheat the oven to 130C/250F/Gas Mark 1/2.

Choose a large, spotlessly-clean electrical mixing bowl.

Put the egg whites into the mixing bowl and whisk them vigorously until they are stiffly beaten - that is to say, if you were to turn the bowl upside down the eggs wouldn't come out of the bowl.

Reduce the speed of the mixer and add the sugar bit by bit until it is all incorporated. It is important to beat well between each addition of sugar.

Next, you need to turn off the mixer and add the vanilla extract, cornflour and vinegar and then return the mixer to full speed for 50-60 seconds.

Using a piping bag, pipe the meringue mixture into six or eight shell-shapes onto a baking tray lined with parchment paper.

Place in the oven and after 15 minutes reduce the heat to 110C/225F/Gas Mark 1/4 for a further 45 minutes or until the edge of the meringue feels crisp to the touch but the centre will still be quite soft.

Allow to cool completely (preferably overnight) and then decorate with freshly whipped cream and thinly sliced peaches and halved strawberries

Edward's Top Tips:

Leftover meringues can be mashed up in a bowl with some whipped cream and sliced strawberries and piled into a fancy glass and served as the quintessentially English 'Eton Mess'.

Instead of piping this mixture out into meringues, you could just spread it into a circular shape and make one large pavlova. No need to vary the cooking time.