Porridge Oats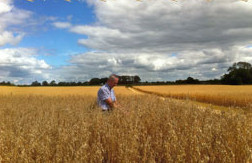 Oats are among the most important crops grown in Ireland and, while we tend to take them for granted, we should value this simple, wholesome food for its goodness, notably its special slow-release energy and cholesterol reducing qualities - and, providing they are pure (ie uncontaminated by previous crops grown on the same land, or during the milling process), oats are suitable for most people with gluten intolerance.
Flahavans, the sixth generation family firm that has been milling oats at Kilmacthomas for over 200 years, making it one of Ireland's longest-running family businesses, is by far the biggest processor, buying a high proportion of the oats grown in Ireland and offering an ever-growing range of popular products. Most popular of all is their long-established Flahavan's Oatlets, while Flahavan's Organic Porridge Oats and Flahavan's Organic Jumbo Oats attract special praise for their texture and taste.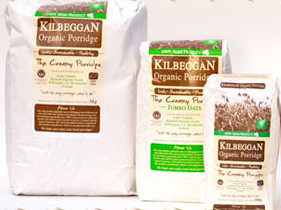 Smaller brands include Kilbeggan Organic Oats, produced on Ballard Organic Farm in Co Westmeath where Pat Lalor, a former Flahavans supplier, now uses his oats to make oatlets (fine, creamy) and jumbo oats (larger, with more distinct texture). Like Flahavans, this much younger business has won many awards since the brand was established in 2011 (including a Euro-Toques Food Award in 2013), and it is becoming more widely distributed in Ireland and abroad - including the Dean & Deluca cafés and shops throughout the USA.
This porridge with a difference is from Neven Maguire of MacNean House & Restaurant, who has teamed up with Flahavan's to create a new range of quick and easy-to-prepare recipes using Irish oats.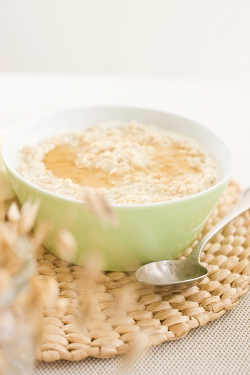 Porridge with Apple, Sultanas and Crème Fraiche
Great for these cold wintry mornings.
Serves 2-3
Ingredients
350 - 450ml Apple juice (according to desired consistency)
100g (3½ oz) Flahavan's Progress Oatlets
½ apple grated
1 tbsp. sultanas
Freshly grated nutmeg to taste
1 tbsp. crème fraiche
Cooking and Serving Instructions
Place the oats and apple juice in a saucepan and bring to the boil.
Reduce the heat and simmer for 3-4 minutes until soft and creamy.
Add in the sultanas and grated apple and stir gently.
To serve, pour the porridge into a bowl and grate over a light dusting of fresh nutmeg.
Top with a spoonful of crème fraiche.