Potato & Bean Salad with Bacon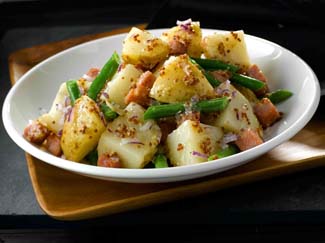 If cooked carefully to prevent them breaking up, new season Queens (many of which come from North County Dublin, eg Rush/Skerries) can be used for this delicious little dish, and they have great flavour; then later, when that great all-rounder the Rooster comes on stream, that will do nicely.

French or runner beans are perfect – and the blanching process given here is also essential for freezing beans successfully, useful to know if you have to deal with a glut.

Whether served warm or cold, it's a great salad and can be served as a light main course or, with or without the bacon, as a starter. Vegetarians could try replacing the bacon with cubes of an interesting farmhouse cheese – Mossfield organic, for example, a mature gouda made near Birr, Co Offaly.

Serves 4

1 kg/ 2lb 3oz potatoes, eg Queen's or Roosters
200g/ 7oz French or runner beans, blanched
150g/ 6oz good quality thick-cut streaky Irish rashers, eg Rudd's or Clonakilty, diced
1 red onion, very finely chopped
Wholegrain Mustard Dressing:
2 tbsp. extra virgin olive oil, eg Monini
1 tbsp. wine vinegar
1 tbsp. Irish wholegrain mustard, eg Lakeshore or Dalkey
Salt and freshly ground black pepper

Peel the potatoes, cut them into large even-sized cubes and put into a saucepan with just enough cold water to cover; salt lightly, bring to the boil and cook for about 5-7 minutes, or until only just tender, then drain well. (If using Queens be especially careful not to overcook, or they'll break up – remove from the heat and drain when only just tender, as they'll continue to cook while keeping warm.)

Meanwhile, cook the diced rashers until crispy and halve or slice the beans according to size, then blanch briefly in boiling water; refresh under the cold tap and drain well.

Place the potatoes, green beans, onion and bacon in a salad bowl. Mix together the dressing ingredients; pour over the potatoes and serve warm or cold.