Preserving Nature's Bounty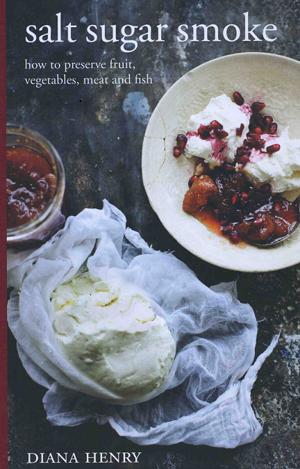 It may not have been the best of summers but there's a pleasing seasonal abundance of most foods nevertheless. And there's even an over-abundance of some, particularly tunnel-grown crops, presenting the annual challenge to time and ingenuity if you want to avoid waste and enjoy them over the coming months.

No worries, inspiration is at hand. If you have Diana Henry's great 2010 book Food from Plenty it's time to take it out again for a good browse - and fans will fall on her new book with glee, as Salt Sugar Smoke (Mitchell Beazley hardback 272pp, stg£20) is another real treasure.

Originally from Northern Ireland, Diana Henry is one of Britain's most highly regarded food writers and, although now based in London, Irish traditions remain central to her work and mingle comfortably those of other cultures – so, for example, you'll find the homely runny 'soft-set' raspberry jam of her childhood here, sitting happily alongside more sophisticated specialities such as greengage and gewürztraminer jam from France and the fresh-flavoured Swedish 'nearly' jam, which doesn't contain enough sugar for a set.

But, as the (brilliant) title implies, there's much more to this book than jam making or sugar-based preserves, and many people will find the focus on smoking and salting especially interesting. As always, Diana takes the mystery out of processes that can seem intimidating – smoking fish and meats, pickling, preparing potted meats and cured fish, preserving fruits and vegetables in alcohol or oil, making cordials; all of these are an exciting challenge for any keen cook and, thanks to detailed instructions which explain fully what to expect at every stage, Salt Sugar Smoke will give you the confidence to have a go.

Many of the recipes are ideal for everyday use, but there are plenty of ideas for entertaining too: "It's a real thrill to be able to hot-smoke six fillets of salmon and have them looking burnished and beautiful ready to serve with roast beetroot and horseradish sauce as soon as your friends arrive for supper."

Best of all, perhaps, Salt Sugar Smoke is a great source of ideas for original gifts. In recession, it's the small treats we allow ourselves that make the difference and this is just the ticket to cheer everyone up, whether you're making and giving or the lucky recipient of one of these delicious conserves.

As Diana says herself, "One of the constituents of a good life is the ability to find pleasure in small things. A good jam for your toast in the morning. A chutney that is made from the apples you gathered last autumn. Cutting salt beef that you've made and can feed a dozen friends."

She's right, and this is certainly a book that I'll come back to time and again myself, for inspiration and darn good read.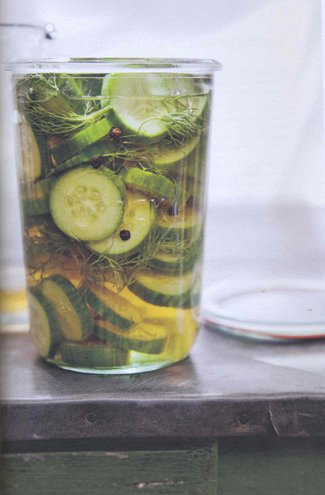 SCANDINAVIAN PICKLED CUCUMBER

Sweet-sour, crisp and fragrant with dill, this is how Scandinavian pickled cucumber should be.

Fills 1 x 1 litre (1¾ pint) jar

juice of 1 lemon
450ml (16fl oz) white wine vinegar
200g (7oz) granulated sugar
1 tsp salt
10 black peppercorns
4 pickling cucumbers, cut into ¾ cm (¼ in) thick slices, plus more to fill
leaves from 4 large sprigs of dill, pulled from the stalks in large fronds

1 Put all the ingredients, except the cucumbers and dill, into a saucepan and bring to a boil, stirring a little to help the sugar dissolve. Leave to cool completely.

2 Pack the cucumbers into a sterilised jar, adding dill as you go. Pour the vinegar solution in, making sure the cucumbers are submerged. Cover with a vinegar-proof lid. Keep somewhere dark and cool. The cucumbers will sink in the vinegar solution so, the next day, add more cucumbers to the vinegar and seal. Once opened, refrigerate. Use within two months.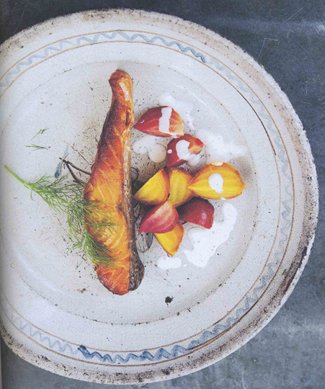 HOT OAK-SMOKED SALMON

This is a one of the most straightforward recipes for hot-smoking. There are no added flavourings, just salt, sugar and smoke.

A stove-top smoker is used for this recipe but if you don't have one you can use a wok (see below).
Serves 4

4 salmon fillets of an even medium thickness (about 150g/5oz each)
about 50g (1 ½ oz) fine sea salt
2 tbsp soft light brown sugar
1 tbsp oak sawdust or shavings

1 Mix the salt with the sugar and sprinkle it evenly on the fish fillets. Refrigerate for 10 minutes (thick steaks can take up to 30 minutes). Rinse the fish under running water, then pat dry and return to the refrigerator for three hours so the salt can permeate better.

2 Put the sawdust or shavings in the base of a stove-top smoker and insert the drip tray (the little tray underneath the rack that comes with the smoker). Line the drip tray with foil (it makes for easier cleaning, you can just throw the foil away). Put the wire rack on top, arrange the fish on the rack (leaving room around each fillet), then slide the lid on.

3 Set the smoker over a medium heat. As soon as wisps of smoke start to appear, or you can smell the smoke, reduce the heat to low and smoke the fillets for about 30 minutes.

4 Turn the heat off and wait until you can't see any more smoky wisps, then open the smoker and check that the fish is cooked through. It should be opaque and not at all glassy looking. If it isn't quite cooked through, you can put the heat on again or you can finish off by steaming. You can eat this straight away or wrap it in cling film and, once cool, refrigerate for up to two days. If you want to serve it later and have it hot you can reheat it, wrapped in foil, in a medium oven.

To hot-smoke using a wok: put 1 tbsp hardwood sawdust in the bottom. Line the wok with foil and put a metal rack inside. Put the food to be smoked onto the rack, leaving space in between if you are smoking several pieces so the smoke can circulate. Cover tightly with a lid and put on your extractor fan. Set the wok over medium heat. Within a couple of minutes you will smell the smoke and see the first wisps. When this happens, reduce the heat to low and leave the food to hot-smoke. Check after the allotted time and continue to smoke if the food isn't cooked through, or alternatively you can finish the cooking by roasting or frying.

How To Use: "I usually go the Scandi route with this, serving with roast beetroot (a mixture of crimson and golden beets if you can get them) drizzled with buttermilk, and warm waxy potatoes tossed with dill. Swedes also cook hot-smoked salmon in a gratin with cream and spinach (cook the spinach and squeeze out the moisture, then chop and season)."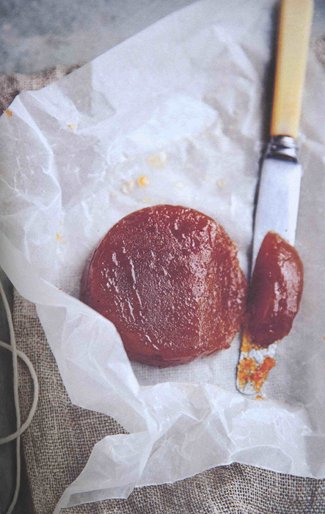 QUINCE CHEESE

"Membrillo, or quince cheese, requires some patience but it is so worth it. You can now buy it in delis and some supermarkets, where you will find it called by its Spanish name."

Makes about 1kg (2lb 4oz)

1kg (2lb 4oz) quinces
about 900g (2 lb) granulated sugar
glycerine or flavourless oil, for the moulds
food-grade paraffin wax, to seal (optional)

1 Wash the quinces, removing the little black bit at the base and rubbing off any downy covering. Chop them and put them in a heavy-based saucepan or preserving pan with enough water to cover. Bring to a simmer and cook until completely soft and pulpy. It will take about 35 minutes.

2 Push the pulp through a nylon sieve into a clean bowl. When you have sieved it all, measure it. Put the puree into a heavy-based pan and, for every 450ml (16fl oz) of puree add 450g(1lb) of sugar. Bring very gently to a boil, stirring until the sugar has dissolved.

3 Reduce the heat and simmer very gently for 1-1½ hours, until it is really thick; be careful as it can spit like a volcano. You need it to be so thick that, when you scrape your spoon across the bottom of the pan, it leaves a clear channel before closing up again. It also starts to come away from the sides of the pan as you stir, forming a thick mass.

4 Brush straight-sided moulds, such as ramekins, or small decorative moulds, with glycerine or flavourless oil. This will help you unmould the quince cheese. Pour the mixture into the moulds. Cover with a waxed paper disc, or pour over some melted food-grade paraffin wax. (Stockists are given in the book; most have websites. If you use the paraffin wax, leave the quince cheese to set a bit before pouring it on.)

5 If you want to give this as a present, or want your moulds back, you can unmould it and wrap in greaseproof paper or baking parchment, then tie with string. Properly wrapped, it keeps for a year in the cupboard or refrigerator. I find it stays moister in the refrigerator, but gets a bit sticky.

and also...


DAMSON CHEESE
Make as for quince cheese, using 1 kg (2lb 4oz) of damsons (you can't stone them as the stones won't budge until the damsons are cooked. The stones come out when you sieve the fruit). Measure the resulting purée.

Add 450g (1lb) of granulated sugar for every 600ml (1 pint) of purée.

The resulting cheese is a glorious dark purple colour which is lovely with cheeses (especially blue cheeses), patés and roast lamb or pork.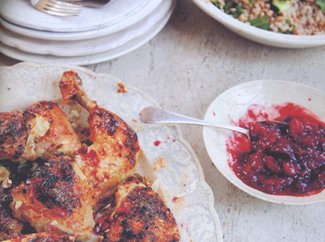 GEORGIAN PLUM SAUCE

"I included a recipe for Georgian plum sauce in my first book, Crazy Water, Pickled Lemons, but this is slightly spicier and the addition of wine vinegar means it keeps longer. It's a little sweeter than the traditional Georgian version, but I prefer it not too tart. As it's one of my favourite sauces I don't feel bad about offering it again. Its uses go beyond Georgian food."

Fills 1x225g (8oz) jar

500g (1lb 2oz) plums, halved and stoned
25g (scant 1oz) soft light brown sugar, or to taste
good pinch of salt
50ml (2 fl oz) red wine vinegar
3 garlic cloves, crushed
2 tsp hot Hungarian paprika
Juice of ½ lemon, or to taste
2 tbsp chopped mint
3 tbsp chopped coriander

1 Put all the ingredients for the sauce, except the lemon juice and the herbs, into a saucepan and add 50ml (2 fl oz) of water. Bring to a boil, stirring a little to help the sugar dissolve, then reduce the heat and simmer tor about 30 minutes, until the mixture is quite jammy and the plums are soft.

3 Puree the mixture (or it you prefer it rougher you can leave it as it is). Stir in the lemon (taste to see if you would like more lemon or sugar, then adjust it accordingly), then the herbs. Put into a sterilised jar and seal with a vinegar-proof lid. Cool, then refrigerate. It will last for a month.

How To Use: "In Georgia this is served with tabaka, a dish of chicken that is flattened and fried under a weight. The other traditional Georgian use is to mix it with kidney beans (they should be well seasoned, add more of the herbs used in the sauce and crushed garlic, too) to serve as part of a spread of zakuski (details given in the book). It's also very good with lamb kebabs or spicy roast lamb, and with ports.

My favourite use for plum sauce, though, is to serve it with chicken - whole or jointed - which I've marinated in. a mixture of plain yogurt or buttermilk, crushed garlic, cayenne pepper, lemon, salt and pepper for 24 hours. Make sure your chicken is covered in the marinade, and turn it a couple of times while it's marinating.

Shake off the excess marinade and roast the chicken, then scatter it with walnuts chopped with raw garlic and coriander or parsley. Pomegranate seeds look lovely sprinkled over it too.

Serve with bulgar wheat or spelt on the side, with plenty of the plum sauce."