Rapeseed Oil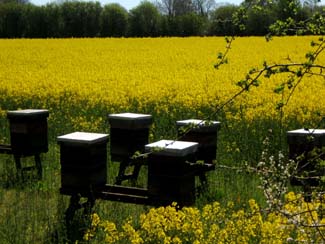 A new product which looks set to play an important role in Ireland's agriculture and cuisine is RAPESEED OIL and, while the changes this crop brings to the landscape are not universally welcome, the product itself is proving to be a very acceptable alternative to imported olive oil.

An early success story is Kitty Colchester's Happy Heart extra virgin rapeseed oil (www.secondnatureoils.com/ www.drumeenfarm.com), which is also branded 'Second Nature'.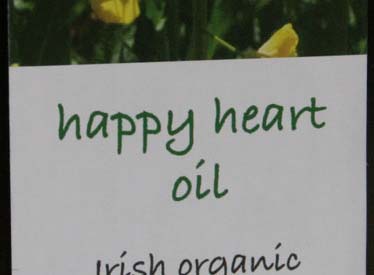 It is grown on Drumeen Farm, near Urlingford, Co Kilkenny, which was established by her parents Ben and Charlotte in 1976 and is the longest-established organic farm in Ireland; the ethos continues - no potentially hazardous synthetic chemicals, fertilisers or GM seeds are used - and the culinary quality of the oil is ensured by cold pressing the seed weekly, to retain the maximum nutritional value and taste.

And taste good it does - although the official launch was delayed until autumn 2010 (with national distribution in place at that stage), Euro-Toques Ireland had already selected it for one of their highly valued Food Awards the previous year, following successful trials.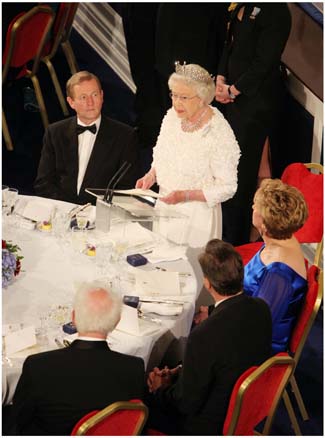 Then, earlier this year, the Presidential seal of approval was added to the accolades, when the Kilkenny organic cold pressed rapeseed oil was one of the special products selected by Executive Chef (and prominent Euro-Toques member) Ross Lewis of Chapter One Restaurant for a menu (see full menu below) that showcased the best of Irish produce at the wonderful State Dinner at Dublin Castle, hosted by The President of Ireland Mary McAleese and Dr. Martin McAleese in honour of Her Majesty Queen Elizabeth II and His Royal Highness The Duke of Edinburgh on the occasion of their first state visit to Ireland.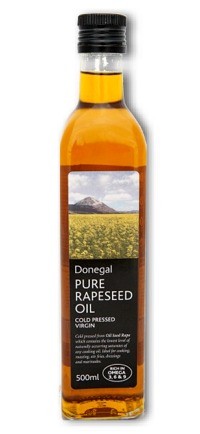 Another successful producer is the Donegal Rapeseed Oil Company (www.donegalrapeseedoilco.com), which is a small, locally owned operation based at Raphoe in Co Donegal. A Good Food Ireland member, the company was set up by Austin Duignan and Stephen Allen in 2009 to Donegal Virgin Rapeseed Oil for culinary use.

They work with a number of individual small farms in Donegal and Northern Ireland, and have selective distribution in place in much of the country – so, with strong market demand established, the enterprise is already enjoying success.

Further innovation in this rapidly developing sector is to be found at the Derrycamma Farm near Castlebellingham in Co Louth, where the Rooney family have joined the growing band of farmers who grow oilseed rape for culinary use, in addition to their existing product range of free range chickens and eggs, and traditional crops of wheat, barley and oats.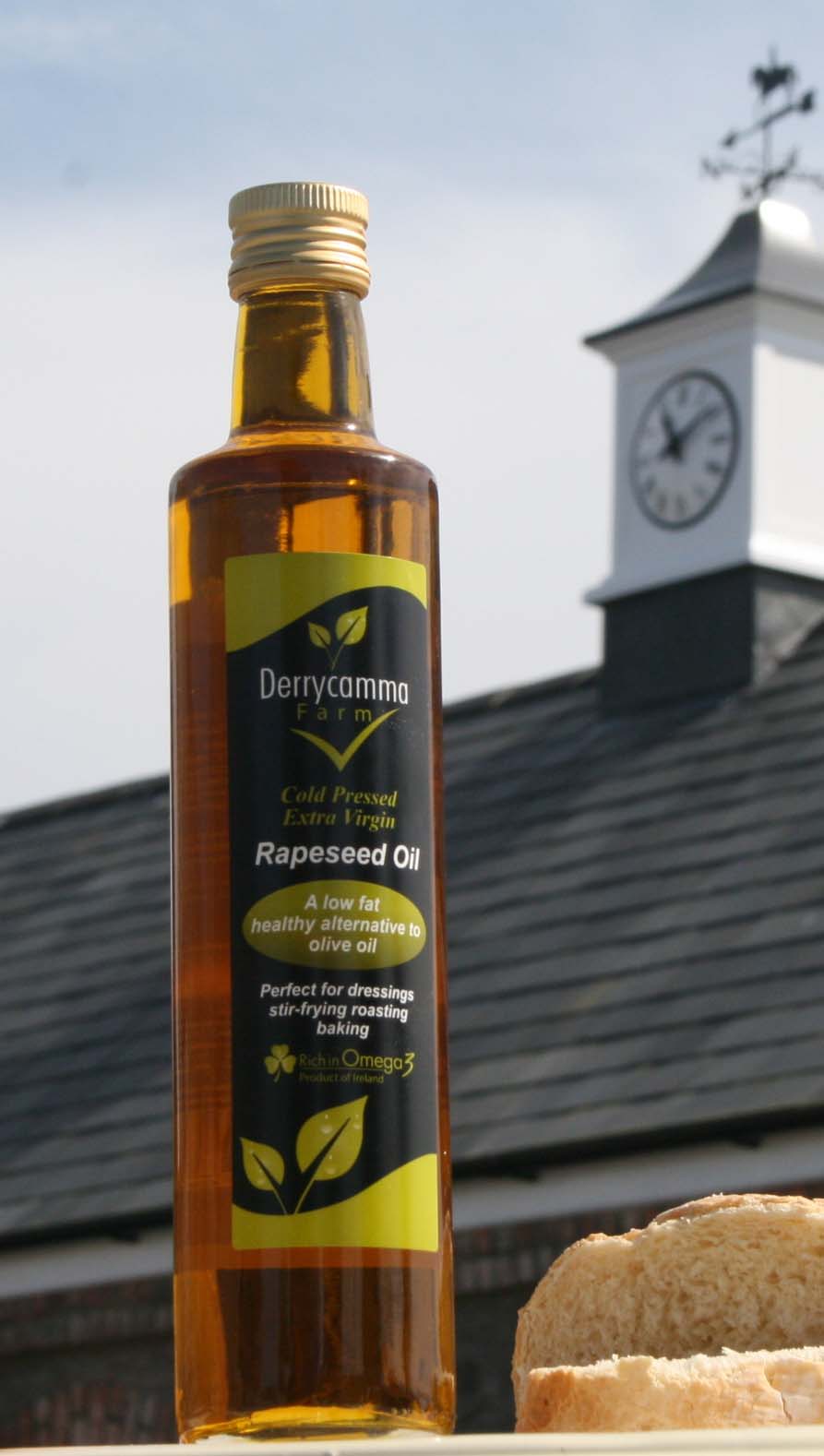 Derrycamma Farm Rapeseed Oil (www.rapeseed-oil.ie) was launched at Ireland's largest garden festival, Bloom, in 2010 and recently brought the first flavoured Irish rapeseed oil, Garlic & Chilli, to this year's show.

Farmers like these are finding a ready market for rapeseed oil as, not only is it a healthy alternative to other oils (having, for example, lower saturated fat and higher levels of Omega 3 than olive oil) but, most importantly, it does very well in taste tests such as the Great Taste Awards too – and consumers just love the beautifully short food miles. Look out for it in selected butchers, other speciality food shops and some of the better supermarkets.

--------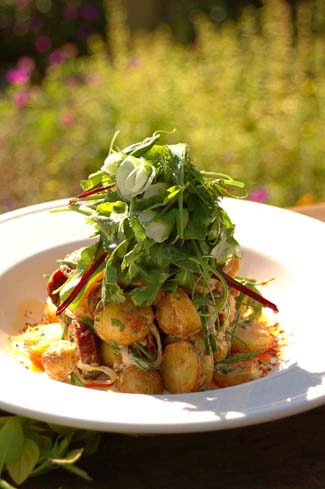 RECIPE: Warm new potato and Gubbeen chorizo salad

Ingredients from the walled kitchen garden at Ballyvolane House near Fermoy in Co Cork provide the basis for this delicious salad, which appears in Irish Country House Cooking (Epicure Press).

They also use Gubbeen chorizo, which is made by Fingal Ferguson at Schull, in West Cork and can be bought at farmers' markets, good food shops, or by mail order (www.gubbeen.com).

The original recipe uses olive oil, but rapeseed oil can be used instead – and maybe also natural Karmine cider vinegar (www.theapplefarm.com/vinegar) and Highbank Orchard Syrup (www.highbankorchards.com), instead of the white wine vinegar and maple syrup.

Serves 4

Click for more

--------


State Dinner hosted by The President of Ireland Mary McAleese
and
Dr. Martin McAleese

in honour of

Her Majesty Queen Elizabeth II
and
His Royal Highness The Duke of Edinburgh


MENU


Cured salmon with Burren smoked salmon cream and
lemon balm jelly, horseradish and wild watercress,
Kilkenny organic cold pressed rapeseed oil



Rib of Slaney Valley Beef, ox cheek and tongue
with smoked champ potato and fried spring cabbage,
new season broad beans and carrots with
pickled and wild garlic leaf


Carrageen set West Cork cream with Meath strawberries,
fresh yoghurt mousse and soda bread sugar biscuits,
Irish apple balsamic vinegar meringue


Irish Cheese Plate
Tea and Coffee

Château de Fieuzal, 2005, Graves Pessac-Léognan
Château Lynch-Bages, 1998, Pauillac


EXECUTIVE CHEF: Ross Lewis
CATERERS: With Taste

SUPPLIERS


Smoked salmon – Brigitta Hedda-Curtin, Burren Smokehouse, Lisdoonvarna, Co.Clare

Salmon – Clare Island organic salmon, Clare Island, Co.Mayo

Lemon balm – Paul Flynn, The Tannery cookery school gardens, Dungarvan, Co.Waterford

Organic cold pressed rapeseed oil – Kitty Colchester, Drumeen Farms, Co. Kilkenny

Wild watercress, cabbage, carrots, chive flower and garlic leaf – Denis Healy Farms, Co.Wicklow

Rib of beef – From a farm in Co Wexford, produced by Kettyle Irish Foods, Drumshaw, Lisnaskea, Co.Fermanagh

Ox cheek and tongue – M & K Butchers, Rathcoole, Co.Dublin

Black pudding – McCarthys of Kanturk, Kanturk, Co.Cork

Potatoes and spring onions – McNally family farm, Ring Common, Co.Dublin

Butter, milk, cream and crème fraîche – Alan and Valerie Kingston, Glenilen Farm, Drimoleague, Co.Cork

Irish apple balsamic vinegar and apples – David Llewellyn, Llewellyn orchard, Lusk, Co.Dublin

Strawberries – Pat Clarke, Stamullen, Co.Meath

Milk – Cleary family, Glenisk, Tullamore, Co.Offaly

Dittys Irish oatmeal biscuits – Robert Ditty, Belfast

Stoneground wholemeal flour – Kells wholemeal, Bennettsbridge, Co.Kilkenny

Buttermilk and butter – Cuinneog Ltd. Balla, Castlebar, Co.Mayo

Irish Cheeses

Glebe Brethan
Produced by David Tiernan in Dunleer, Co. Louth
Hard Comté style cheese made using raw cow's milk from the Tiernan's own herd of Montbéliarde cows.

Cashel Blue
Produced by the Grubb Family in Fethard, Co. Tipperary.
Semi-soft blue cheese, made using cow's milk from their own and selected neighbouring farms.

Milleens
Produced by the Steele Family in Milleens on the Beara Peninsula, Co. Cork.
Semi-soft, washed rind cheese made in a classic Munster style from pasteurised cow's milk.

Knockdrinna
Produced by Helen Finnegan in Stoneyford, Co. Kilkenny
Semi-firm goat's milk cheese in the classic French Tomme style.