Rhubarb Bread and Butter Pudding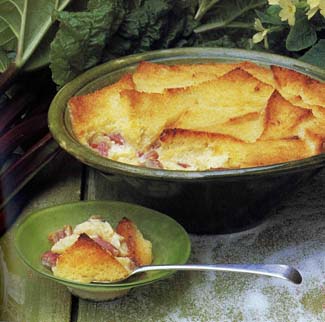 Although not officially classed as a fruit, rhubarb is usually seen as the first fruit of the Irish gardening year and is available (forced) from February onwards. It makes a pretty and deliciously refreshing late winter/early spring treat, and is then available throughout the summer, when it makes one of the easiest and most popular cottage garden 'fruits'.

This unusual hot dessert is from A Year at Ballymaloe Cookery School, by Darina Allen (ISBN 978-1-85626-709-0) of Ballymaloe House & Cookery School and it's perfect for rhubarb, balancing its naturally sour flavour with the blandness of bread and the richness of dairy products as well as some necessary sugar.

Serves 6-8

As Darina (www.cookingisfun.ie) explains, "My brother Rory O'Connell introduced me to this fantastic combination which then fired my imagination and many experiments have followed. We have been having fun ringing the changes with this recipe. Bread and Butter Pudding is also delicious with apple and cinnamon, or even mixed spice… try gooseberry and elderflower as soon as they come back into season. Don't cut down on the cream in this recipe and don't use too much bread."

450g(1lb) red rhubarb
Sugar
55g (2oz) butter, preferably unsalted
12 slices good-quality white bread, crusts removed
450ml (16fl oz) cream
230ml (8fl oz) milk
4 large free-range eggs, beaten lightly
1 teaspoon pure vanilla essence
175g (6oz) sugar
1 tablespoon sugar, for sprinkling on top of the pudding

To decorate:

Lightly whipped cream

You will need:

ovenproof pottery or china dish
a bain-marie or shallow roasting dish

Cut the rhubarb into 2.5cm (1in) pieces. Put into a dish and sprinkle with sugar. Leave to macerate for an hour.

Butter the bread and arrange four slices, butter-side down, in one layer in the buttered dish. Scatter half the rhubarb over the bread, and cover with another layer of bread, butter-side down. Scatter the remaining rhubarb on top and cover with the remaining bread, buttered side down.

Whisk together the cream, milk, eggs, vanilla essence and sugar in a bowl.

Pour the mixture through a fine sieve over the bread. Sprinkle the sugar over the top and let the mixture stand, covered loosely, for at least 1 hour or refrigerate overnight.

Preheat the oven to 180°C/350°F/gas mark 4.

Bake in a bain-marie - the water should be boiling and come halfway up the sides of the baking dish - in the middle of the preheated oven, for about 1 hour or until the top is crisp and golden.

Serve the pudding warm with some softly whipped cream.