Salad of New Potatoes and Smoked Salmon with a Dill & Mustard Dressing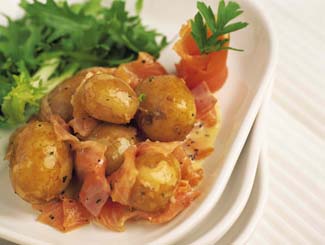 Use earlies such as Home Guard or Premier (or carefully cooked small second earlies) for this handy dish, which makes a great 'all in one' lunch or could be served as a help yourself starter at a barbecue or other al fresco meal.

The sauce can be kept for a week in the fridge and actually tastes even better a day old, as the dill flavour is more pronounced.

Serves 4

750g / 1½ lbs small new potatoes, cooked and chilled (you could also use leftover potatoes for this)
225g / 6oz smoked salmon, cut into thin strips

Dressing:

2 tsp muscovado sugar (if you can't get muscovado, use a good quality dark brown sugar)
1 tsp fresh lemon juice
2 tsp Dijon mustard
1 tsp olive oil
1 heaped tbsp mayonnaise
2 heaped tbsp finely chopped fresh dill (or 4 tsp. of dried dill)
Seasalt and freshly ground black pepper

Prepare the potatoes ahead: scrub them (and scrape if necessary) then boil in light salted water ,without allowing to break up; cool and chill before use.

To make the dressing: Whisk the muscovado sugar and lemon juice together until the sugar has dissolved, then add the mustard, oil and mayonnaise, whisking all the time.

Finally, add the fresh dill, season with a pinch of seasalt and freshly ground pepper. Whisk again.

The texture is meant to be fairly runny; if you find it too runny, add a little more mayonnaise. (If you have a blender, put all the ingredients in and whizz for one minute)

To serve: Toss the potatoes, salmon strips and dressing together and serve with a green salad.