The Darina Allen Column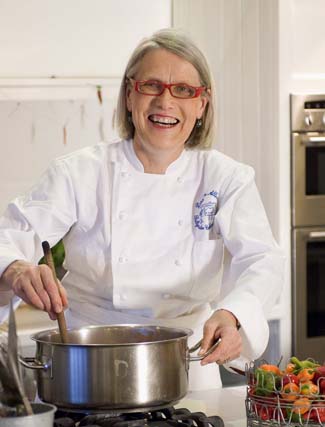 This month Darina focuses on authenticity and labelling – this was one of the main themes at the recent TASTE Council Annual Summer School at BrookLodge Hotel, Co Wicklow, where she chaired one of the main sessions.

Gastronomic science students doing a masters in marketing now have a list of evocative terms guaranteed to resonate with consumers who are seeking a more authentic wholesome product or eating experience - local artisan handmade, farmhouse, traditional, hand crafted… As a result there's an epidemic of chefs and producers who are talking the talk but often with little understanding or respect for the real meaning of the word.

Evocative labels use the clever images and the jargon but often completely fail to deliver what that image promises. The menu of the CIE train promises 'delicious, local, handmade sandwiches, hot snacks and pastries' – I don't think so – they are what they are but why try to pass them off as homemade.

There are 'Artisan' restaurants and cafes without a single artisan item on the menu, artisan sweets and chocolates where as far as I can gather the only artisan element in the entire production system is to put the chocolates by hand into the moulded plastic trays in the slick packaging.

This 'passing off' is grossly unfair to the growing number of real artisan producers who have done so much to offer an alternative to mass produced option and to change the image of Irish food both at home and abroad.

Watertight definitions are notoriously difficult to nail down. Several of the farmhouse cheese makers and artisan producers - including Ballymaloe Country Relish – who started production on their kitchen tables have now morphed into a million euro businesses with a significant export market, no longer small but still with strong artisan values and philosophy – Cashel Blue Cheese and Glenilen in West Cork are brilliant examples.

I asked John McKenna of Bridgestone Guides (who chaired the Summer School's session on 'Label Protection for the Artisan Producer') what his definition of artisan might be – "a person who makes a product form beginning to end, and who makes it by hand, it's easy to mechanise food production, artisans originate the product, produce it, and ideally sell it at market. Twenty years ago we came up with 'The four 'P's' person, place, (sense of place), product (original start from scratch) and passion and have found that has stood the test of time".

The Food Safety Authority of Ireland (FSAI) are working on it ,but as yet there is still no legal definition of local or regional in the EU despite a recognition of the urgent need to define. In the US the word 'house-made' is now being substituted for hand-made which no longer had credibility.

At present there are several court cases pending because of restaurants passing off an imported product, particularly goat cheese, as Irish. If you come across cases of blatant 'passing off' do please contact Slow Food Ireland or Cáis.

The Encarta dictionary definition of artisan: a person or company that makes a high-quality, distinctive product in small quantities, usually by hand...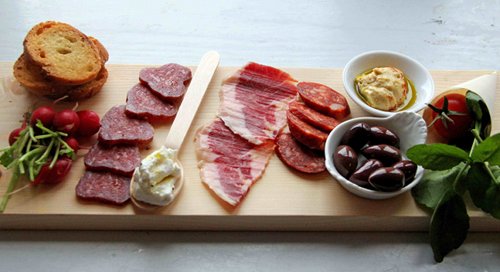 A Plate of McGeough's Cured Meats & Horseradish Crème Fraiche

James McGeough is a second generation master butcher in Oughterard, Co Galway. For the past number of years he's been experimenting with curing and drying meats using traditional meats to produce dried, smoked meats and salami. I tasted them at the Food Village during the Volvo Ocean Race in Galway this summer and was mightily impressed. (Tel: 353 (0)91 552351 for stockists.)

Serves 4

8 slices each of air dried beef, pork, lamb and ham
Cucumber pickle
Horseradish crème fraiche (see recipe)
a salad of rocket leaves and fresh herbs

Arrange 2 ruffled slices of each cured meat on each serving plate, add some cucumber pickle, horseradish crème fraiche (see below) and a little bouquet of rocket leaves and fresh herbs.


Horseradish Crème Fraiche

Horseradish grows wild in many parts of Ireland and looks like giant dock leaves. If you can't find it near you, plant some in your garden. It is very prolific and the root which you grate can be dug up at any time of the year. This is a fairly mild horseradish sauce. If you want to really clear the sinuses increase the amount of horseradish!

Serve with roast beef, smoked venison or smoked mackerel.

Serves 8 - 10

1 1/2-3 tablespoons grated horseradish
2 teaspoons wine vinegar
1 teaspoon lemon juice
1/4 teaspoon mustard
1/4 teaspoon salt
pinch of freshly ground pepper
1 - 2 teaspoons sugar
8 fl oz (250 ml) crème fraiche

Scrub the horseradish root well, peel and grate on a 'slivery grater'. Put the grated horseradish into a bowl with the vinegar, lemon juice, mustard, salt, freshly ground pepper and sugar. Fold in the crème fraiche but do not overmix or the sauce will curdle. It keeps for 2-3 days: cover so that it doesn't pick up flavours in the fridge.


Courgette Flower, St Tola Goats Cheese and Local Honey

Anyone who planted courgettes this year will have lots of courgette blossoms. Use the male flowers raw in salads or make them into fritters. At the Kenmare Food Carnival this summer, I tasted fresh St Tola goat cheese once again – really sublime.

Serves 2

4 courgette blossoms
250g (9ozs) St Tola goats cheese (or other good quality goats/sheep cheese)
2 teaspoons thyme leaves
2 teaspoons Irish honey
Batter
200g (7ozs) rice flour
20g (3/4oz) corn flour
1 teaspoon baking powder
cold sparkling water

First make the batter.

Mix the flours with a little water, it should be of a thickish consistency and can be used immediately.

Mix the cheese with the thyme leaves. Half fill each courgette flower. Twist the ends to seal. Dip the courgette flowers into batter. Deep-fry at 190°C/375°F for 1 minute. Drizzle with honey and serve, immediately.


Gennaro's Crespelle con Ricotta e Rucola

Crespelle are the Italian equivalent of pancakes. Everything sounds better in Italian – a recipe from Gennaro Contaldo's Easy Italian cookery book, published by Headline UK.

250g (9oz) plain flour
4 eggs
500ml (18fl oz)
40g (1 ½ oz) butter melted, plus extra for greasing and dotting
20g (3/4 oz) Parmesan cheese, freshly grated
½ quantity of Tomato sauce, using onion (see recipe below)
Salt

For the filling

300g (10 ½ oz) ricotta – we use Toonsbridge Ricotta
100g (3 ½ oz) rocket, finely chopped, plus some un-chopped for garnishing
50g (1 ¾ oz) Parmesan cheese freshly grated
salt and pepper
Gennaro's Salsa di Pomodoro – Tomato Sauce
4 tablespoons olive oil
2 garlic cloves, finely chopped, or ½ medium onion, finely chopped
2 x 410g tins plum tomatoes, chopped
handful of fresh basil, finely chopped
salt and pepper
1 x 16cm ( 6 ¼ inch) non-stick frying pan

First make the tomato sauce:

Heat the olive oil in a large frying pan and sweat the garlic or onion over a medium heat. Add the tomatoes and basil, season with salt and pepper and simmer for 25 minutes. Remove from the heat and use immediately, or leave to cool and place in the fridge or freezer for later use. Pre-heat the oven to 190ºC/375ºF/Gas 5.

To make the pancakes:

Sift the flour and a pinch of salt into a bowl, add the eggs and stir. Gradually whisk in the milk, ensuring no lumps are formed, until you obtain a smooth runny batter, then stir in the melted butter.

Place the frying pan on the heat, grease with a little butter, then add a ladleful of the mixture in the centre of the pan. Swirl the pan around so that the mixture runs to all sides. Fry until the bottom is golden, then flip over to cook on the other side. Remove and set aside.

Continue to do this until your mixture has finished – you should be able to make 8 pancakes.

To assemble, add the filling on to each pancake, then fold each one in half and half again, ending up with a triangle. Place on a greased ovenproof dish so that they slightly overlap each other, dot with knobs of butter and sprinkle with the Parmesan. Bake in the oven for 10 minutes.

Remove and top with a spoonful of tomato sauce on each pancake. Garnish with some rocket and serve.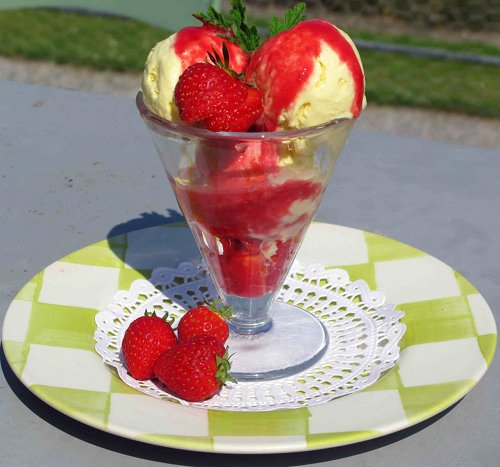 Rose Cottage Strawberry Ice Cream

Rose Cottage Fruit Farm in Co Laois grow a variety of soft fruits and sell at Midleton, Mahon Point, Coal Quay and Douglas Farmers Markets. Tel: 057 8732666

Serves 6-8

2 lbs (900g) very ripe strawberries
freshly squeezed juice of 1/2 lemon
freshly squeezed juice of 1/2 orange
8ozs (225gcastor sugar
300ml (300ml) water
150ml (5floz) whipped cream

Dissolve the sugar in the water; boil for 7-10 minutes, leave to cool. Purée the strawberries in a food processor or blender, sieve. Add the freshly squeezed orange and lemon juice to the cold syrup. Stir into the purée, fold in the whipped cream. Freeze immediately preferably in a sorbietere. Store in a covered plastic box in the freezer.


Fresh Strawberry Sauce

400g (14 ozs) strawberries
50g (2 ozs) icing sugar
lemon juice
Garnish
Fresh mint leaves

To make the strawberry sauce, clean and hull the strawberries, add to the blender with sugar and blend. Strain, taste and add lemon juice if necessary. Pour over scoops of strawberry gelato and garnish with some fresh mint leaves.



***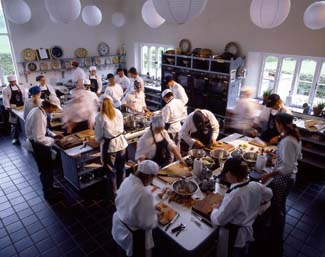 Once again this year, the Ballymaloe Cookery School in East Cork has a great programme of cookery courses for all interests and abilities. Ranging from a relaxing visit to sit in on an afternoon cookery demonstration to a week long 'Intensive Introductory Course'.

Sitting in the middle of a 100 acre organic farm the Ballymaloe Cookery School provides its students not only with a life skill learnt under the expert tutelage of their very capable teachers but also a place to relax and unwind from the stresses and strains of normal everyday life. The cottage accommodation available onsite consists of a collection of delightful converted outbuildings which have been transformed over the years by the Allens.

www.cookingisfun.ie