The Seafood Interview supported by BIM - La Bohème Restaurant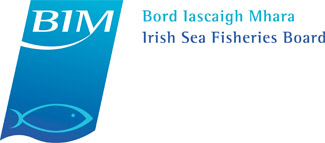 This month Marilyn Bright talks to Christine & Eric Thèze of La Bohème Restaurant in Waterford City, where seafood is an increasingly important item on the menu

Hong Kong, Paris, Brazil and the United States - globe-trotting Christine and Eric Thèze put the nomadic life behind them when they decided to settle in Waterford and opened La Bohème Restaurant six years ago. With a name derived from a favourite song by Charles Aznavour rather than the opera, the restaurant is a smartly Gallic setting for Eric's classically based modern food which has given food lovers plenty to sing about.
Growing up in a seaside town in Brittany, Eric had first hand experience on fishing boats while progressing through the chef apprenticeship system in France. Gravitating to his preferred section as saucier, his expertise with classics like beurre blanc and sauce vierge brought him to work in the United States, where association with other international chefs introduced him to the flavours of Asia, the Caribbean and far-flung tropics that blended seamlessly with his own style.
Eric's first port of call in Ireland was as private chef at Humewood Castle in Wicklow, then a stint with Johnny Cooke in Dublin. Travelling around Ireland confirmed to the couple that big city life was not for them and they were delighted to be offered a place on the banks of the lovely Lee at the renowned Arbutus Lodge with the Ryan brothers.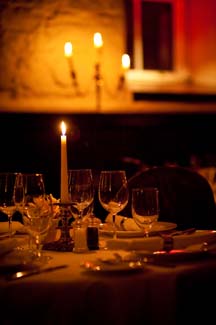 With the closure of that landmark restaurant, Eric moved to the elegant Faithlegg House Hotel in Waterford, busy with golfers, leisure guests and up to 75 weddings a year, all drawn by the excellent reputation for fine dining. It was a hectic sort of life, Christine admits, but Eric developed a regard for the area, the local produce and the fresh seafood that reminded him of his home in Brittany.
Christine recalls the day she came across space being offered in the lower ground floor of the historic Port of Waterford building. Without telling Eric, she arranged a viewing and remembers trying to conceal her excitement from the landlord as she saw the potential of the high vaulted ceilings, granite archways and stone floors.
The space had been vacant for several years and the budding restaurateurs were to discover the rigours of dealing with a listed building with walls four feet thick, requiring most of the work to be done by hand rather than heavy machinery. In the end, the renovation took a year and a half, "but it was exciting to see it all come to life," Christine recalls.
A light well off the dining room makes the kitchen partially open and Eric encourages customers to come up and chat as he works. Many of La Bohème's diners are regulars and he values their comments and feedback on dishes. " People have come to trust Eric's cooking and they're willing to try new things," Christine says. "We sell more seafood than meat, even on Christmas party menus, and his signature crème brulée of crab has become very popular. It has a savoury herb base and Parmesan crust and most often appears as part of a trio with wasabi marinated salmon and a rillette of haddock."
Eric counts himself lucky to have fresh seafood on his doorstep and supplies come from the Whittle brothers at Flanagan's Fish Merchanta, who buy at the nearby Dunmore auctions. Lobsters and fresh picked crabmeat come from James and Maurice O'Rourke. Prawns may appear simply served up in the French way with homemade mayonnaise, or more cost-effectively as part of another dish such as seafood terrine or a stuffing for loin of rabbit.
La Bohème menus regularly feature popular fish such as haddock, monkfish, hake and John Dory - all freshly caught off the South coast, but it is a slight frustration to Eric that much of the less usual fish by-passes Waterford and gets sent straight up to Dublin's bigger markets. "I'd like to get more variety like gurnard, pollock and fresh ling. It's even hard to get turbot and sole because it goes straight up to Dublin."
While Eric's penchant is for the classic butter-rich cream sauces of his French training, Christine encourages him to keep things lighter, so sea bream fillets may be paired with olive, pepper and basil salsa. Medallions of Dunmore East monkfish and chickpeas come with a garlicky Moroccan tomato sauce spiked with harissa while another dish is complemented by a Pacific Rim coconut sauce.
Having seen their own customers' preference change from "mostly meat" to a 70 per cent bias towards fish, the Thèzes feel that there is even greater potential for seafood, recounting a recent experience with a visiting relative. A scenic weekend drive along the coast to Hook Head and Kilmore Quay gave them a yen for fish to bring home, but there was nothing available. The French uncle commented, "Anybody who opens a fish shop here on Sundays would make a fortune."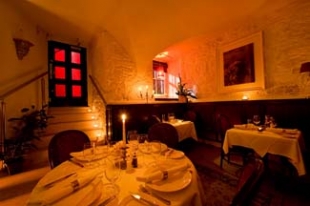 In common with other businesses, Eric and Christine had to adapt to change as the recession kicked in. "We dropped plans of going for a Michelin rating and decided to offer value with a 'Menu du Marché' " Christine explains, "It includes a mise en bouche, starter, choice of five or six mains and desserts or cheese trolley. It has brought in customers and good repeat business and we still offer à la carte - which can suit anyone who just wants one or two courses or something different."
Innovative promotions ensure that La Bohème never rests on its laurels. Eric has had columns and recipes in Waterford's Munster Express, and cookery demonstrations are part of the regular ' Jeudi Jazz' — Thursday jazz evenings.
In late March the restaurant will be central to the 'Let's French Again' festival organised by the Alliance Francaise. With a clutch of other restaurants committed to using local produce, they'll also be part of a Slow Food weekend scheduled for May, with tours to producers followed by meals based on food sourced within a ten mile radius of Waterford.
Within six years, Eric and Christine have become part of the community, promoting their restaurant, the excellent local produce and the beauties of their area, Christine was a member of the committee which organised the week-long Harvest Festival in Waterford last autumn. "We hope to make it the biggest food fair in Ireland," she says. And you'd have every confidence they'll succeed.