The Seafood Interview supported by BIM - Michael O'Neill of O'Neill's The Point Bar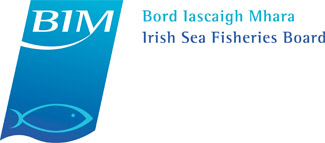 This month Marilyn Bright talks to Michael O'Neill of O'Neill's The Point Bar, Renard Point, Caherciveen, Co Kerry; with a big reputation for ultra fresh seafood, the 'simplest is best' mantra at this immaculate little bar clearly works
"A small place with a big reputation," is how O'Neill's The Point Bar is recommended by those in the know. Michael and Bridie O'Neill are the fourth generation to preside over the old family premises beside the Valentia Island car ferry dock at Renard Point just outside Cahirciveen, in Kerry.
Summer sees the harbour road thronged with seafood lovers drawn to the spanking fresh fish served up in generous quantity from the Point Bar's tiny kitchen. It wasn't always so, Michael explains, "It was an old-fashioned bar and my father was the agent for the foreign fishing vessels putting into the pier at Renard Point, which was the only deep water harbour in the area at the time. They generally didn't put into port unless there was a problem, or they might trans-ship the catch back to home ports or change crews."
The Point was definitely a fishermen's bar - not a place you'd bring a lady, Michael recalls. Mainly Spanish, some French and Norwegian, the fishermen would arrive with bags of the best fish - halibut, turbot, monkfish. It would be cooked in what was then the family kitchen and passed out in the bar for free. Michael remembers as a teenager seeing the kitchen full of sea captains and engineers.
Things gradually changed as the harbour began to be starved of funds for maintenance. As the fishing vessels disappeared, the local businesses suffered - the grocers and butchers that had supplied the fishermen were all affected. The deep water pier only closed officially 15 years ago, but the downturn had started years earlier.
Michael took over the bar 25 years ago, when his father pulled down the shutters for the last time and said, "It's all yours now."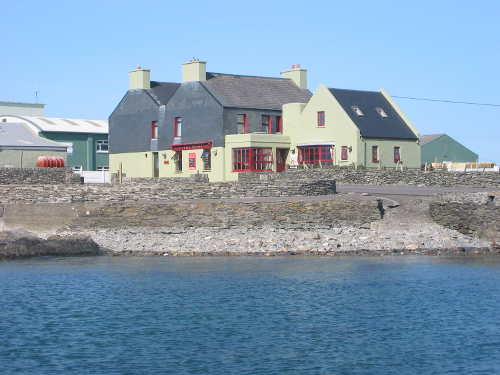 Reconfiguration of the premises was moderate, moving toilets from the old position "out back" and hiving off the private living quarters. "It's modern, yet old fashioned," Michael describes it, with the air of a man who would be wary of anything too new-fangled.
A small bar kitchen was fitted with a four ring gas hob to do soup and toasted sandwiches, mainly for the passengers using the Valentia Island car ferry which runs during the summer months. Still, so much fish was being given to the O'Neills that it was being passed on to neighbours or, regrettably, discarded. "I started just cooking hake for bar customers," Michael recalls. "People didn't know monkfish at all, but I tried a bit of sea bream. People were wary at first but liked it. The food side of the business started rising, then the Celtic Tiger took off, we got a name for fresh fish and I could hardly cope."
Michael takes pride in claiming that the menu hasn't changed in 25 years, although there have been the slightest of tweaks. The original menu was simply pan-fried fish and bread. Salad has been added - "at Bridie's insistence" - and buttered potatoes. There are seven or eight choices on the menu. "If you can do one thing well, why bother with more?" is Michael's motto.
Simple fresh produce is the byword, and Michael presides alone over a batterie de cuisine that consists of two frying pans and a deep-fat fryer; shallots, garlic, olive oil and egg wash batter. Period. "I'm not a chef and I couldn't make a sauce or gravy, but everything is fresh, simply cooked and I make sure the last order going out is as good as the first one".
Best seller is pan-fried hake, all best quality long-line caught as Michael explains that trawled fish can be drowned as they're dragged for hours in nets. Popular squid from Killybegs can be big, so it's cut into strips rather than rings, battered and deep-fried. Lobsters are served cold, split, with salad and mayonnaise, or garlic butter if requested.
Food miles are negligible here as O'Neill's fish comes from Quinlan's Kerry Fish 20 yards away or Daly's 2½ miles down the road in Cahirciveen. With the increased volume of business, Michael orders in most fish ready filleted, but insists on doing skinning and portioning himself. Picked crab meat from Quinlan's is excellent, he says, and demand is huge. "It's easy as pie to use - just moistened with mayonnaise or hot au gratin with cheddar, salad and brown bread. Hot crab claws with piri-piri sauce go into newly acquired Spanish cazuela dishes.
Michael's pared-down approach to the menu doesn't allow for desserts, but the house speciality of "proper" Irish coffees has high uptake.
Clearly the "simplest is best" formula works, as the little harbourside bar is thronged during the summer months with customers happy to wait out the no booking system. Bridie works front of house, managing the tables which may turn over two or three times, and serving as many as 130 meals in an evening. "I've never seen what's happening outside," Michael claims, "I live in a one square metre area for six months of the year."
Business runs with the ferry, and when the service ends in October the O'Neills take a well-earned five week break. Weekend openings during the winter cater for loyal customers and the steady stream of Kerry tourists. August is high season and Michael counts himself lucky that he'll be out of the kitchen by 10.30 instead of midnight as was the case before drink-driving restrictions were introduced. And, after some years' consideration, Michael has taken another step toward modernity - they started accepting credit cards last month.