The Seafood Interview supported by BIM - The Moorings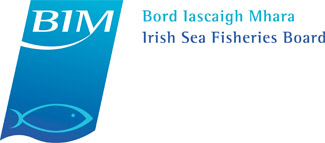 This month Marilyn Bright talks to Patricia Kennedy of The Moorings in Portmagee, Co Kerry, where even traditional accompaniments like colcannon and boxty have been given a local seafood twist
Lemon sole turned in butter, fresh baked brown broad and steaming pots of tea with views of the mist clearing over Valentia Island and the rolling Atlantic between - breakfast at The Moorings in Portmagee is the sea lovers' idea of bliss.
The award winning guesthouse and restaurant grew from The Bridge Bar, a quiet harbourside pub run by Patricia Kennedy's family from the 1950's. When Patricia and her husband Gerard took over in 1988, she recalls how they gradually introduced simple food from the tiny kitchen - local crab claws and smoked salmon salad, seafood chowder and homemade soda bread, apple tart and cream and the Irish whiskey cake that is still a Moorings teatime favourite. "The food really took off," Patricia remembers, "Because there was very little at the time catering for tourists taking the coastal route off the Ring of Kerry. Our customers were nearly all tourists and holiday visitors then because locals just didn't eat out thirty years ago."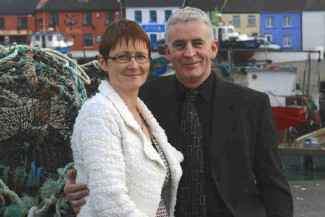 As the pub food business grew, overhead living quarters were converted to five guestrooms for the increasing number of visitors who found the picturesque harbour a pleasant place to linger. Before long, further expansion was on the cards and the next door building was annexed to become The Moorings Restaurant with more guestrooms above. The restaurant opened in 1994 and Patricia recalls with relief, "At last we had a proper kitchen and I was able to hire a proper chef."
Chef Noel Dennehy presides today over a menu that has developed into a celebration of the spectacularly good food that abounds in this corner of Kerry. Seafood listings read like a traveller's itinerary — Dingle Bay prawns, fresh Portmagee crab, Valentia scallops, Cromane mussels and oysters. Both Noel and Patricia are adamant that ingredients this good don't need complication. "You'll find no sprays or foams here", she says.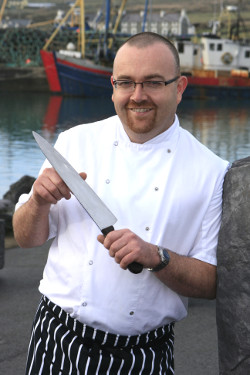 The original seafood chowder remains top order in both bar and restaurant, closely followed by the Skellig crab claws with garlic butter. The popular trio of seafood changes daily as the catch arrives - perhaps fillet of hake, brill and wild Irish turbot simply served with lemon butter. Traditional accompaniments might be given a seafood twist too, as in the Dingle Bay prawn colcannon to go with grilled fillet of hake or Portmagee crab flavoured boxty potato cake served with pan-fried Valentia scallops.
Provenance is celebrated throughout The Moorings menus, which could quite usefully come with a map for the uninitiated. In addition to the Atlantic seafood riches, there is Sneem black pudding, Valentia Island ice cream, Ring of Kerry lamb and oak smoked bacon and sausages from Kieran Hartnett in Tralee. A dedicated page of the menu lists local producers of everything from eggs to buttermilk and honey, even the organic tomatoes, herbs, salad leaves and berries grown by the chef's wife Maureen Dennehy for the kitchen.
"Our suppliers are important to us and were instrumental in our receiving the Green Hospitality Gold Award for Environmental Management," Patricia explains. "We were one of just five nationwide to receive the top award for achieving environmental savings in the areas of waste reduction, recycling, food sourcing and reducing food miles."
Portmagee revels in being named fourth best place to live in Ireland, and was further crowned by being named National Tourism Town of the Year 2012. Judges commended the community spirit which "has woven its fishing past and present into its story". The Kennedys and the hardworking local community are especially chuffed to have won over major players like Killarney and Westport. "It's so hard for a small community to make it in the tourism game," Patricia comments.
The early decision to buck the trend and stay open year round and to up the ante with food offerings was key in setting the business on the upward track, Patricia reflects, "You can't do half a job - you're either in it or you're not," she says, and the innovations keep coming. The environmental award inspired a 'Green Package' consisting of two nights B and B, a guided wildlife shore search and special Thirty Mile Menu with all ingredients sourced within a 30 mile radius.
Patricia likes to keep the menu fresh with the addition of new dishes, although customers don't allow tinkering with hardy favourites like the seafood marinière which was brought back by popular demand. This season, Spain's loss was Kerry's gain as hake stocks formerly snapped up for export are more available on the Irish market. This prime fish is being smoked by Daly's of Caherciveen and appears on the bar menu as tempura of naturally smoked hake with mushy peas and chips. "It's absolutely flying," Patricia says.
The spring season is under way in Kerry and the Kennedys have seen the return of three or so tour buses a week. "You have to work harder when you're a bit out of the way," Patricia observes, "but things are going well and we're determined to keep tight margins without sacrificing quality. When it comes to our food we like to say 'it's simply grown, simply prepared and simply enjoyed.' "