Trust & Innovation - Two Key Ingredients in Great Irish Food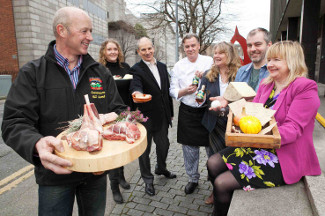 Trust has become one of the most important ingredients in food production in Ireland today, according to the Irish Food Writers' Guild (IFWG). "If we can't have full faith in what is on the label, the reputation of the food sector in Ireland could be seriously jeopardised," said Chairperson of the IFWG Myles McWeeney, who was speaking at the Guild's annual Food Awards which took place recently, in Dublin.
"But the good news is that when you buy from indigenous, Irish producers, you can be assured that their products are fully traceable, that the raw materials will have travelled a relatively short distance and often, that the product is as a result of cooperation between different local producers.
"It is these wonderful artisan producers that the Irish Food Writers' Guild Food Awards celebrate and honour and they are truly deserving of the highest recognition," said Myles. "Thankfully, in terms of artisan food produce, the future of the food industry is in great hands. Each of today's award-winners in their own way represents the can-do spirit of innovation that characterises this dynamic sector."
Six Irish food companies were presented with a much-coveted IFWG Food Award at a ceremony and industry celebration at l'Ecrivain restaurant, attended by Ireland's leading 'foodies'.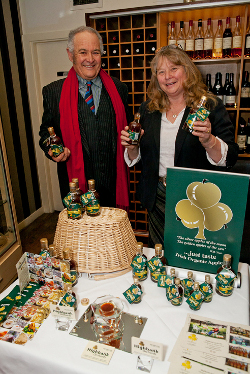 From fresh cheese made from buffalo milk and crackers packed with character, to seeds and syrup and PGI designated lamb, the winners represent the very best of Irish and were awarded for their outstanding produce and important contribution to helping retain Ireland's reputation, at home and abroad.
The 2013 winners are Rod & Julie Calder-Potts, Highbank Orchards (Co Kilkenny) for Highbank Orchard Syrup; Toby Simmonds, Toons Bridge Dairy (Co Cork) for Toons Bridge Dairy Buffalo Mozzarella Cheese and Connemara Hill Lamb Ltd., (Co Galway). A joint award was presented to Sheridans Cheesemongers (Co Meath) and Cookies of Character (Co Cork) for their range of cheese crackers.
An environmental award was presented to Co Clare-based Irish Seed Savers Association, for its dedicated work in preserving native varieties of fruit and vegetables.
Myles McWeeney continued, "Today is a celebration of the finest Irish food and wonderful artisan producers. However, as a food writers' guild, we have a duty to acknowledge recent issues relating to the contamination of processed meat products and we urge immediate action on labelling and transparency, not just in Ireland but right across the EU.
"We welcome the Irish government's recent response, but we have to act now to protect the hard-earned reputation of the majority of food companies, large and small, in what is one of Ireland's most important export industries."
NOTE - Now in its 19th year, The IFWG Food Awards is one of Ireland's most enduring and respected awards events in Ireland. The Judging Process:
• No company or individual can enter themselves for these awards.
• Every member of the Guild is invited to nominate products they believe are worthy of an award.
• The products must be produced in Ireland and the main ingredient must be home-grown or produced.
• The producer must be trading for at least three years.
• Products are bought and paid for and a formal tasting meeting takes place where members vote, using proportional representation.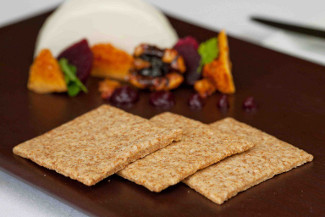 MENU & RECIPES: As has become the custom in recent years, Derry Clarke devised a superb menu based on the Irish Food Writers' Guild award-winning products, which was served to the lucky guests attending the awards ceremony at L'Ecrivain.
IRISH FOOD WRITERS' GUILD FOOD AWARDS 2013
Lunch Menu
Toons Bridge Buffalo Mozzarella
Bavarois, Pressed Ratatouille, Basil Aioli
*~*~*~*~*~*~*~*~*~*~*~*
Tasting of Connemara Hill Lamb
Roast Leg and Rack, Braised Shoulder Pastilla,
Kidney and Sweetbread Tortellini, Buttery Greens, Smoked Bacon
*~*~*~*~*~*~*~*~*~*~*~*
Sheridans Crackers from Cookies of Character
Selection of previous IFWG award-winning Irish cheeses:
Glebe Brethan, St Killian, Wicklow Blue, Lavistown, Mossfield
*~*~*~*~*~*~*~*~*~*~*~*
High Bank Orchard
Apple and Elderflower Trifle, Apple Syrup
*~*~*~*~*~*~*~*~*~*~*~*
Tea / Coffee & Petits Fours
All recipes serve 4 and are courtesy of Derry Clarke of l'Ecrivain restaurant, Dublin.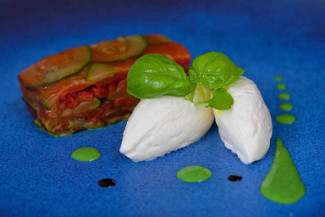 STARTER: Toons Bridge Buffalo Mozzarella Bavarois, Pressed Ratatouille, Basil Aioli
For the Basil Aioli
3 large egg yolks
½ lemon, juiced
1 large bunch basil
1 teaspoon Dijon mustard
5ml white wine vinegar
150ml olive oil
salt and pepper, to taste
1. Place the yolks, lemon juice, basil, mustard and vinegar in a food processor and blend until the basil is puréed and the mix is of a creamy consistency.
2. While still blending, slowly pour in the olive oil until the mixture emulsifies and holds a figure of eight. Season to taste and set aside or refrigerate until ready to serve.
For the Pressed Ratatouille Terrine
10ml olive oil
1 red onion, diced
1 red pepper diced
1 garlic clove
1 sprig thyme
½ courgette, diced
½ aubergine, diced
1 teaspoon tomato paste
10ml balsamic vinegar
30ml red wine
20g sugar
200g chopped tomatoes, puréed
salt and pepper
4 leaves of gelatine, soaked
1 courgette, cut into wafer-thin discs
1. Pour the olive oil into a pre-heated medium-sized pot and when hot, add the onion, red pepper, garlic and thyme and sweat until soft but not coloured. Add the courgette and aubergine and sweat for another few minutes.
2. Add the tomato paste and cook for two minutes before pouring in the vinegar, wine and sugar. Reduce to a glaze, add the tomatoes and reduce by half. Remove the sprig of thyme. Dissolve the pre-soaked gelatine in the hot ratatouille mix and season to taste.
3. Line an oiled terrine mould or bread tin with cling film and carefully place the discs of courgette on the bottom so they resemble fish scales. Pour in the ratatouille mix, tapping the mould to remove air bubbles and leveling with a palette knife. Finish with another layer of courgette discs and refrigerate to set.
4. Once set, cut the terrine to required size and set aside for plating.
For the Toons Bridge Buffalo Mozzarella Bavarois
100ml milk
1 sprig thyme
50ml semi-whipped cream
1 ball Toons Bridge buffalo mozzarella
salt and pepper
1. Combine the milk, the thyme and the cheese in a pot, bring to a simmer, remove from the heat and leave to infuse.
2. Place in a blender and pulse until smooth. Pass the liquid through a fine sieve and leave to cool.
3. Fold in the semi-whipped cream, season to taste and refrigerate until ready to use.
To serve: Place a slice of terrine off-centre on each plate. Put two quenelles of bavarois to the side of the terrine and surround with a few dots of aioli. Serve at room temperature.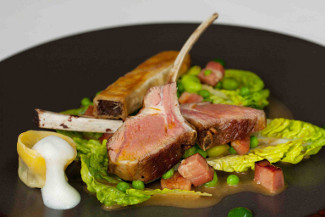 MAIN COURSE: Tasting of Connemara Hill Lamb
For the Braised Lamb Pastilla
1kg piece of lamb shoulder, trimmed
2 sticks celery, chopped
1 carrot, chopped
1 onion, peeled and chopped
1 garlic clove, peeled and crushed
1 sprig rosemary
1 sprig thyme
1 bay leaf
200ml chicken stock
100ml red wine
1 teaspoon tomato paste
4 squares of feuilles de brick pastry or filo pastry
1. Season the lamb shoulder with salt and freshly ground black pepper. In a large saucepan over a high heat, heat a little vegetable oil and seal the lamb brown on all sides.
2. Add the celery, carrot, onion and garlic, stir and reduce heat to low. Add the rosemary, thyme, bay leaf, stock, red wine and tomato past. Simmer gently for 1½ hours until meat is tender. Remove from heat and leave the meat to cool in its liquid.
3. Once cold, remove lamb and shred the meat into a bowl. Puree the carrot, celery, onion and a little of the cooking liquid and add to the shredded lamb. Mix and press into a terrine mould lined with cling film, put weight on top and leave to set overnight in the fridge.
4. The following day, turn out the terrine and cut into rectangles. Brush the sheets of pastry with butter and roll the lamb in them. In a medium pan with a little vegetable oil, brown the pastry-wrapped parcels on all sides.
For the rack of lamb
1 rack of lamb, French-trimmed
Salt and freshly ground black pepper
1. Preheat oven to 200ºC. Season the rack with salt and pepper and seal on both sides in a hot pan with a little oil.
2. Transfer to preheated oven for five to six minutes for pink or up to 12–15 minutes for well done.
3. Remove from oven, rest for 10 minutes and slice cutlets just before serving.
For the Buttery Greens
150ml chicken stock
75g butter
150g fresh or frozen peas, blanched and refreshed
150g broad beans, blanched and refreshed
150g diced cured bacon, blanched in boiling water and sautéed in a hot pan
4 heads baby gem lettuce leaves, washed
1 bunch chopped mint
1. Heat the chicken stock in a saucepan, add the butter and when melted, add peas, broad beans, bacon and baby gem.
2. Season to taste, add the chopped mint and set aside somewhere warm until ready to serve.
For the Pasta Dough
500g flour, sifted
3 eggs
6 egg yolks
Pinch of salt
1 tablespoon olive oil
1. Place the flour in a food processor. Add the eggs and egg yolks and process until the dough just starts to form a ball. Add the salt and olive oil and combine.
2. On a lightly floured work surface, knead the dough by hand for five minutes until smooth, adding more flour if it sticks. Wrap the dough in cling film and rest in a cool place for 1–2 hours.
3. When ready to use, roll out the dough with a pasta machine into thin sheets.
For the Kidney and Sweetbreads Tortellini
30g butter
100g lamb kidneys, trimmed and diced
100g lamb sweetbreads, blanched in boiling water and refreshed
100g mushrooms, finely chopped
1 small onion, peeled and diced
1 garlic clove, crushed
½ lemon, juiced
4 sheets of fresh pasta dough, rolled out thinly
1. Heat a frying pan with butter and a little vegetable oil, add kidneys and sweetbreads and cook for 20 seconds. Add mushrooms, onion and garlic and cook for another minute before adding lemon juice. Season to taste, remove from pan and set aside to cool.
2. Once cool, place a dessertspoon of mixture into the centre of each sheet of pasta, brush edges with egg wash and seal into tortellini or ravioli shapes. Set aside until ready to serve.
3. Just before serving, poach in simmering seasoned water for one minute.
To serve: Divide the buttered greens between four plates. Carve the rack of lamb into eight cutlets, place two on each plate, add the pastilla and tortellini and serve.

CHEESE COURSE
Sheridan's Crackers from Cookies of Character
Served with a selection of previous IFWG award-winning Irish cheeses:
Glebe Brethan, St Killian, Wicklow Blue, Lavistown, Mossfield