Walnut Bread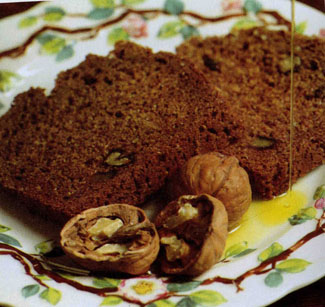 From The Best of Irish Breads & Baking (Epicure Press paperback, €15)

The range of breads included in The Best of Irish Breads and Baking is wide, and includes many variations on both soda bread and yeast breads. This speciality Walnut Bread is a longstanding favourite at Dan Mullane's famous restaurant, The Mustard Seed, at his country house hotel Echo Lodge, near Adare, Co Limerick.

It is an interesting bread, containing an impressive array of ingredients for both texture and flavour - and firmly in the soda bread tradition.

Makes 4 small (1 lb/450g) loaves.

21/2 lb/1.1 Kg wholemeal flour
31/2 oz/90g wheatgerm
31/2 oz/90g pinhead oatmeal
31/2 oz/90g bran
31/2 oz/90 oatflakes
31/2/90g walnuts, chopped
2 teaspoons bread soda
2 teaspoons salt
6 oz/175g unsalted butter
21/2 fl oz/65 g treacle
Generous 21/2pints/1.5 litres buttermilk.

Grease and flour 4 small (1 lb/450g) loaf tins. Preheat a cool oven, 300'F/150'C, gas mark 2.

Mix the dry ingredients together in a large bowl. Melt the butter, then warm the treacle until runny and mix them in with the buttermilk.

Add the liquids to the dry ingredients and blend together well to make a wet mixture.

Divide equally between the prepared loaf tins and bake in the preheated oven for 3 hours.

Turn out onto a wire rack and leave to cool.

This bread is hard to cut while it is hot, but it freezes well.