Warm new potato and Gubbeen chorizo salad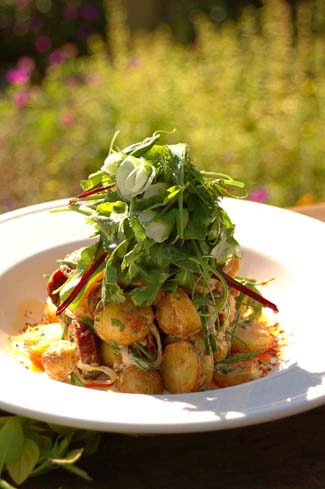 Ingredients from the walled kitchen garden at Ballyvolane House near Fermoy in Co Cork provide the basis for this delicious salad, which appears in Irish Country House Cooking (Epicure Press).

They also use Gubbeen chorizo, which is made by Fingal Ferguson at Schull, in West Cork and can be bought at farmers' markets, good food shops, or by mail order (www.gubbeen.com).

The original recipe uses olive oil, but rapeseed oil can be used instead – and maybe also natural Karmine cider vinegar (www.theapplefarm.com/vinegar) and Highbank Orchard Syrup (www.highbankorchards.com), instead of the white wine vinegar and maple syrup.

Serves 4

1 lb 5 oz/600g baby new potatoes
7 oz/200g Gubbeen chorizo (or another good quality chorizo)
1 handful of flat-leaf parsley, roughly chopped
2 oz/55g/1/2 cup spring onions, finely chopped
1 handful rocket leaves

For the dressing:

8 fl oz/225ml/ 1 cup extra virgin olive oil (or rapeseed oil)
2f l oz/50ml/ ¼ cup white wine vinegar (or natural cider vinegar)
2 fl oz/50ml / ¼ cup balsamic vinegar
2 tbsp/ 21/2 US tablespoons maple syrup (or orchard syrup)
salt and freshly ground black pepper

First make the dressing: Place the olive oil in a jug with the vinegars and maple syrup. Season to taste and whisk until an emulsion is formed. Set aside until needed.

Next, steam the baby new potatoes for about 10 minutes until tender, then set aside and allow to cool completely. Cut into slices.

Heat a frying pan. Slice the chorizo and then cut each slice in half again. Add to the heated frying pan and cook for 5 minutes until the chorizo oil has started to bleed into the pan and the chorizo is crispy.

Add the cooked potatoes to the chorizo and mix throughly for a few minutes until heated through. Add the spring onions and cook for a further minute to soften the spring onions.

Add the parsley at last minute to the salad with enough of the salad dressing to coat. Season to taste and mix until well combined.

Arrange the salad on plates and use some of the remaining dressing to dress the rocket leaves. Arrange a small pile on each salad to serve.