Wild salmon with sorrel sauce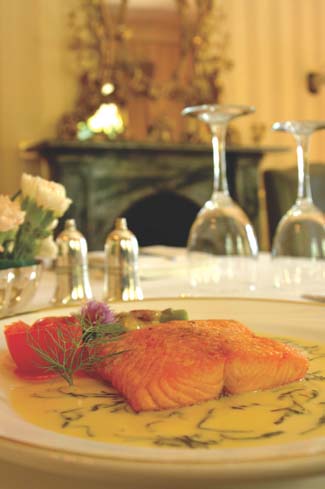 Food lovers planning to take in a visit to the riverside town of Newport when exploring the "Gourmet Greenway" food trail would enjoy dinner - and perhaps an overnight stay - at the beautiful Newport House, which is acclaimed for its fishing, genuine hospitality and excellent simple cooking by long serving chef John Gavin.

He has created a distinctive cuisine based on fresh produce from their own fishery, garden and farm; fruit, vegetables and herbs come from a walled kitchen garden that has been worked since 1720, and fresh fish in the restaurant includes their own wild salmon and also a wide variety of sea fish from Achill Island. Home smoked salmon is a speciality.

This lovely Newport House dish comes from Irish Country House Cooking (Epicure Press, €25); it brings together a classic combination of ingredients that are in season together in the Irish countryside and rivers.

Serves 4

4 salmon fillets
salt and freshly ground pepper
juice of 1 lime
a little butter, melted

Sorrel Sauce:

1/2oz / 10g butter
2oz / 50g shallots, chopped
1 pint / 600ml fish stock
4fl oz / 120ml vermouth
4fl oz / 120ml cup white wine
5fl oz / cup cream
juice of 1 lemon
2oz / 50g sorrel, shredded

Garnish: 4 tomato roses (a retro touch - optional)

First make the sauce:

Melt the butter in a pan. Add the chopped shallots and cook gently to soften a little, then add the stock, vermouth and white wine. Bring to the boil and simmer, uncovered, to reduce the volume by two-thirds.

Add the cream, lemon juice and seasoning. Cook again, uncovered, until reduced to coating consistency. Strain, then stir in the shredded sorrel.

For the fish:

Season the salmon fillets with salt, pepper and lime juice. Lightly butter a non-stick frying pan, heat and then put in salmon and fry for half a minute on each side to seal without colouring. Brush with melted butter and place under a hot grill for half a minute only - the salmon should be barely cooked through.

To serve:

Lay the salmon fillets on hot plates with the sorrel sauce. Serve with new potatoes and a selection of seasonal vegetables.